Best Nightstand Gun Safe In 2022 – Tested & Reviewed
Looking for a personal bedside gun safe that only you can access? Keep your guns secured and access them when you need them the most with the best nightstand gun safes.
Accidental gunfire is no joke. If you have kids, you need to take extra precautionary measurements and keep your firearms from the reach of your kids.
As a parent and gun owner, you realize how important it is to keep your gun tucked away safely. Why bother storing the gun away when you can't even access it in an emergency situation.
This is where a good bedside gun safe comes into play. Instead of keeping your firearms unsecured in a drawer, keep them inside a solid bedside gun safe. It's also a good way to ensure your gun stays away from unauthorized people.
Since you can mount these safes literally anywhere, including a nightstand, you can buy a bunch of them and place them where you spend most of your time in your home.
These quick access nightstand gun safes are solid, easy to mount, can prevent unauthorized access, and provide the protection your need when it comes to storing your firearms.
Top 7 Nightstand / Bedside Gun Safes Picked By Experts
---
| | | |
| --- | --- | --- |
| | | |
| | | |
| | | |
| | | |
| | | |
| | | |
| | | |
Top 7 Best Nightstand Gun Safes
Here are some of the best quick access bedside handgun safes out there that are robust, hard to break into, easy to mount, provide fast access, and compact enough to fit into any nightstand drawer.
1. Fort Knox PB1 Handgun Safe – Best Overall Bedside Gun Safe
Reliability and Strength. These are the two words that best describe the Fort Knox PB1 bedside handgun safe. Fort Knox is known to make high-quality nightstand gun safes that are virtually impossible to break open. And the Fort Knox PB1 handgun safe is no exception.
This nightstand gun safe is very sturdy and uses some of the best gauge, high-quality steel to make this gun safe. In addition to its 10-gauge steel body, this bedside pistol box has a 3/16-inch wrap-around door that makes this security box so tough, it's insanely difficult to even dent this thing thanks to its thick steel construction. 
If you are into mechanical gun safes, this pistol gun safe is for you. Also, it doesn't have a biometric fingerprint scanner which is what a lot of gun owners prefer. Also, there are no batteries nor any electronic lock either. There is hardly anything that will fail.
Instead, this safe features Fort Knox Original Simplex locking mechanism for a reliable access. It's dependable, works every time, has a rugged construction, and is really well made. This push-button mechanical lock is easy to use and fast. And you can easily create up to 1,081 different combinations.
For easy installation, it also has pre-drilled holes in the bottom. Under the door of this nightstand safe, there are tamper-resistant heavy-duty hinges that protect the exterior from any attack. The gas strut mechanism makes it easy to hold the door open for instant access. Also, it has a foam-lined interior that will keep your guns from getting scratched or damaged.
Pros
Pre-drilled mounting holes in the bottom.
Enough space to potentially fit any standard-size handgun.
Best bang for your buck nightstand gun safe on the market.
Antique silver, durable powder coat finish, and thicker steel. 
Cons
2. Vaultek 10 Biometric Handgun Smart Safe – Best Biometric Bedside Gun Safe
Want a reliable Bluetooth and fingerprint accessible bedside safe that is tough, compact, and lightweight? I know that's a lot, but the Vaultek 10 series of handgun safes offer more than that. Initially, the unit's strength and durability are what make it so impressive. These nightstand gun safes are constructed of heavy-duty 18-gauge carbon steel.
This nightstand gun safe is designed to resist hits and drops. It has a pry-resistant design and gives a very robust feeling. This unit not only boasts a durable build but also a highly sophisticated security system. There are four different ways to access it: Bluetooth app, biometric lock, number code, or key. All are highly reliable which makes it the best bedside gun safe on the market.
This quick access gun safe also comes with a lithium-ion rechargeable battery along with its own charging kit. A full charge of the battery can power your device for more than four months. If you plan on using this as a bedside safe, make sure to use the numeric buttons instead of the fingerprint scanner. The buttons have a built-in proximity sensor.
The VT10i handgun safe has a slim design, and you can easily tether it to a nightstand. If you prefer to mount it, you can do so as it comes with its own mounting hardware and steel security cable. In terms of storage space, you can easily fit one handgun inside. Overall, this is a great, feature-rich, compact, quick, access nightstand gun safe for the money.
Pros
Powerful anti-theft features to prevent break-ins.
You can set over 40,000 keypad combinations.
It comes with a Rechargeable Lithium-ion Battery.
Enough space to store a Glock 19 and a magazine.
Cons
Nothing to nitpick about.
The Vaultek Slider is the perfect hidden gun safe that can be discreetly placed on a bookshelf, under a desk or nightstand. This rugged handgun safe has a slim vertical design and has enough space to store pistols such as a Glock 19, Glock 34, or Glock 17 as well as a spare magazine. This one is a hard nut to crack.
The ball bearing guides, and its three-point precision rail system deploys holstered firearms in the ready position. You simply insert the correct combination key and the safe will open up in fractions of a second. At the core, there is a non-reactive foam holster and has slotted grooves to conform to your firearm.
In addition to ensuring a sure fit, the high-density foam padding will keep your handgun protected from scratches. The main feature that makes it the best-hidden bedside gun safe is its multiple mounting positions. The mounting plate that it comes with includes standard VESA 75x100mm hole patterns.
This 16-gauge carbon steel-constructed gun safe is very tough. It features an anti-impact latch mechanism on the door that prevents forced entry and stays securely locked under impact. This safe is coated with a durable finish to ensure long-lasting protection and also prevent rust and corrosion.
Pros
A wide variety of mounting options.
Durable and tough carbon steel construction.
Smooth and silent gun deployment.
5-digit keypad ensures quick access.
Cons
Won't fit handguns with top-mounted accessories.
4. Awesafe Gun Safe – Best Nightstand Gun Safe
This heavy-duty, quick access biometric gun safe has solid steel construction and a pry-resistant door. There are three ways you can open this safe: fingerprint, password, and key. Registering fingerprints is a bit tricky, but you can record up to 30 of them. I really prefer the digital keypad because it's easier.
This one is a great nightstand hidden gun safe due to its compact size. This specific model provides secure storage for one standard handgun. However, there is also a larger version of this one that can easit fit two standard handguns. There is also enough space inside the safe to store one extra magazine.
You should look for a nightstand gun safe that is low-profile and discreet. And these safe fits that description perfectly. You have nothing to worry about in terms of build quality. It features sturdy anti-pry door hinges and premium-grade steel framing that prevent break-ins. The locking mechanisms are also reliable.
There are plenty of features that make this one ideal for use as a bedside gun safe. This safe has interior LED lighting for better visibility at night. Also, it features a gas strut that is really quiet and opens the door instantly for single-handed access. With purchase, you will get four AA batteries, backup keys, and mounting screws.
Pros
Pry-resistant door and solid steel construction.
It can easily hold one large pistol.
Gas strut for easy and fast access.
Portable, compact design.
Cons
Weak fingerprint scanner.
5. GunVault SV 500 SpeedVault Handgun Safe – Best Under-bed Gun Safe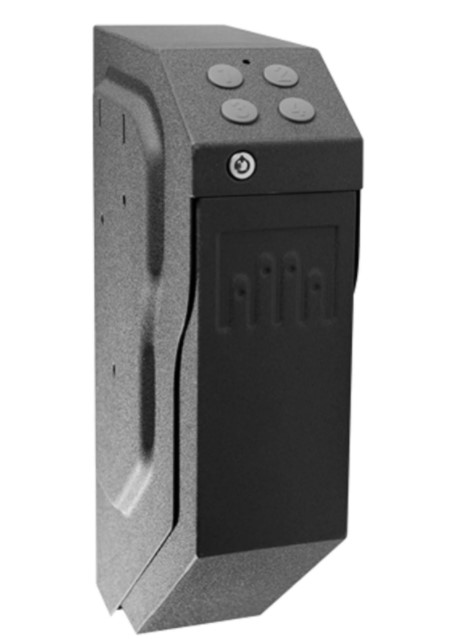 As the name suggests, this is truly a mini vault for your guns. If you want to keep your guns secured on a compact side in a nightstand, go with the GunVault's Minivault GV1000C. In the standard size, you can easily fit two regular frame pistols. Due to the compact design, you can easily mount it on the side or of the under bed.
There is also a larger version that comes with a shelf to keep your guns separated. I feel more comfortable opening these in the dark in a hurry than a keyed or biometric safe since the keypress combinations can be kept so simple. There is also a biometric fingerprint scanner, but I prefer the keypads.
Let's talk about the construction of this pistol safe. It has a heavy 16-gauge steel construction that makes the safe very sturdy. In addition to that, it also features high strength locking mechanism as well as a spring-loaded tamper-proof door. This combination makes it virtually impossible to pry this safe open. If you are looking for a quick access gun safe, this is the best bedside gun safe for quick access.
There is also a tamper indicator that will alert invalid entry attempts. The interior of the safe has a protective foam lining inside to keep your valuables safe. Also, because of the precise fittings, it's practically impossible to open this safe using hand tools. Without a doubt, this is a good beside safe.
Pros
Rock-solid 16-gauge steel construction.
Easy to mount in any direction.
Protective foam-lined interior.
Tamper-proof doors. 
Cons
6. V-Line Compact Keyless Gun Storage Security Locker – Best Mechanical Bedside Gun Safe
This one is perhaps the most compact nightstand gun safe on this list. In addition to its compact design, it has a clamshell design that makes it pry-resistant. This steel-constructed safe is also CA DOJ approved. And the best feature of this safe is its keyless genuine KABA simplex lock. This lock works every single time.
There are no batteries that will run out nor any fingerprint scanners that will fail to detect a registered fingerprint. This simplex lock is the real deal. The lock faceplate is brushed stainless steel. A semi-gloss black powder coating adds a nice touch to this bedside pistol safe. There's also a silver V-Line logo on it.
Even though this safe weighs only 5 pounds, this lightweight safe is sturdy enough to keep your guns secured. You can also use this in a car safe or when you are traveling. You can also secure this compact safe to a variety of stationary fixtures using a steel cable lock since it has an elongated hole in the rear.
The interior is lined with protective foam padding-top to bottom. This provides all-around protection to your guns and other valuables inside the safe. The high-density foam will also keep your guns protected from scratches. I'm sure you will really like this top-opening pistol safe beside your bed.
Pros
Tough 18-gauge steel constructed gun safe.
Features a genuine simplex mechanical lock.
No keys, no batteries, no biometric scanner.
Sturdy, tamper-proof, clamp shell design. 
Cons
7. V-Line Desk Mate Keyless Security Box – Best Made-in-USA Bedside Gun Safe
The V-Line 2597-S Desk Mate offers discreet mounting solutions under most surfaces. Whether you want it under your table or on a nightstand, this is a gun safe to go with. It has the simplex mechanical lock that is widely known for its reliability and quick access. You don't have to use any keys or insert any batteries.
The keyless security lock boasts an easy programing feature, as well as a simple operation. Whether you want it placed under a desk or nightstand, this front-opening gun safe will ensure you can get to your gun as quickly as possible. It also comes with a quick-release bracket.
This allows you to mount this security box practically anywhere. You can also remove the case from the mounting bracket. This allows a safer and more secure method of transporting your firearm. For added security, there are welded anti-pry brackets around the door.
Even though it's a small safe, it has enough space inside to accommodate most handguns. It also comes with a removable felt-lined tray. The thing I like most about this safe is the way the anti-pry brackets are placed. They are located between the door lid and the sides that add additional pry protection which makes it one of the best bedside gun safes out there.
Pros
A convenient quick-release mounting bracket.
You can easily hide this gun safe under a desk.
Front opening door and anti-pry bars.
High-density foam interior.
Cons
Nothing to nitpick about. 
Choosing The Best Bedside Gun Safe For Quick Access
A nightstand gun safe must be secure, easily accessible, and also durable. You might have a more difficult time selecting a gun safe than you did when you selected your handgun.
There are several brands of gun safes that have attempted to satisfy the need for quick access by introducing entry systems such as faster mechanical locks, touch keypads, or biometric fingerprints.
For this guide, I selected only the quickest access bedside gun safe by considering the following factors. There are so many options available at so many price points. My top criteria for selecting a gun safe to put on my bedside will make it easier for you.
Adequate Protection
A large and secure safe typically houses fewer used and more expensive firearms. Basically, these bedside gun safes are just for deterring smash and grab burglars or for keeping nosy guests at bay.
Neither child protection nor fire protection is on my agenda here. However, most of them can easily keep their guns protected from kids.
My requirements for burglar and nosy guest protection are tight fittings and thick steel. If you want more protection, you might want to consider opting for larger, heavy-duty gun safes.
Quick Access
You need to make sure you select the right quick access gun safe for your nightstand. Keeping firearms secure, reliable, and easily accessible requires balancing a number of factors. Many other factors need to be taken into account when selecting a bedside safe that will meet your needs.
In a defensive scenario, I want to be able to access my home defense pistol in 1-2 seconds, as this is the gun safe where my home defense pistol would be kept. A lot of it has to do with the locking mechanism of the safe and how it opens up. I'll discuss more of those later on.
Mountable
If possible, choose a small safe that can be mounted high on the closet or drawer of the nightstand. As a result, small children will have a harder time accessing it. You can also mount it under the desk and keep it well hidden. 
There are a number of safes in this category that can be mounted, but make sure they include a mounting plate. It will ensure that the safe can't be easily stolen when it's mounted.
The same can be done with a cable. A nightstand safe usually hangs within a drawer or – for slider safes – is wedged between the headboard and the nightstand.
Having a bedside safe that has pre-drilled holes so you can mount it on a flat surface is great if you want to prevent theft. This may be the best nightstand gun safe option short of installing the safe into the wall. It is important to note that installing a safe this way can damage the surface of your furniture.
The mounting of your safe also ensures that it will not move and will always be positioned in the same place. A wire leash can be used if your main concern is child safety.
Storage Space
The safe should be able to accommodate a full-size handgun like a Glock 19 or a Glock 17. Based on our research, the main concern we found is that many slider-style safes cannot fit many handguns. If you're considering buying a slider model, check this first.
Other than that, safes that can store just one gun or two guns are usually an option. It is possible to store two standard-sized handguns in two-gun safes. Safes like these can be used to store ammunition, as well as valuables such as cash, passports, and watches.
Different Locking Mechanisms
As far as the locking mechanism goes, a safe can be locked in three different ways, mechanically, digitally, or biometrically. It is possible for a safe to have multiple types of lock mechanisms. Here are some of the advantages and disadvantages of each type of mechanism.
1. Biometric/Fingerprint Locks
Firstly, you have biometric-style locks which require the authorized user's fingerprint in order to open them. This is a great option if quick access is your number one priority. These locks are also those that are the most finicky and susceptible to problems.
You must choose whether you want your quick access safe to scan one fingerprint or multiple digits. Additionally, you'll need to prepare in advance for programming multiple users. In case of emergency, do not provide the code to another person.
Using this method, you are able to reach your firearm in the shortest amount of time, and you aren't required to memorize a PIN number.
There are a few inconveniences, however, including requiring input from all users prior to usage, relying on batteries, and sometimes not working.
2. Digital Locks
A digital lock is the next option on the list of safe locks. Locks with digital locks combine the advantages of mechanical and biometric locking systems. With a digital keypad, bedside gun safes with a digital keypad can be easily customized (multiple codes; code resets); and offer shorter access times.
Alternatively, an RFID badge can be used instead of a digital PIN. It is basically the RFID chip that acts as the key to your handgun, so it is a good idea to keep it nearby. A power source is also required for both models of digital handgun safes, which differ from mechanical locks.
The only alternative will be to use a key (mechanical lock). These features include easy programming and reprogramming, tamper detection, sometimes multiple access options (e.g. RFID and PIN), and internal illumination. It does, however, depend on batteries, and the backlight is only active after pressing the initial button.
3. Mechanical Locks
A nightstand gun safe with mechanical locks is the most reliable. Generally, all bedside pistol safes use mechanical locks with master keys.
Nevertheless, some safes use a mechanical entry system instead of a digital one, so PIN entry can be made using mechanical buttons. As there is no power source required, the electronics inside are unlikely to malfunction.
Best Lock Type For Nightstand Gun Safes
If you'd like to gain access to your safe mechanically, you can use a combination lock or the Simplex mechanical locking system. Simplex locks are made in the USA and are very popular as they do not require batteries to operate.
The problem with batteries is that they die at inopportune times. Our preference is lithium-ion batteries that are rechargeable via USB whenever we get a battery-powered model. Battery life is longer, and they are rechargeable like a cellphone, making them ideal for gun safes.
Preferred Entry Modes
Safes typically have two modes of entry: biometric and keypad. There are others as well. A fingerprint scan is the only way to open a biometric safe. This method gives false negatives often, but it is improving. Make sure the safe has the ability to hold several impressions of your fingerprint.
It is better if you make more impressions. Five, ten, twenty, and fifty are the most commonly held impressions. My preferred biometric safes are touch and hold versus just swipe scans.
The keypad entry method yields fewer false negatives, but it requires remembering a code to get in. The majority of keypad entry systems only have four or five buttons, but you need to remember the combination of those buttons in order to gain entry.
Button spacing and the ability to feel them at night are important to us. Backlit keys are available on some keypad entry systems, which I believe enhances user experience. I like the motion sensor feature of some models, which turns on the backlight when you approach.
Security Features
Safes for personal items can never be completely foolproof. Most residential safes can be broken into within a few minutes with a sledgehammer, crowbar, or skilled lockpick. You would need to spend several thousand dollars on a truly foolproof safe.
Safes are therefore more of a thief (and child) deterrent than anything else. Nevertheless, you can add some good safety features to your safe to enhance its security. The first thing we do is ensure that the safe is made of heavy gauge steel and has a durable construction.
It is possible to find quick access bedside gun steel safes in ten-, twelve-, and eighteen-gauge steel. A crowbar attack is another thing we try to prevent by looking for anti-pry bars on the safe's lip.
Also, make sure the safe has a poweder-coated finish. Security can be significantly improved by these features. The last reason why we prefer internal hinges is that they prevent the back of the safe from being its weakest point.
Smart Features
When you connect a safe to an app, you can receive notifications when someone has tried to access the safe and when the battery is running low. The safe will open automatically when you are nearby when it detects your presence via Bluetooth.
Although tech-savvy people may find these useful, we find them to be a bit overwhelming at times. Tech connectivity is sometimes another issue that misbehaves and causes dramas. You might think of me as an old-school guy, but I prefer gun safes with less smart features.
The key thing to focus on here is quality. You don't need extra features to get a quality safe. for example, some prefer a gun safe with a fingerprint reader while others prefer a key lock.
Tamper Alerts
There aren't very many safes that come with this feature, but a few on this list do! When an alert is triggered, you may hear a loud beep or receive a message on your phone if you are away from your home.
It's a good idea to get a safe with tamper-detect if you have small children or frequently have visitors. As soon as the correct PIN is entered into the unit, the tamper log will reset itself. In the event of a suspected security breach, it's best to investigate before opening the safe.
Internal Light & Sound Indicators
Most electronic safes will have a light inside to help you quickly get a proper grip on your handgun (and to ensure you don't accidentally squeeze out a round). Most mechanical bedside safes do not have this feature, although it is an important one.
The electronics in safes may also be equipped with an audible alarm that sounds whenever you enter the right PIN (or when you sign with your biometric data).
You can usually toggle on and off the interior light, the keypad backlight, and the alert features to prevent alarming a potential intruder. Personal preference plays a role in whether they are on or off.
Assisted Opening Hydraulics for Quick Access
Hinged lids are available on a wide range of bedside pistol safes. A hydraulic arm opens the lid automatically and provides quick access to a handgun. Gun vaults with sliders do the same, allowing for quick access to the housing.
Nonetheless, the option may not be available for all safe door styles. If you want this feature, and if you have a mounting position that allows it, you'll have to decide if it's something you need.
Remote Access
A remote access feature might be something you want if you intend to use your safe for controlled access. In other words, it means you can open someone's safe even when you aren't there.
However, this feature has been a topic of debate in the industry due to the fact that there are few instances where it can be helpful, and many situations where it could be harmful.
Types Of Bedside Safes
Here are some different styles of bedside safes.
Pistol Safe With Door/Lid
There are many types of handgun safes on the market, but the majority are bedside safes with a door or lid. There are other options as well. You should be able to quickly access your handgun using a hydraulic arm if you are relying on a door or lid on your bedside gun safe.
There are few bedside pistol safes that do not have hydraulic assistance. Most pistol safes with fold-down front doors or ones with lateral swinging doors don't have assisted opening.
Slide Open Pistol Safes
The slide-open bedside safe provides easier access to your firearm than their lidded counterparts. These features make them an excellent choice for bedside safes that are easy to access.
You don't have to dig through your safe's interior, which may have no interior light, to find the handgun; it is in front of you.
Frequently Asked Questions
1. Where should I keep my gun in the bedroom?
A gun is usually kept in the bedroom in one of the four places mentioned below, between the nightstand and the bed, under the bed, and in the top drawer of a nightstand.

The best gun safes that can be placed on a nightstand can be found in this guide. The next article I will write is on the best safes for gun storage under the bed, where I will provide details on safes for handguns and rifles.
2. Are there legal compliance requirements for a handgun safe?
The answer is yes! There will be different requirements in different states. Obviously, this review article does not cover that in detail, so, do your own research and due diligence. There may be requirements such as segregating your ammo from your weapon or having a safe with a particular feature.

CA DOJ approval is a requirement for Californians. The product page of a safe with a California DOJ approval should point out the approval – so be sure to check the product page to find out more.
3. Can I travel with my handgun safe?
Gun regulations vary from jurisdiction to jurisdiction. Taking your gun overseas can be very difficult – especially since almost every country except the United States requires weapons to be registered with them.

Check state laws and regulations, as well as those of the airline or transport authority, before you travel within the United States. Check to make sure the safe you get complies with TSA regulations regarding handguns in luggage.
4. What is a simplex lock?
Simplex locks can only be opened by mechanical buttons instead of electronic keys, rotary dials, or biometrics. This provides good feedback and allows you to open the safe in just under 1.5 seconds.

Unlike many popular safes, Simplex locks do not require batteries, electronic keys, or biometrics to operate. Moreover, there are no annoying beeps or reading errors to make you lose your life in a dire situation. A lifetime warranty is included as well.
Final Words
I hope to have been able to answer some of your questions regarding bedside gun safes. As you can see, choosing the best nightstand safe isn't that easy because a lot of it has to do with your preference.
What features you want from your safe, how you plan on mounting it, what is your budget, and how much security you need will greatly impact your purchase decision.
As responsible gun owners, it's our duty to keep your firearms safe from unauthorized access.