Best Gun Safe Under $500 In 2022 – Top 7 Budget Options
When it comes to gun safes, the more you can pay, the better safe you will get. If you only want to spend 500 dollars on a gun safe, there are a couple of options that might interest you.
The best gun safe under 500 is good enough to keep family members and burglars without tools from getting access to your firearms. You can even get fire-rated gun safes for under $500.
Personally, I would like to keep my budget around $500 for a safe and spend the rest of my money on buying guns and ammo. Now, for a budget of 500 dollars, you won't get the most secure safe on the planet.
This much money can give a good steel vault that can deter most smash and grab burglars and will also keep your guns away from children.
Although you won't get the best gun safe ever, you will get something a lot better than hiding your guns in a $99 gun cabinet or your closet.
For $500, you can get a rifle safe that has some fire protection that will keep your guns from being stolen 99% of the time. Without further ado, let's have a look at some of the best gun safes that you can get for under $500.
| | | |
| --- | --- | --- |
| | | |
| | | |
| | | |
| | | |
| | | |
| | | |
| | | |
Top 5 Best Gun Safes Under $500
Here is a list of some of the reliable, budget-friendly gun safes on the market that you can get for under 500 dollars. Some might be slightly over 500 bucks because of tax and shipment, so keep that in mind.
1. Langger Long Gun Safe – Best Overall Gun Safe Under $500
Before I tell you why this is one of the best gun safes under 500, let me tell you this: this is not a heavy-duty 2k$ safe with an outstanding fireproof rating. Also, it isn't priced like that. However, for someone that only wants to drop 500 dollars on a safe, you won't find a better deal out there.
This is a fantastic rifle safe under 500 that will not only keep your firearms safe but it will also keep them out of the hands of kids and strangers. This home safe will do everything you will need it to do and more at this price point. You can easily hold multiple weapons as well as some valuables.
In addition to its removable shelves, there is also a small lockbox where you can keep your small, valuable items. Also, there is enough space inside the gun safe to comfortably keep 4 to 5 long weapons along with attachments like scopes and sights. The digital lock on this one is also reliable.
This gun safe features 14-gauge steel construction with 100% solid steel walls. During emergencies, you can quickly access the firearm in the safe using the digital keypad. You can use this feature as a security measure to prevent unwanted guests from accessing your guns.
This Langger safe has everything you need from a function standpoint. It's deeper, wider, and larger than similarly priced gun safes under 500. You can easily store rifles and other firearms even if they are fitted with scopes/optics. Also, the interior is carpeted and features soft foam barrel rest.  
Pros:
The removable storage shelf inside the rifle safe.
You can easily store rifles that are less than 43.5″ long.
Tamper-resistant inner edges.
Pre-drilled mounting holes for easy mounting.
Includes an extra battery pack
Cons:
2. Moutec Large Biometric Rifle Safe – Best Biometric Gun Safe Under $500
The Moutec quick access biometric rifle safe gives security to your rifle and allows you to access them the most. If you own rifles, you will need to take your gun ownership seriously. Also, if you are a new gun owner and looking for a good starter safe, this biometric rifle safe should provide great value.
Think of it as a sturdy steel cabinet with solid steel construction that is good enough to deter most smash and grab burglars. The 14-gauge steel construction gives it the toughness it needs to secure your firearms. It has 100% steel walls to ensure wall-to-wall protection. There are also tamper-resistant inner edges.
Instead of a 3-point locking system, this rifle safe has five built-in steel deadbolts. Having a five-point locking system is rare for a safe that doesn't even cost 500 dollars. This long gun safe is also wider and deeper than most similar models on the market. Also, there are three unlocking options.
The following is my review of these long gun safes. I don't think anyone can easily drill through this thick gauge steel. There is a lot of strength in the handle. There are no problems with the digital keypad, and the buttons work perfectly. It works well with the fingerprint feature providing easy access.
It's completely up to you when it comes to interior design. The shelves can be enlarged, lights can be added, and door hangers can be added. The possibilities are endless. Breaking into it will definitely take some work. I recommend it to anyone looking to buy the best gun safe under 500 for long guns.
Pros
Five-point locking system and pry-resistant door.
Biometric locking system for quick access.
It can easily store up to seven rifles.
Wider and deeper storage space.
Tamper and pry-resistant inner edges.
Cons
Nothing to complain about here.
3. Verifi Smart Biometric Gun Safe – Best Small Gun Safe Under $500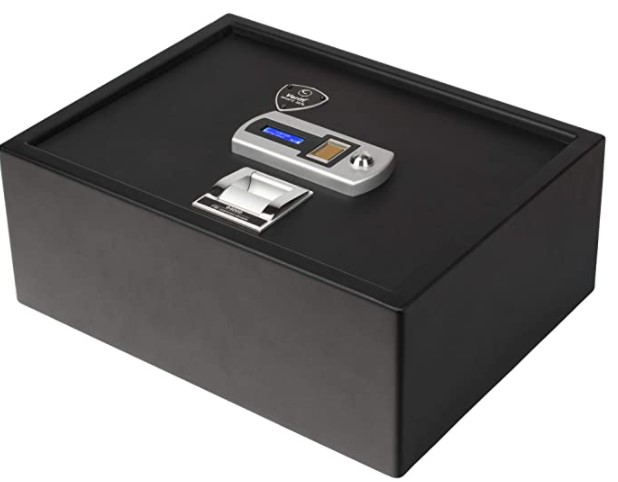 With the touch of your finger, you can enjoy the security of biometric technology and the convenience of quick access with the Verifi smart safe biometric gun safe. This gun safe utilizes 3D fingerprint technology that is tested and certified by the FBI. This scanner digs deeper into details.
This fingerprint scanner can get the most authentic image that you won't find on cheaper biometric scanners. Another cool feature of this gun safe is its automatic door locking mechanism. The door will automatically lock every time it is closed. This takes the guesswork out of locking doors.
Also, you will be able to tell if anyone messed with the safe as this smart device comes with multiple built-in tamper alerts. This will let you know exactly what happened when you are not present. Also, since there are a lot of electronics, a thorough inspection is a must to ensure all the components are working.
At least once a day, this safe will perform a thorough self-check on the batteries and the electronic lock. The safe itself has solid steel construction and is also approved by the California department of justice. It has a carpeted interior and also comes with pre-drilled mounting holes for easy mounting.  
Two motorized locking bolts secure the door. The safe has 14-gauge steel construction, and the door has a 4mm thickness with an approx. 8-gauge steel construction. If you are looking for a reliable gun safe under 500, this is a good option to consider for your home security/defense needs.
Pros
High-resolution fingerprint sensor for fast access.
California DOJ-approved firearm safety device.
It's very easy to program.
The scanner can record up to 40 fingerprints.
It doesn't have any bad reviews so far.
Cons
4. VAULTEK MX Wi-Fi Handgun Safe – Best Wi-Fi Gun Safe Under $500
Up next, we have a high-capacity handgun safe from Vaultek that has enough interior space to store up to eight pistols, handguns, etc. It also comes with pre-drilled holes so that you can easily mount it anywhere you want. Since it is a pistol safe, I would highly recommend you anchor it down as soon as possible.
This quick access handgun safe features a 12-gauge steel door and 14-gauge steel constructed body that make this gun safe tough, and rugged. Furthermore, it has a powder coat finish that ensures long-lasting protection and also prevents the safe from rusting.
Also, this is a rock-solid safe that is constructed to provide the utmost protection against the most common types of break-ins. Its security features include dual anti-impact latches and anti-pry bars that provide advanced anti-theft protection. Also, programming the keypad lock is very easy.
A built-in LCD screen allows users to set a security code quickly, and this screen also provides quick visual feedback. Now, since there are electronics, you will have to have a good and reliable battery. Lucky for you, Vaultek provides a rechargeable lithium-ion battery that can power this safe for months.
It comes with a USB charging kit and charges in 2.5 hours. This front opening safe has a powerful modular design. The interior is fully adjustable, and you can also reconfigure the interior with different accessory modules. Though a bit pricey, this feature alone justifies its 500-dollar price range.
Pros
It can store up to eight handguns.
Fully customizable interior.
Advanced anti-theft protection.
Tough and rugged steel construction.
User-friendly control and built-in LCD screen.
Cons
5. Barska Quick Access Biometric Rifle Safe – Best Rifle Gun Safe Under $500
The Barska biometric quick access long gun safe is great for three things: home defense, childproof gun storage, and theft deterrence. It is effective if you recently bought home defense tools and are looking for your first safe. In addition to keeping kids from getting access to your guns, it also keeps prying hands out.
With just a fingerprint scan, you can gain access to valuables in just 2.5 seconds, thanks to the high-quality biometric scanner. For discrete access, there is a silent mode as well. This safe has tamper-resistant inner edges as well as 100% solid steel walls. It's solidly built and won't be that easy to break into.
It's a long gun safe but with a small interior space. I will talk more about that in a sec. The installation is quick, and programming the fingerprint is also quick. Although it is sold as a long gun safe, it's actually a sturdy steel security cabinet where you can keep your rifles. This is to let you know what to expect from this one.
This Barska quick access biometric safe has a three-point locking system thanks to its three built-in steel deadbolts. Although it is advertised to hold four rifles, you can only manage to fit three in reality. In addition, if you're planning on mounting scopes on your rifles, it is not the best safe for you.
You might want to invest more and get a better safe. Having said that, if you want a cheap safe that will hold three rifles or shotguns without a scope, then this would be the best choice. The shelf that comes with the safe cannot be used for shotguns or rifles with barrels longer than 23 inches.
Pros
Good quality steel security cabinet.
It provides fast and reliable access to your rifles.
It's a good 1-long gun safe that you can keep close to your bed.
You can fit a AR 15 without removing the scope.
Easy to install.
Cons
You can't store more than one rifle with sights.   
6. Long Guns Safe with EMP Lock – Best Large Gun Safe Under $500
This list of the best gun safes under 500 wouldn't be complete if I didn't include a gun safe from Steelwater. I'm sure you are familiar with this brand. If not, let me tell you, Steelwater long gun safes are highly popular among gun owners. For a safe under 500, this long gun safe has plenty to offer.
This 16-gun capacity heavy-duty safe features a digital lock that is EMP proof. If that doesn't work, it also includes a high-security bypass key so that you don't accidentally get locked out of your gun safe. It's solid, very sturdy, and has excellent craftsmanship.
Also, if you are looking for the best fireproof long gun safe under $500, this might be the one for you. It's rated to be fireproof for one hour at 1875-degrees. Furthermore, there are ten; I repeat ten 1-1/2-inch locking bolts securing all four sides of the door. It's nearly impossible to pry open this gun safe.
Just make sure to position this safe in a corner where walls surround it. Also, don't forget to anchor it down. Now, what makes this gun safe worth looking into is the fact that it comes with a ton of additional things such as a Fire & Burglary warranty, a dehumidifier, and a door organizer.
In terms of construction, it has 16-gauge heavy-duty steel construction and a thick 5-inch composite constructed door. There are two layers of fireboard inside. A drill-resistant hard plate protects the lock plate to protect it from being drilled open. It also has re-locking bolts, just in case.
Pros
It features a three-way direct drive lock and bolt system.
Powder coat black finish with a semi-gloss texture.
Heat-activated expandable door seal.
Internal spring-loaded re-locking bolt.
Pre-drilled holes for anchor bolts and dehumidifiers.
Cons
It might need to do some product hunting to get this under 500 dollars.
7. BARSKA Biometric Safe – Best Mountable Gun Safe Under $500
For a safe under 500 dollars, this quick access biometric safe has a lot to offer. Although you can't store a rifle inside it, it has plenty of space to store your other valuable items. The BARSKA AX13494 has two solid-steel locking bar bolts that are long and very strong.
This allows the safe to have a pry-resistant recessed door. In addition to that, this safe has a fireproof construction that will provide maximum security for your valuables. This safe is fireproof and rated for up to 30 minutes at 1200-degrees. This 1.6 cubic feet safe weighs around 58 lbs.
The fingerprint scanner gives you quick and reliable access to your valuables. This fingerprint safe features a fingerprint memory that can store up to 100 fingerprints. This means you can give access to multiple family members in your home. Also, it comes with backup keys if you need alternative access.
You can also mount this safe with the included mounting hardware. The interior of this safe is fitted with a 12mm fireproof gypsum board and has a dimension of 12.0″ x 13.5″ x 17.0″. To provide protection to your valuables, this fireproof safe has a fully carpeted interior.
You can also keep your valuables organized because the interior features an adjustable shelf. In addition to that, it also offers net pockets for easy and organized storage. If you want to safe that you can quickly access and want to have fireproof protection, this is the one to get.
Pros
Reliable biometric fingerprint sensor.
Two solid steel long steel bolts.
Pry-resistant recessed door for maximum security.
It has pre-drilled holes and includes mounting hardware.
Cons
Fairly new, I don't know how it will hold up.
Choosing The Best Gun Safe Under 500 Dollars
Select the safe that best suits your needs, then shop accordingly. Generally, cheap safes are thicker and have more robust locking mechanisms than steel security cabinets. Honest people remain honest thanks to them.
These safes under 500 dollars are secure enough to keep your firearms protected during a quick smash and grab. Getting into your safe is inevitable if they are expecting one or already know what you have.
In comparison with leaving things out in the open, cheap fire safes provide better protection. Fire ratings cannot be compared if they are not UL listed. The fire test is just their version as opposed to someone else's version.
If you only have a budget of 500 dollars to spend on a gun safe, make sure that you buy the largest one that you can afford. Also, make sure to anchor it down firmly.
The quality, craftsmanship, and materials of a gun safe are likely to be better with a more expensive safe.
At this price range, you can find under bed safes for both long guns and short guns.
Lastly, I'm sure you are wondering why there are no safes from First Alert even though they are fireproof. To be honest, I think you will find better deals out there if you want the best bang for your buck.
If you want my recommendation, go with the First Alert 2092DF. It's a small safe with a foam padded interior and 18-gauge steel construction. The electronic keypad is reliable and since it's a small product, it comes with a security cable.https://www.youtube.com/watch?v=dSntODx3vVY
What's The Point Of Investing $500 In A Safe?
You need a lot more money on a Big Thousand Dollars gun safe if you want to stop determined criminals who know you have guns and are trying to get them.
The key to stopping a break-in is to conceal both your guns and gun safe and provide enough obstacles that they get nervous and just grab whatever they can grab.
The purpose of a 500-dollar safe is simple. They are strong enough to deter smash and grab burglars.
Also, you can keep your guns safe inside a safe, knowing that your kids won't be able to get access to them. You can achieve that using a steel cabinet, but a gun safe is designed to be more secure.  
Things To Consider When Choosing The Best Gun Safe Under 500
Apart from the common security features, there are a couple of things you should consider when buying a gun safe under 500. If not, you will mostly end up with a glorified security cabinet. A safe under 500 should have the following features.
Gun Safe Locking Mechanism
No matter how large or small your gun safe is, it's important that you have a reliable locking mechanism.
The majority of locks in this price range are unbranded and outsourced by the manufacturer. Since this is the case, it is hard to tell how well it will work.
As a general rule, I recommend keeping an eye on the quality of the product and the brand. Also, another factor to look at is the ease of access. A biometric fingerprint lock from a reputed brand should be reliable.
Steel Thickness
Most of the steel you'll find underneath $500 is 14 to 18 gauge, so it won't be very thick. If you can manage to find a thicker safe, that would be awesome. The quality will almost certainly be sacrificed elsewhere if that is the case.
Fire Rating
For a home safe under 500, I wouldn't put a lot of trust in the fire rating. The idea is nice, and you should try to acquire it if you can. Make sure it doesn't burn by using other methods.
Warranty
Especially in this category, you'll want to remind yourself to pay attention to this. In the case of an inexpensive safe, it is essential to obtain a good warranty. Most likely, you will get a one-year warranty. But it will vary from manufacturer to manufacturer.
Final Words
There aren't many better gun-safe options within a 500-dollar budget than those above. Most of the time, you won't need a super expensive 3000$ fire-resistant Fort Knox safe to keep your guns safe.
Only pay more if the valuables you are securing are worth the extra cost of a safe. So, keep all these things in mind when you are going for the best gun safe under 500.