Best Pistol Safe Reviews In 2022 – Tested & Buying Guide
It is important to take ownership of a gun seriously. Even something as small and compact as a Glock can have deadly consequences if it gets into the wrong hands.
Also, you must keep your guns out of sight if you have small children running around the house. It becomes easier to manage this task with the best pistol safe.
Gun safes may seem like an unnecessary investment to some people. When you have one of these units in your home, you will learn to appreciate all the benefits these small safes can provide.
Furthermore, a gun safe can also be used to store other items such as essential documents and valuables.
We will examine some of the best handgun safes available on the market in this article so that you can find a unit that suits your needs perfectly.
Top 10 Pistol/Handgun Safes Picked By Experts
---
| | | |
| --- | --- | --- |
| | | |
| | | |
| | | |
| | | |
| | | |
| | | |
| | | |
| | | |
| | | |
| | | |
Top 10 Best Pistol Safe Reviews
Are you concerned about your guns falling into the hands of unauthorized family members or burglars? It's time to get a gun safe. There are a lot of them out there but not all of them are worth looking into.
To narrow down your search, we've selected some of the quick access pistol safes that you can get to make sure your firearms are protected and also be able to access your guns when you need them the most.
1. Fort Knox PB1 Handgun Safe – Best Overall Pistol Safe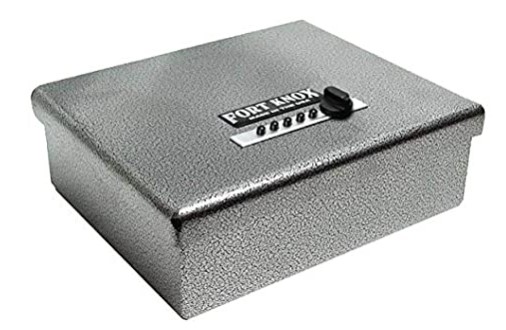 This is the father of all handgun safes. The Fort Knox brand has built a reputation as one of the most respected brands in the industry. For those who want to store one or two guns behind a high-security lockbox, this particular model is a wonderful investment.
This unit is great because of its simplicity. A Simplex combination locking system is used instead of any electronic locking mechanism. Because this simplex pistol safe is a fully analog device, it does not require a battery replacement, allowing you to get full security.
Despite the extremely straightforward locking mechanism, you can still get inside the safe easily. As soon as you input the correct combination code, the door is able to pop open relatively quickly, thanks to the gas strut compressors. The code is the only way in, so be sure to remember it if you still wish to access the safe.
Steel alloy body with a thickness of 10-gauge is used in the construction. The Fort Knox pistol safe protected by a metal wraparound design of 3/16-inch thickness. Also, the door hinges prevent prying attempts due to their tamper-resistant properties. The pistol box comes in a simple design but does not go unnoticed.
There is enough space inside the Fort Knox handgun safe for a regular firearm, ammunition, and other valuables. You can potentially fit two compact handguns inside without much difficulty if you are using compact handguns. Additionally, holes are predrilled for mounting the unit to any surface.
Pros
Build quality is very durable.
An analog-only design.
Great value at a reasonable price.
It does not require batteries.
Cons
If you forget the combination code, you can't open the safe
2. SentrySafe QAP1BLX Biometric Gun Safe – Best Small Pistol Safe
SentrySafe is one of the most recognizable brands in the world of safes, lockboxes, and gun safes. By looking at its QAP1BL gun safe, you can put aside any doubts about the company. The sleek, modern design of this sentry-safe pistol safe provides your valuables and firearms with excellent protection and security.
Through its biometric scanner, the SentrySafe quick access biometric pistol safe offers top-of-the-line fingerprint recognition technology. You can reach your gun quickly in an emergency since it is smooth and responsive. In addition, it boasts an LED-backlit keypad for setting up your own combination code as a secondary access point.
Because the doors have gas strut compressors, they pop open instantly when the door identifies a valid access request. Due to its one-handed operation, it is possible to access the interior without lifting the door manually. Override keys are provided if the batteries fail, or the other access points do not work.
For a gun safe of this quality, heavy-gauge steel is used, which guarantees its durability and strength over time. A pry-resistant door hinge prevents any attempts at theft and guarantees the unit's integrity. A testament to its credibility is that it is approved by the California Department of Justice.
There is enough space inside this fingerprint pistol safe to store two regular handguns as well as a few other small items. For increased visibility at night, the SentrySafe quick access pistol safe also features a discreet blue LED. The bag is lining on the inside to prevent any cosmetic damage to your firearms.
Pros
Easy and quick access.
Backup keys are also included.
Despite its size, the interior space is large.
Approved by California Department of Justice.
Cons
If your fingers are wet, the scanner will not work.
3. Stealth Handgun Hanger Safe – Best Combination Pistol Safe
Safely store three of your favorite handguns at the ready position in this Stealth Handgun Hanger Safe. It will also hold two more handguns flat on the floor of your safe. Featuring all the latest features, it's the perfect tool for accessing your firearms in no time. Uniquely designed and extremely versatile, this product is truly unmatched.
This is a great multiple handgun safe from Stealth if you want to have quick access to your handguns. At the same time, it has some premium features built into it at an attractive price.
The locking mechanism of this machine is very simple. The keypad of this device has a four-digit keypad that allows you to create a six-digit combination code. Keypresses are accompanied by audio feedback. This can also be turned off based on your preferences.
Whenever an electronic safe is used, batteries are necessary. It can, however, be plugged into an included Power Port to provide continuous power. Even when the power is out, it remains functional thanks to the batteries. Additionally, it comes with a backup set of keys and a way to override it if necessary.
The gun safe's door is made of steel and features anti-pry tabs. Furthermore, the lock housing is welded, and the latch is of high strength to prevent tampering. Also, the handgun door is loaded with springs, making it easy to get to it quickly.
Your guns will always be at the ready with this unit. You can pull your firearms immediately from the safe's three handgun holders. A high-density foam liner protects the cosmetic quality of your firearms. A security cable is provided that allows you to mount the device easily.
Pros
Holds handguns at the ready position.
High-density foam interior.
Spring-loaded drop-down door.
You can keep it plugged in for continuous power.
Cons
There are no predrilled holes or mounting brackets included in the package.
4. Awesafe Upgraded Size Gun Safe – Best Bedside Pistol Safe
The next pistol gun safe on our handgun safe reviews is a low-profile gun safe by Awesafe. This device truly puts the "awe" in awesome with its extremely stylish design and sophisticated security features. Though smaller, there is enough interior space to fit a gun and two magazines easily.
Because it is portable, you can easily take it with you wherever you go. However, do not let the small size fool you; this is a tank-like machine. Anyone thinking of breaking into the safe will have a tough time with its solid steel construction and pry-resistant door.
This gun safe includes a top-of-the-line biometric scanner that can instantly recognize your fingerprint in order to grant you quick access to your firearm. A gas strut compressor opens the door discreetly, and the interior blue LED enables you to see clearly even when the lights are out.
Intruders tend to target homes at night, so this feature is extremely convenient for you. In addition, there are four backlit keys that can be used to set up a combination code as an emergency backup. For the event that the battery runs out, a manual override key is also included.
Handguns are protected from scratches and damage when stored in the gun safe thanks to its sponge interior. Due to its size, it is the ideal bedside safe for guns. This bedside handgun safe can also be kept in a closet, in an office, in a basement, in a bedroom, or anywhere else you like.
Pros
Pry-resistant door and solid steel construction.
This portable pistol safe secure storage for two standard handguns.
Allows for single-handed access.
Sponge interior protection.
Cons
There is room for improvement in the fingerprint sensor.
5. VAULTEK VT20i Biometric Handgun Bluetooth Smart Pistol Safe – Best Biometric Pistol Safe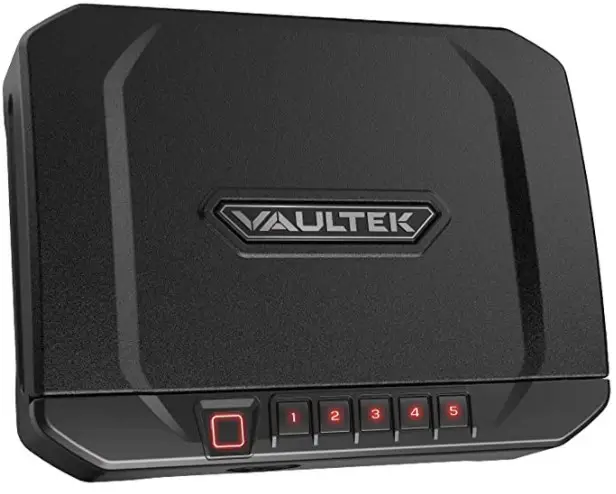 The VAULTEK VT20i is a high-quality biometric gun safe that is ideal for fortifying your nightstand or on-the-go security. As it meets TSA guidelines for airplane firearms, this small pistol safe can be taken through airport security checkpoints with ease.
There's no denying that this gun safe has made quite a name for itself in the gun community because of both its stylish designs and security features. Durability is not an issue with the unit, thanks to its heavy-gauge carbon steel construction. Furthermore, the powder-coated finish offers enhanced corrosion protection.
In this device, you have access to the interior quickly and easily with a state-of-the-art fingerprint scanner. Your touch is quickly detected by the biometric scanner. As a backup, you can also use the keypad if you are unable to access the fingerprint reader.
It has precision-engineered 16-gauge steel body that will safeguard your personal valuables and firearms. The Red LED backlights on both the scanner and the touchpad provide useful visibility in low light conditions. Besides being rechargeable, it also has a lithium-ion battery as a power source.
A single full charge can provide you with up to four months of continuous use. In addition, it comes with a charging cable for your smartphone. It also comes with a security cable that measures 5mm in diameter and is 4 feet long. Also, it comes with all the necessary mounting hardware to anchor this pistol safe.
Pros
Easy-to-use and fast locking system
The finish is powder-coated to prevent corrosion.
A strong 16-gauge steel body.
Two-point anti-impact latches.
Cons
6. RPNB Smart Pistol Safe – Best Universal Pistol Safe
If you're looking for an electronic handgun safe, you can count on RPNB. Investing in a biometric unit like this is a fantastic way to guard your firearms against unauthorized access. It features four points of entry, so you can access the safe in four different ways.
To begin with, there is a biometric scanner which is also an RFID scanner, providing totally touch-free access. Access to the safe is granted via a key card and a key fob included with your purchase. In addition to a robust keypad system, the RFID locking system is a great addition.
You don't have to spend time fiddling around with keys and codes when you have the key card and key fob. The single handgun safe also features four backlit keys that can be used to set an access code. Using the provided master key, you can also access the interior via the basic key lock.
16-gauge carbon steel construction provides a rugged, heavy-duty unit that will surely last for a very long time. This safe feature a pry-proof door and double-layered steel housing to secure your valuables in any situation. Also featured are corrosion-proof powder coat finishes that assure long-term protection.
Even though the safe is battery-operated, you can still open the safe by using the included master keys. This is a compact and an affordable weapon storage and access unit that can provide quick access to your weapons if needed.
Pros
Meets TSA requirements.
16-gauge carbon steel construction.
Seamlessly welded pry-proof safe.
RFID quick access.
Cons
So far, there is nothing to nitpick about.
7. First Alert Portable Handgun Safe – Best Portable Pistol Safe
Safeguard your firearm and ammunition with the First Alert 5200DF pistol safe. A heavy 18-gauge steel construction and powder coating make this handgun safe and rust- and wear-resistant. For easy access to contents in an emergency, the safe also features a spring-loaded hinge.
With a weight of just 4 lbs., the gun safe provides the perfect balance between security and portability. A no-see passcode of three to eight digits can be set up on an electronic keypad on this gun safe for maximum security. Your firearm or valuables are protected using the electronic entry system of the safe.
The spring-loaded latch on the door of this home safe allows it to lock securely. In case of an emergency, you will have quick access to it. Using the predrilled holes in the floor, it can be mounted to a trunk, shelf, closet, or car trunk. It comes with a 1,500-pound-tested steel cable.
To protect contents during storage, the gun safe boasts a foam-lined interior. With this safe, you will find heavy-duty construction, pre-drilled holes, included steel cable, and foam-lined interior. It has plenty of room inside to fit a full-size handgun.
If you need to secure your pistol for home defense because you have curious children at home, then this handgun safe is what you need. You can program the combination in under five minutes by following the instructions. The locking mechanism looks very sturdy too.
Pros
Affordable pistol safe to secure valuables.
It can fit a full-size handgun inside.
Quality and craftsmanship are comparable to top-tier safes.
A viable option for gun owners with kids.
Cons
The keypads are not backlit.
8. RPNB RFID Gun Safe for Pistols – Best Value Pistol Safe
The brand RPNB has another device we want to show. This small pistol safe is also sleek and stylish, just like the previous safe on our list. The brand seems to have mastered the aesthetics of a gun safe. There is more to it than just looks.
A state-of-the-art electronic keypad is included in the safe. A backlit keypad with a gaming-inspired action lets you enter information efficiently and offers over 20,000 different ways to enter. The pin code consists of four digits and can be set up any way you prefer to make it uniquely yours.
Spring-loaded springs make the door pop open instantly when the correct code is entered. By entering the wrong code, you lock your safe for five minutes, which is a great feature to prevent break-ins. Powder-coated steel is used for durability.
Any attempt to pry this open will be unsuccessful. The shock-proof design of the carrying handle prevents serious damage to your belongings should they fall. Your unit is more than protected by the foam padding inside. You will sleep better at night knowing that no one can access this safe but you.
It includes predrilled holes for mounting but does not include a steel tether. The door can also be opened manually with the keys. If you do not have batteries, then your electronic keypad will not function, but you can still open it using the backup keys.
Pros
Spring-loaded lid and steel constructed body.
Best bang for your buck pistol safe.
Slim and lightweight design.
High-quality foam padding.
Cons
It can't be placed inside a drawer.
9. V-Line Top Draw Security Case – Best Keyless Pistol Safe
The next product on our list is the V-Line 2912-S mechanical handgun safe. It's also known as the Top Draw. Featuring a low-profile design and a tough and rugged exterior, the lockbox ensures the complete safety of your firearm. This pistol safe is perfect if you want it in your nightstand or your car.
A Simplex combination locking system is used on this machine. It is time-tested and efficient. This device comes with just five push buttons on top, which you can easily program and set up. Batteries are not required, so you save on replacements. Unfortunately, it has no backup access method as well.
Providing security is the purpose of the unit, and it does so in a stylish manner. Unfortunately, the firearms are not accessible via the gas strut compressor, which means you can't access them quickly. If you're more concerned with security than speed, this pistol safe won't disappoint you.
It boasts a sturdy and robust steel construction that will last for years to come. Prying open the door is impossible due to the welded hinges. The top of the safe meets the bottom part of the unit when closed, creating a seal to prevent tampering.
Although the unit is small, the interior is quite spacious. There is enough room for two compact handguns and a few additional rounds. In order to maintain the finish of your guns, the interior of the unit is lined with high-density foam padding. Installation is easy and straightforward since mounting holes are predrilled into the safe.
Pros
A semi-gloss black powder coating.
Strong and rugged build quality.
Simplex locking mechanism.
Compact and portable pistol safe.
Cons
Doesn't include any mounting hardware.
10. Vaultek MXi Bluetooth and Biometric Safe – Best Large Pistol Safe
Finally, we have the VAULTEK MX Series high-capacity pistol safe. This one is perhaps the most feature-rich safe on this list. It's also the largest out of them all. This large handgun safe can store up to eight handguns with more room to spare. You can also mount this to your nightstand since it includes pre-drilled holes.
With purchase, you will also get all the necessary mounting hardware that will allow you to mount this large pistol safe to any stationary objects. This handgun safe has a 12-gauge steel door and a 14-gauge carbon steel body. It also has a powder coat finish that makes it durable and corrosion resistant.
It's one of those smart handgun safes that have an impact detection system built-in. If someone tries to break into the safe or bumps it, the alarm will go off. Also, there are some amazing anti-theft features on this safe like dual anti-impact latches and anti-pry bars. This smart safe can easily prevent most break-in attempts.
The main attraction of this safe is its modular interior design. You can customize the interior however you like. Also, you can install additional accessories inside to achieve a custom interior. By customizing the interior to your liking, you easily store more handguns and magazines. It also has a height-adjustable shelf.
The best part is you can pull it out. Just like the safe, the biometric fingerprint scanner is also bigger. In fact, oversize would be a good statement. It is capable of storing up to 20 fingerprints and will give off fewer negative results. It also supports smart app controls and keypad entry mode.
Pros
High-resolution biometric scanner.
Fully modular interior.
Includes a rechargeable lithium-ion battery.
Rugged and tough build quality.
Cons
Choosing The Best Handgun Safes
Keeping your guns stored safely is an important duty for a responsible person like you. You must ensure the safety of those in your household, no matter if you're a collector or a home defense buff.
A gun can become the instrument of someone else's accident, so the responsibility lies firmly with you. In addition to keeping your weapons safe, a gun safe will also limit the number of people who can access them.
Furthermore, if an emergency arises, you can access your guns quickly with these units. The most important thing about locking your gun in a safe is that an intruder can't take it.
You should not make any compromises when choosing the best pistol safe for home defense. Make sure you check all the boxes and make sure the safe you buy can safeguard your guns as well as you.
How Much Should I Spend For A Handgun Safe?
Guns are not cheap. If you want to protect your investment, you should get a gun safe that can provide adequate protection to keep your expensive guns safe.
You can go with a more affordable gun safe if you plan on keeping guns that are mass-produced and don't cost that much to own. For some peace of mind, this makes sense.
I would increase the price even more if you have heirlooms that cannot be replaced. Safes are like insurance for the stuff they contain. Moreover, you should be able to lower your insurance costs as well.
Mechanical Vs. Electrical Lock
I prefer the traditional mechanical locks over the electronic ones. You might think of me as an old-schooled guy but for important safes, mechanical locks are simply more reliable.
There is less potential for hacking and the best part is… no batteries to replace. However, if your primary concern is the ease of use, and want quick access to your safe, biometric handgun safes are for you.
There is still room for improvement, but the technology is getting there. You use your fingerprints, have a running log of access, and even set up multiple combinations.
Steel Gauge Thickness
The thickness of steel is measured in a gauge. The lower the gauge, the thicker the steel. A gun safe that has 14-gauge steel and tougher than a safe that has 18-gauge steel.
How Big Of A Handgun Safe Should I Get?
When you are looking to buy the best handgun safe or any kind of safe for that matter, the rule-of-thumb is that always get double the size than you might think you will need.
There is a good chance that you will buy more guns in the future. I mean, we all want more guns. Also, a safe that can hold two guns means that it can hold two un-scoped guns. This means a gun with a sight scope might take all the space inside of a two-gun safe.
Handgun Safe Vs Long Gun Safe
Gun Safes for handguns have many of the same advantages and limitations as the weapons they store. Due to the size and portability of these safes, they are usually limited to holding one or two pistols.
It is possible to store several long guns and handguns in a full-sized firearm safe, but they aren't as portable or easy to conceal as smaller safes. Gun safes for handguns are small enough to hide at your bedside, unlike larger gun safes that require much more space.
A handgun safe is essential for gun owners who own only a single weapon and are not collectors. If you use your handgun collection for self-defense or target practice, then you should get a safe for your collection as well. You choose the safe as carefully as you choose your weapon.
Things To Look For In A Pistol Safe
There are numerous features that will make a handgun safe the best. Here are some things you should consider:
Construction Quality and Durability
Almost everyone knows this, but you should make sure your handgun safe is durable and has a tough build quality.
Almost all of the small pistol safes available on the market are rather flimsy. Despite the quality of the locking mechanism, it can be easily beaten down to gain access to the contents inside of the safe.
Another major construction flaw is that many pistol safes are not welded. In other words, you simply throw them on the ground to open them. A hammer can also be used to plow through them, making the rest of the safe open.
To get a proper handgun safe, it must be welded and seamed together, and it must be made with sturdy and thick steel.
Locking Mechanisms
Biometric scanners are available in some handgun safes, but it's a good idea to have a lock with a keypad as a backup. The numbers are also easier to see in low light thanks to backlit keypads.
Having a safe that is difficult to break into is also important. It's highly recommendable to use a combination mechanical lock or a durable key lock on a pistol gun safe.
If you want the cheapest option, key locks are your best choice, and mechanical locks will cost you more. The way a key lock works is that you simply insert the key into the safe to move the deadbolt, which lets you access the safe.
Locks with mechanical mechanisms require a combination to be punched in order to open them. Someone who does not know the code will have a very hard time (and long) trying to break into the safe since there are thousands of possible combinations.
A handgun nightstand safe can be opened with both key locks and mechanical locks, but many people prefer mechanical locks because they don't require a key to be present.
Pre-Drilled Holes
Even though it may seem obvious, your safe can't have many or any holes on the steel exterior. When an exterior piece is removed from a handgun safe, you can see where holes are located. Using the holes inside the safe, burglars can pick their way through the mechanism to open the door.
There are usually more holes in sheet metal seams that are not welded on safes. In addition to mounting holes, some safes will also have security cable slots. It is important to avoid safes that have holes, as they are largely a construction issue.
Entry Modes
You want to catch an intruder by surprise when they break-in. Safes with silent entry allow you to open them without making any noise. Some gun safes have advanced security features such as fingerprint scanners, tamper alarms, or app connectivity with your phone in addition to quality construction and a safe locking mechanism.
It is easy to open a safe and secure a firearm with a fingerprint scanner. You don't have to memorize or find keys.
You can use several fingerprints to open some of the gun safes out there, so you can let different family members use the safe, as necessary, without the risk of writing down sequences or storing too many sets of keys. Since these scanners rely on batteries, the gun safe needs to be monitored and maintained more frequently.
With smartphone apps, you can receive notifications of tampering or battery/power status, as well as keep a record of safe access. With it, you can always monitor your gun safe to make sure it's protected.
Tampering Alerts
When someone enters their backup key or fingerprints or keypad incorrectly, some handgun safes record the attempt. Using this feature, you will be alerted if anyone other than you attempt to access your handgun safe.
Frequently Asked Questions
1. Why should I get a handgun safe?
In addition to keeping your handgun out of the hands of children and burglars, a handgun safe also makes it easy to access your handgun quickly. In case of a home invasion, all you have to do is punch in the code or your fingerprint to open the safe and get your handguns.
2. Are pistol safes fireproof?

People often believe handgun safes protect pistols during a fire, but this is not true. It doesn't matter how 'fireproof' a handgun safe may claim to be, the contents inside won't be adequately protected in the event that your house burns to the ground.

It will be much more difficult to protect contents from a fire with a smaller safe, so you'll need an extra-large safe that's actually designed for this purpose.
3. Can pistols rust inside a safe?
The answer is yes. Rusting can be caused by moisture and humidity in gun safes, which are generally not designed specifically to minimize these factors.

A safe still requires regular cleaning and lubrication to prevent rust on guns.
It might be a good idea to add a dehumidifier to your safe so that rust can be prevented.
Final Words
When an emergency or home invasion happens, gun owners want to be sure they can quickly access their handguns for home defense. In addition, we should ensure that this handgun is always protected so that when we are not here, a child or burglar won't be able to grab it.
The best solution for this is to get the best handgun safe. A pistol/handgun safe is a means of protecting your weapon from home invasions while also making it easy to quickly access it. It is for this reason that many people will keep a gun safe under their bed or on their nightstand.