Best Car Gun Safe In 2022 – Reviews & Buying Guide
A good car gun safe that has a compact design with all the right security features is what you should look for. If you have a concealed carry permit, this means you are allowed to carry firearms.
However, some places won't allow you to carry, for example, the court, post office, federal buildings, hospitals, and even private businesses.
If you conceal carry a lot and need to go somewhere where guns are not allowed, your only option is to leave the weapon inside the car. There are different ways to secure your firearms in this situation while you are in or out of your car.
Now, it's not safe to just stash your gun inside the glove box or in the center console vault and locking the car. You are basically inviting car prowlers. Instead, you should get yourself the best car gun safe and put your guns inside it.
The best portable gun safe for cars will deter most smash and grab burglars. It's also a great way to store that firearm both securely and safely inside your vehicle.
Top 11 Car Gun safes – (Picked By Experts)
---
| | | |
| --- | --- | --- |
| | | |
| | | |
| | | |
| | | |
| | | |
| | | |
| | | |
| | | |
| | | |
| | | |
| | | |
11 Best Car Gun Safes Reviews
There are multiple ways you can mount a gun safe to your vehicle. Try to keep it hidden but not in a way that it becomes inaccessible. I'll talk more about that later on. For now, let's have a look at some of the best vehicle gun safes for gun owners.
1. VAULTEK LifePod Secure Lock Box – Best Overall Car Gun Safe
The LifePod is Vaultek's latest addition to their portable, rugged line of gun cases. This a car gun safe that is solely designed for car use. It's sturdy, compact, and lightweight. It's also water-resistant and dust-proof, making it the ultimate travel companion for people that are always carrying concealed firearms.
Because of its small design, it can't fit full-size handguns. However, there is enough space to keep subcompacts like Sig p365 and compacts like Glock 19. You will also have plenty of room inside to store extra magazines.
This compact car gun safe comes with a 19-inch steel cable to keep it locked up inside the car. This vehicle safe is designed to deter crimes of opportunity or snatch and grabs. The lock is easy to use and super reliable. Easily program any combination between 4 to 8 digits on the electronic lock.
It can be secured almost anywhere in your car using the cable loop. It feels very sturdy because of the polymer construction. Speaking of construction, it's way better than most thin steel lock boxes on the market which also makes it one of the best car gun safes on the market.
For extra security, the latches on this car gun safe incorporate anti-impact technology. It is possible to disable backup keyed lock as an additional measure of security. Amongst its other safety features, there is a built-in locking system that activates the anti-impact latch.
Pros
It can easily fit compact and sub-compact handguns.
TSA compliant portable gun safe.
Weather-resistant and airtight.
It comes with a 19-inch steel security cable.
Cons
2. Hornady Rapid Gun Safe – Best RFiD Car Gun Safe
The Hornady RAPiD car gun safe features fast and dependable touch-free access to your firearm while in your vehicle. The RFID key fob, watchband, or decals instantly opens this compact gun safe for quick access to your handgun. The conventional key lock can also be used as a backup entry method.
It comes with a mounting system that allows the gun safe to be secured without the need to make any modifications to your vehicle. This is a patent-pending mounting system that features an inflatable bladder. This bladder slides between the center console and the seat to position the safe securely.
This also allows you to position the safe in a ready position. This car gun safe meets or exceeds ASTM International safety standards for high-attack resistance saw/pick/drop tests, pry resistance, and lock strength. Also, the exterior housing is made using 14-gauge steel for durability and toughness.
This gun safe for cars ensures your handgun is always protected and ready to go wherever you go. This car gun safe comes with a security cable that attaches to the frame of the seat for an extra level of protection in a dangerous situation. 
This car gun safe has a durable construction. Two locking lugs are positioned inside the hardened 14-gauge steel construction. This device is heavy-duty, dependable, and tamper-proof. It also has foam padding inside to keep your guns protected. 
Pros
It can be mounted on the passenger or driver side.
Presents your gun in a ready position.
Touch-free RFID lock system technology for quick access.
It includes a 1500 lb. steel lock-down security cable.
Cons
It might not fit some car seats.
3. Hornady Lockbox for Guns – Best Key Lock Car Gun Safe
Sometimes, a basic lockbox is all you need to keep your firearms safe and secure inside your car. For that, this Hornady lockbox for guns is a perfect choice. This is without a doubt the best car safe box for guns on the market.
This lockbox has three size options. The first one is the alpha elite. The second one is the large lockbox. After that, you have the extra-large lockbox. Now, all of them have tamper-proof heavy-duty construction.
The alpha elite model comes with a 3-foot-long steel security cable, and larger ones come with a 4-foot-long steel security cable. These patented cables are rated for 1500 lbs. of force. The cable receiver saves space inside the box and allows for maximum storage.
These lockboxes deliver top-notch security that standard lock boxes can't match. It features a dual crossbar patent-pending latch mechanism, barrel key lock, pry-resistant security band, and more. They also have 16-gauge steel housing.
The car gun safe easily fits under a car seat. The firearm meets TSA requirements for firearms on airplanes as well. The interior of the bag is lined with premium foam to protect the contents. It can accommodate most pistols with barrels of 4 inches inside. In short, it is very sturdy and a tough one to break into.
Pros
16-gauge durable steel housing.
Patented space-saving cable lock design.
Plenty of storage inside the lockbox.
Foam-lined interior.
Cons
It takes a bit of time to get used to the lock.
4. SentrySafe Pistol Safe – Best Portable Car Gun Safe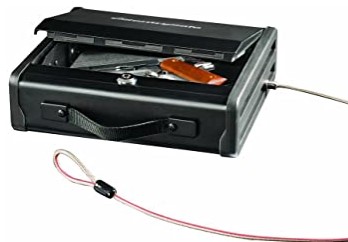 The SentrySafe PP1K is a one handgun-capacity portable gun safe that provides secure storage for your firearm. It comes with a tether cable that allows you to attach this gun safe to any stationary object for added security. It also has a carrying handle built-in for easy transportation and weighs around 6.5 lbs.
It has solid steel construction and pry-resistant doors for added strength. This gun safe is also certified by the California Department Of Justice. If you want to protect your pistols and guns from theft and unauthorized access, the pp1k portable pistol safe is for you.
With this gun safe, you can keep your firearms safe even on the move. A high-compression foam interior will keep your firearm and other valuables from being damaged while in transit. Keep in mind that this model is not biometric or electronic in any way.
It only uses a simple key-locking mechanism. However, there is also a digital keypad as well as a fingerprint lock safe. If you want to, you can bolt this car gun safe down as it comes with two bolts.
If you want to use this as a car safe, go with the keyed locking mechanism as it will give you the quickest access, and you won't have to worry about replacing the batteries every now and then. Even though pistol gun safe is small, it's relatively heavy.
Pros
Pry-resistant door for maximum security.
A solid heavy-duty steel construction.
California DOJ approved gun safe.
High compression foam.
Cons
Nothing to nitpick about.
5. SnapSafe Combination Lockbox – Best Combination Car Safe
The SnapSafe portable car gun safe has a simple yet effective design that provides handgun security and storage for concealed carry license holders. This sturdy and heavy-duty metal gun case comes with a 1500 lb. rated security steel security cable that you can use to secure it to any stationary objects in your vehicle.
It also features 16-gauge heavy-duty housing and a pry-resistant door. Users can set their own 3-digit combination with the combination lock. It also fits under a car seat easily. The interior of this safe has a foam lining to protect your guns inside. As for the size, the XL lockbox can easily fit 1911 size pistols.
This gun case meets TSA airline firearm guidelines and is also approved by the California DOJ. There are two pieces of foam inside that are not attached. You can take them off easily to manage space inside the lockbox. Now, the questions remain. Is this good for the car? It's good enough to deter smash and grabs.
Using the cable provided, you can secure the end of the safe, then loop the security cable around a fixed point in the vehicle. Furthermore, you can drill holes in the floor and bolt them down if you have thorough access underneath. In general, these lockboxes are excellent security accessories for any vehicle.
Pros
Thick 16-gauge steel construction.
A heavy-duty lockbox for vehicles.
It comes with a 1500 pounds rated security cable.
Removable foams inside.
Cons
No cover on the underside of the lock.
6. Winner The Club LB200 Personal Vault Security Lock Box – Best Seat Mountable Car Gun Safe
The Club LB200 is a heavy-duty security box from Winner International. Keeping your valuables like important documents, passports, guns, etc., secure, out of sight, and safe is the purpose of this lockbox. This small vault is made using durable and strong steel and aluminum. It also includes a braided cable.
The braided steel cable is polyurethane-coated and also very strong. This box is designed to attach to the seat mount of your car quickly. Also, because of the size, it easily fits under most vehicle seats. Next to the lock, you can see the security cable lock end that holds the inner tray in place.
A lever embedded in the lock drops into the recess at the end of the security cable. The exterior is solid, and both ends are opened. By removing the cable end, it slides out of the tray. It's a box inside another box. The outside box slides into the inside box.
The design is somewhat awkward because of space. There is just enough room for a Glock compact to fit, but a subcompact can easily be stacked on top of a Glock compact. Just make sure to order the XL size if you want to avoid that. The XL size can easily fit a full-size Glock 19 with an IWB holster attached.
Pros
Heavier sheet metal construction.
Thicker steel braided cable.
The perfect gun box for car owners.
It easily fits under most car seats.
Cons
Limited space with the original lockbox.
7. Hornady Rapid Gun Safe – Most Sturdy Car Gun Safe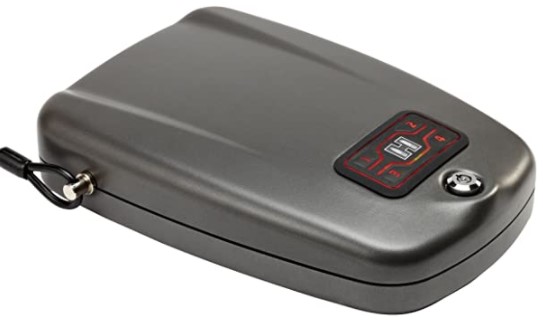 The Hornady RAPiD 2700KP gun safe features dependable and fast touch-free entry. The RFID decal, key fab, or wristband can instantly open the safe and give you immediate access to your guns. This safe is particularly important when you are in a car and want quick access to your firearm.
This gun safe also features a convenient keypad entry that gives you quick access with a 4 to 6 digits combination. The cool part of this safe is that it has all the features that most gun owners want in their gun safe. This gives you plenty of ways to gain entry to your firearm at any time.
If you have enough room for it to open on either side of your car seat, you can mount it either way. It is possible to switch the bladder so that it can be installed on either side. It will take less than ten minutes to set up in the car and half the time to program the devices for unlocking and opening the safe.
The housing of this RAPiD safe is made of 14-gauge steel and also has two internal hardened locking nuts. This safe also exceeds ASTM international safety standards for pry resistance. Any person who wants to secure their firearm with confidence in their vehicle should definitely consider this affordable car gun safe.
Pros
Well-made security box.
It works as advertised.
Easy to mount.
Quick access car gun safe.
Cons
8. RPNB Portable Security Safe – Best Portable Car Gun Safe
It is a responsible practice to secure small firearms in a pistol safe like this one while you are in your car. It is built with 16-gauge steel and powder-coated construction that makes the RPNB handgun safe is extremely durable. Strong and sturdy, it will provide you with years of use.
In the event of an emergency, this pistol cabinet can be accessed quickly. Spring-loaded access is provided by the door, whereas the PIN code is battery-powered and works instantly. For invalid codes, it will sleep 5 minutes. When the correct combination is pressed, it opens immediately for quick access.
Within seconds, you can create your own personal code. Corrosion is not an issue because of the black finish, ensuring its durability. It integrates easily into any interior space due to its unique finish. An attractive powder coat finish on the outside ensures its durability.
Besides being convenient, pre-drilled holes in the safe allow for easy installation on the car floor. The gun safe can't be pried open with ordinary hand tools because of its precise fittings. Furthermore, it can be installed almost anywhere and in any direction. This interior is lined with foam to ensure that valuables are safe.
Pros
Spacious interior with thick foam.
A nice powder coat finish.
It is super sturdy and thick.
It can easily fit 5.2″ and 4.3″ guns.
Cons
9. Stealth Mechanical Pistol Safe – Best Build Quality Car Gun Safe
Stealth Original PB-HD Handgun Safes are constructed of steel with a body of 10 gauge and a wrap-around door of 3/16″ thick. The pistol box features two 3/8″ steel lugs, a chrome-plated locking bolt, and two dead steel bars that help it to stand out from the competition.
Combined with the continuous hinge, this feature makes a safe nearly impossible to pry open when bolted down and adds an additional degree of pry resistance. The Simplex mechanical lock is located on top of this handgun safe. This lock is simple yet highly reliable.
The biometric reader doesn't need batteries, electronics, or batteries to work, and it is always reliable to open. There are 1,081 unique combinations, so even a burglar would have to work for hours to try them all. You are actually given more combinations than a standard four-button lock, which is unreliable.
The punch-resistant housing and lock-in steel added another level of security to the stealth system. You are still protected from burglars despite the lock being smashed. In addition to the gas piston assist, you'll also notice that the lid is held in place with a helping hand.
Pros
Stealth Original handgun safe for cars.
10-gauge solid steel body.
High density, pluck foam interior.
Highly reliable Simplex lock.
Cons
10. RPNB Biometric Gun Safe – Best Small Car Gun Safe
This quick access pistol safe from RPNB provides the ultimate prevention against break-ins. It has good storage space, is very sturdy, and is also easy to set up. It also comes with its own mounting hardware. There is enough space inside to hold two full-size handguns and even a spare magazine.
It has a nice weight and functionality. You will need to keep up with the batteries to get the most use out of the safe fingerprint function. This safe is notorious for draining battery life. Keep those keys handy in case this ever happens to you. Multiple fingerprints can be programmed to access the safe.
This gun safe features a pry-resistant door, durable dual-layer steel housing, and a seamlessly welded pry-proof steel body. It has a convenient and automatic opening door for one-handed access. The high-resolution sensor can store up to twenty unique fingerprint ids. The interior foam is very soft.
I guess that's all I can say about this safe. It's more of a bedside gun safe, but you can easily use it as a car gun safe if you manage to bolt it down. Unfortunately, this one doesn't include any steel security cables so your only option is to hide it under your car seat if you don't want to drill it.
Pros
Good quality gun safe for the price.
Pry-resistant, auto-opening door.
Heavy and smooth build quality.
It comes with mounting hardware.
Cons
Sticks out a bit in a car.
11. Fort Knox FTK-AUTO Auto Pistol Box Handgun Safe – Best Made-in-USA Car Gun Safe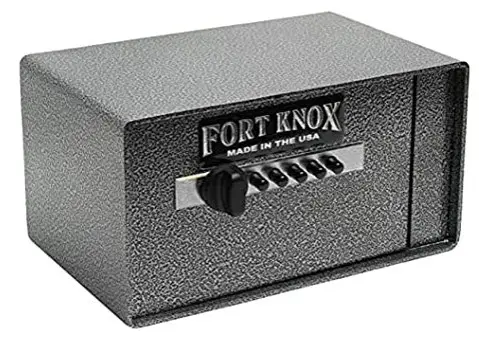 Fort Knox car gun safes are essential for car owners who cannot take their firearms with them. Made of high-quality materials, it is tough and durable. The interior sides of the pistol case are covered with carpet to prevent scratches. If you are looking for the best car gun safe to put in your console vault, this is the one.
The Simplex mechanical lock reduces the risk of fumbling with keys and worrying about batteries that might die. Changing the combination is easy as well. The best part is that it's made in the USA. It is important to note that you may need to mount this safe in your car since the safe is relatively small.
Furthermore, since there is a limited amount of space inside, your full-size handgun has to be placed diagonally within the safe. Compared to other car gun safes, it is smaller, cheaper, and offers more room. Generally speaking, only a gun as large as a Glock 19 will fit.
Fort Knox Auto Pistol Safes are designed to be mounted indoors, in cars, trucks, SUVs, or other spaces with a limited amount of space. You can easily access your handguns from under vehicle seats and in other places using the front swing opening.
With a body constructed of 10 gauge steel and a heavy-duty 3/16″ door, it can be installed into any vehicle because it is only 6″ deep. Additional security can be added by bolting the back of the safe to any solid surface. You can drill holes in the bottom if necessary to secure the safe.
Pros
The front swing opening makes it easy to access.
Made for use in automobiles or limited space concealment.
It can be used under vehicle seats.
Simplex mechanical lock.
Spring-assisted hinges.
Cons
It doesn't have any clear instructions.
Things To Look For When Buying The Best Vehicle Gun Safe
When your firearm is out of your control, you want to make sure it is safe. There are a couple of security options to secure your firearm, and the best way to do that is to use to protect your gun by keeping it inside the best car gun safe.
On social media, I see it time and time again. People leave their guns in their cars, and the cars are broken into, and the weapons disappear. You can keep your guns safe in a vehicle firearm safe if you encounter unexpected gun-free zones on a regular basis.
Not sure where to start?
Not a problem!
Here's a little bit more information on why you might need a car gun safe, and we'll also share some of our favorite brands! In the following article, you will learn how to store your gun properly when you need to do so on the go.
Why Do You Need The Best Car Gun Safe For Car?
It is a good idea to secure your weapon in a pistol safe as a responsible owner, aside from the possibility of losing a costly investment. As a gun owner, you are responsible for securing your weapon.
A criminal is ready to commit a crime if he is willing to break into your car. If you leave your guns out where they can be stolen, you have now provided a criminal with one more weapon.
As a method of obtaining weapons, firearm theft is often cited by gun-rights advocates. You are guilty of lending the bad guys a helping hand if you don't secure your firearm. There is good news: You don't have to store a firearm in a giant safe in the trunk or truck bed.
Storage in a vehicle safe is a short-term solution. The safes are not meant to be used for the long-term storage of firearms. Therefore, they do not have to be ultra-expensive, drillproof, fireproof gun safes. It is sufficient to have a small, simplistic safe.
The majority of the time, thieves are looking for an easy, quick score when they break into your vehicle. It doesn't make sense for them to take power tools to access your firearm through your pistol safe.
It is likely you are parking your car in a populated area where criminals must be quick, or they will be seen if you use your vehicle gun safe as temporary storage.
How would you describe a vehicle gun safe's most important feature?
You must attach it somehow to your vehicle. Your safe might be easy to grab and run off with if it's small. Securing the gun safe to the car will prevent this.
Things To Consider When Choosing The Best Car Gun Safes
Car gun safes need to have certain features to make sure that your guns are easily transported and kept under lock but that they're quickly accessible whenever you need them.
You can feel safe and secure knowing that your firearms are protected in the right car gun safe. There are various factors to consider when looking for a car gun safe as opposed to any other purchase.
If you're buying a car gun safe for the first time and you don't have much experience traveling with firearms in the car, there are several factors you must take into account, including the risk, theft potential, and state laws that apply across state lines.
In addition to that, it discusses a few basic factors that you should keep in mind before driving with your firearm in the car gun safe.
Like other kinds of gun safes, you'll need a car gun safe that offers both high levels of security and quick access. In an emergency, you should be able to access your firearm easily.
That's about it. The key things to remember are quick access, durability, and mounting options. I don't think I will need to talk about the durability or accessibility feature. Just make sure that your car gun safe has easy access and also easy to operate.
Ability To Mount
Its portability is one of the perks of a car gun safe, but it is also its biggest weakness when it comes to overall security. A break-in would not attempt to open a firearm safe found in your vehicle at the moment but would rather take it away with them.
The best car gun safes should have some form of mounting or security mechanism to attach to the interior of the vehicle, so it is more difficult for a thief to remove the gun safe in its entirety.
Several seasoned criminals still possess the tools to pry open or break free of a car gun safe if they have the right tools. It is much harder for your gun safe and its contents to be stolen with this additional layer of security in place.
Benefits of Having A Vehicle Gun Safe
When traveling with firearms, gun owners will benefit from using and owning the best gun safe for cars. In spite of the inherent risks for potential break-ins and misuse of firearms associated with keeping a firearm in the car, gun safes for cars are vital to your security and the security of others around you.
Small and compact car gun safes provide added security and safety, among other things. You can store your firearms securely in a car gun safe when you're traveling. Your children and family will be protected with a car gun safe, regardless of why you travel with a firearm.
Car gun safes also protect you if you are involved in an automobile accident.
Gun safes in cars keep firearms safe during crashes.
Guns in vehicles are safely kept out of children's reach.
Traveling with a firearm, in this case, helps prevent theft.
This gives you a sense of peace and comfort while you are driving.
Your firearm can't become a projectile in an accident because it's safe in a secured location.
In certain states, it's possible to store a firearm without disassembling it.
Keeping firearms out of sight when not in use but accessible when needed.
There are some states where firearms must be kept out of reach while driving, requiring that safes be placed in the trunk or rear seat or that they be dismantled.
Higher Risk of Theft When Traveling With Your Firearm
It's important to understand that there is an increased risk when you travel with a firearm in your car. Car gun safes are necessary purchases that offer many benefits.
If you accidentally leave your car unlocked, you can give criminals access to your gun safe, which may lead to its contents being stolen. As firearm thefts increase, you and your community are at risk of being in danger and at risk as well.
The responsibility for gun storage and storage away from children as well as individuals attempting to steal your firearms for use in committing crimes or for resale on the black market lies with you as a gun owner.
Over the past few years, gun thefts have skyrocketed by almost 60%. Most items, including firearms, can be stolen from your vehicles more easily and faster than from your house.
Keeping your firearms in a safe in your car might not be a 100% surefire way to prevent theft, but it can be a major deterrent to burglars while providing them with an additional challenge.
Reducing the Risk of Theft
This is why you need a highly secure car gun safe. Doing this will significantly reduce the chance of someone targeting your vehicle and breaking in to find your gun safe.
Further, if possible, if you will be away from your car for a long time, you can also remove your firearms from the car to reduce the risk of theft.
When you can't bring your firearm with you, you can keep it in the trunk of your car, where it will be less visible to people walking by. Just make sure to bolt the car gun safe down.
Lastly, you should place the gun safe somewhere that isn't obvious, such as behind the back seat or on the passenger seat. Make an effort to place the gun safe in an area that is not easily accessible to others, including children.
Gun Safety, Gun storage, And The Requirements Of Every State You Travel To
It's important to familiarize yourself with the laws of jurisdictions you are planning on driving through while traveling with a firearm. You are subject to all laws of a state once you are on the roads in that state and have a gun in your vehicle.
While many states now require permits for concealed carry, others may also require you to store your firearm while driving if you plan to travel with it in your vehicle.
In addition to providing you with quick and easy compliance with the law, your car's safety compartments can help secure your gun.
Frequently Asked Questions
1. What size pistol gun safe should I buy for my car?

It is the most common caliber for everyday carry, so most car gun safes and travel safes can fit an average 9 mm handgun such as the Glock 17 (total length: 7.3 inches) or a .38 such as the Ruger LCR (6.5 inches).

However, when storing something larger like a Desert Eagle (10.6 inches) or a large revolver, be sure to check the closing dimensions of the safe you select. You may require something larger than the average.
2. What is the difference between a console vault and a car gun safe?
The interior of your vehicle's center console is fitted with a console vault based on the specifications of your vehicle's make and model. The majority of them are semi-permanent car attachments with keyed locks. You can easily fit a pistol safe inside.

Gun safes fit under cars' seats, are connected by cords, and often have a notebook-shaped design. The trunk of some cars is usually fitted with a car safe and bolted down.
Final Words
Guns should never be left in unsecured vehicles. It doesn't matter how cheap or durable the safe is; a good safe will keep most criminals at bay. Even a good portable will do. Just make sure that it comes with pre-drilled holes.
When your doors are locked, and you have windows, there is no point in keeping a gun inside without a safe and locking the doors. Leaving a gun unsecured in a vehicle makes the vehicle a loot box. That is why you should get the best car gun safes ASAP.