Best Gun Safe Under $300 In 2022 – Reviewed & Tested
If you don't want to spend more than 300 bucks for a gun safe but still want something to keep your guns safe, well, you are not the only one. If you would like to stay close to or under $300 USD, you are probably looking for something that isn't very big.
However, safes that are around 300 dollars are more than capable of keeping the kids out and stop unwanted hands from just walking away with your guns. Here are some of the best gun safes under 300 dollars that should give you the best bang for your buck.
Just don't expect them to be fireproof or bomb-proof. At this price range, keep your expectations low. However, these safes are worth every penny once you look at what they have to offer.
It's okay if you don't have the money to buy a high-end safe with all the bells and whistles. However, I have come up with a few alternatives that are nearly as good but much less expensive.
Top 7 Best Gun Safes Under $300
After going through many options, we have picked some of the best safes for/under 300 dollars. Have a look.
1. SentrySafe QAP1E Gun Safe with Digital Keypad – Best Digital Keypad Gun Safe Under $300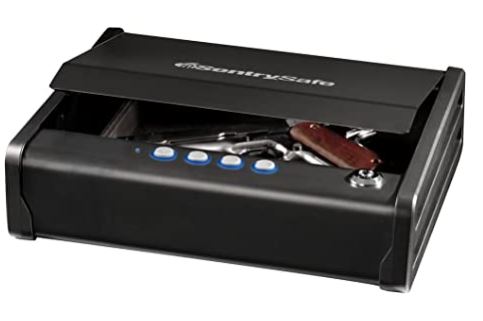 If you are looking for a Vehicle gun safe to store one handgun, this is the best pistol safe under $100 on the market. It's small and provides secure storage for one standard handgun. In addition, this handgun safe has a solid stainless-steel construction and has a pry-resistant door for maximum security and strength.
Since it's a small safe, you will need to put this in a place where it can be hidden. You don't want someone to break into your house and take the whole safe. Also, if you think one gun capacity isn't enough for you, there is also a two-gun capacity model, which is the SentrySafe QAP2E.
There is also the QAP2EL model, which has interior lighting if that's something you wish to have. Now, in terms of accessibility, this gun safe allows single-handed accessibility. It features a gas strut that quietly opens the safe door. There is also the digital locking mechanism that allows single-handed entry.
If you want, you can bolt it down as it comes with two bolts. However, you won't be getting any locking cables with this one. Although it's a nice and strong safe, the only downside I can think of is the battery life. Make sure to use four alkaline AA high-quality batteries from a name-branded company.
Pros
Easy to set your own combination
Solid steel constructed pistol safe
Compression gas strut door for quick access
Bolt down hardware and pry-resistant door
Cons
The batteries don't last very long
2. Stealth Handgun Hanger Safe Quick Access Electronic Pistol Security Box – Best Safe Under $300 For Pistols
We have a pistol security box for our next option that can hold up to three handguns along with some ammo. You can even add two more handguns if you lay them flat. This means this pistol security box can easily store up to five handguns. This quick access pistol safe has a spring-loaded drop-down door.
Inside this safe, there is a foam-lined interior to keep your guns safe. There is also a red interior light to give you some visibility when you want to access your pistols at night. The 3/8-inch solid steel constructed door features a high-strength locking latch. It also features anti-pry tabs to make the door straw and pickproof.
When it comes to accessing the security box, you have two options. The first option is the six-digit electronic keypad. These pushbuttons have blue backlighting, and they also have audible feedback. There is also an optional silent mode. In addition, you can set your own combination lock for increased security.
If you don't want to mess around with buttons, you can open the safe with a mechanical backup override key. Since this safe has electronic keypads, you will have to provide power to it. You can either use a 9V battery or keep it plugged in. This is possible thanks to the new power port design.
Pros
Holds three handguns at a ready position
High-density, foam-lined interior safe
Solid steel constructed door
California DOJ Approved
Cons
Low wattage interior light
3. BARSKA AX11224 Biometric Safe – Best Biometric Gun Safe Under $300
BARSKA's line of biometric safes offers the ultimate security and easy accessibility to your handguns and valuables. These high-quality security safes are also DOJ-approved. So, if you are only willing to spend 300 dollars but still want the best budget gun safe with fingerprint access, go with this one.
This biometric safe fits practically anywhere thanks to its compact 0.8 ft3 dimension. However, this safe has enough space inside to keep private documents, jewelry, medicine, ammo, and your handgun. Also, this safe features BARSKA's advanced biometric scanner that detects registered fingerprints in seconds.
This top-of-the-line fingerprint scanner can store up to 120 fingerprints and takes about 2.5 seconds to detect a registered print. There is an audible beep, but you can turn it off. If the scanner doesn't work or the batteries run out, you can use the emergency backup key to open the safe.
As for durability, this affordable safe features solid steel construction. There are two built-in steel deadbolts that are also pry-resistant. Along with that, there are temper-resistant inner edges and 100% steel walls. It's not easy to break into this once you have bolted it down using the predrilled holes in a secure location.
Pros
Concrete mounting hardware included
Solid steel constructed body
Advanced biometric scanner
Compact storage for convenience
Cons
It takes some time to register prints properly
4. Moutec Large Rifle Safe – Best Long Gun Safe Under $300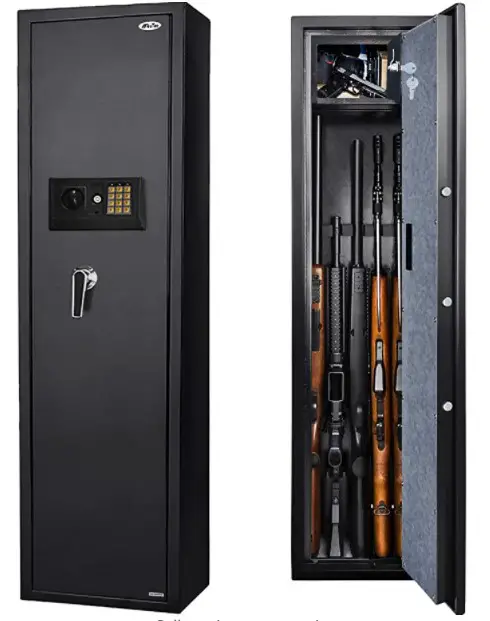 So far, I've only covered small, quick access gun safes. However, if you own rifles or long guns, this is the best long gun safe under 300. This large rifle safe is actually a gun cabinet turned gun safe with enough space to store up to 6 rifles. You can even store shotguns with or without scopes that are up to 50 inches.
Although it's deeper than most rifle safes, you cannot fit scoped rifles inside. That being said, there is enough space to hold additional items, including documents and ammo. Inside the safe, there is a small lock box to keep your small handguns and other valuables in. This lockbox is separate and rests on the top.
There are two ways you can gain access to this safe. You can either use the backup key and keep the safe locked away using that or create your own PIN code using the electronic keypad. Both of the locking mechanisms are reliable and will secure your contents away from thieves and kids.
This safe is sturdy and has a solid steel construction. It has 100% steel walls and three built-in steel deadbolts that ensure wall-to-wall protection. To increase the security, this budget gun cabinet has tamper-resistant inner edges. It's also easy to install and comes with three pre-punched holes on the back of the gun safe.
Pros
A three-point locking system
Solid steel construction
Wider and deeper storage space
Includes a separate lockbox
Cons
5. Amazon Basics Fire Resistant Security Safe – Best Fireproof Gun Safe Under $300
For our next option, we have picked a fire-resistant budget Quick access nightstand gun safe from Amazon Basics. This one is a 1.2-cubic-foot security safe heavy-duty body and durable 14-gauge steel construction. For superior security, there are 0.75-inch built-in bolts. Two internal deadbolts and two active external bolts.
The safe's durable steel body and fire-protection feature provide a simple solution to safeguarding your handguns, cash, jewelry, and other important documents. The fire rating on this is rated for 20 minutes at 1200 degrees. Intertek tested it, and it complies with the modified UL 72 Standard.
You can adjust the inner storage space as needed and divide the inside compartment using the adjustable shelf. As for its locking mechanisms, there are two options. You can use the programmable electronic keypad or use the manual override key. Also, it comes with bolts, ladies and gentlemen.
You have the option to bolt this safe on the ground. Although it's built like a tank, there are ways to open the lock. That is true for all budget safes on the market. This is why I would highly recommend you choose a secure location to put this safe in and don't leave it where other family members can see it.
Pros
Convenient and adjustable shelving
Thick, solid steel doors
It comes with ½-inch bolts
Sturdy deadbolts and active bolts
Cons
You can't beat it for the price
6. TIGERKING Security Home Safe – Best Heavy-duty Gun Safe Under $300
Want to get long-lasting and reliable protection from a safe that doesn't cost more than $300? Well, take a look at the TIGERKING security home safe. This is a well-thought-out safe that comes with a lot of anti-theft functions. It's also great for home and office use and features soft interior lining.
High-quality, durable thick steel material is used in the manufacture of TIGERKING high-security digital safes. In addition to that, there is a total of six live locking bolts. It's not easy to break into this safe once it is locked. It is very easy to access your valuables with your own digital combination.
For those who forget their personal codes, the override key serves as an emergency backup. Additionally, this safe features a secondary lock, aka master key lock, for an additional layer of security. You will be able to keep someone out of your house even if they get your code or emergency key.
With its super large interior, you can store almost all of your valuables, including a pistol, 14-inch laptop, documents, jewelry, and cash. In addition, you can easily organize your important things with the removable shelves. One more layer of privacy protection comes from the locking box inside. This is truly the best 300 dollar gun safe on the market.
Pros
A lot of locking combinations
Sturdy steel body with six live locking bolts
Plenty of anti-theft functions
Large inner space with adjustable shelving
Cons
7. V-Line Brute Heavy Duty Safe – Best Small Gun Safe Under $300
Featuring a rugged steel body constructed from 10-gauge steel, the V-Line Brute safe is an excellent heavy-duty safe. This safe is textured and has a tactical black powder coating for durability and security. In addition to the Simplex lock, the Brute comes with all the features found on other cases from the V-Line line.
There is a handle made of 12-gauge steel surrounding the lock faceplate. This is sufficient to prevent the lock from being pried open. You can't go wrong with the Brute if you're looking for a quality, heavy-duty, tough, and secure pistol case. Two full-sized pistols can be stored in the Brute.
In addition, it is deep enough to accommodate pistols with laser sights and other accessories. There is also an easy-access gas strut. Open and close the lid with ease, thanks to the laser-cut welded handle. Also, it provides additional anti-pry protection to the lock faceplate. It includes four predrilled holes at the bottom.
This allows it to be securely fastened to most surfaces. Safes in this price range have oversized lids with close tolerances to prevent prying on the sides. For added protection, the lock block is extra-large and made of solid steel. The ends of the hinge are welded to provide extra strength.
Keeping valuables and handguns safe in this quick access pistol box will ensure that they are kept out of the hands of potential thieves.
Pros
Extra protection in every angle
Attractive and heavy-duty safe
Heavy-duty laser cut handle
Large capacity with gas-assisted strut
Cons
Things To Look For When Buying A Gun Safe Under 300 Dollars
It is a responsibility to own a firearm. There's nothing wrong with having a gun, but it's also your responsibility to secure it when you're not using it.
In order to choose the right safe for your needs, you have to consider factors such as the size and type of safe that would be appropriate for the area in which you live.
You should keep in mind that budget gun safes under $300 won't have the additional features of higher-end options, like fireproofing and water tightness.
In addition, budget-friendly safes will lack thick body materials and construction, in addition to fewer locks and deadbolts. Having said that, in many cases, you only secure your rifles at home. Therefore, it's not necessary to go overboard with extra-secure locks, and you only need to follow state requirements.
That being said, some safes don't cost more than 300 bucks but still offer features like fire protection, anti-pry bar tabs, touchscreen control, and fingerprint locks. You just have to look at the right place. That being said, let's look at what a safe under 300 bucks must have:
Size And Capacity
List everything you plan on keeping in the safe. You don't have to create a real list; a mental note would do just fine.
It's important to know precisely what you'll keep in your gun safe (underbed the firearm, of course) so that you don't find out too late that it won't fit your valuables.
After you determine what you'll store in the safe – a full collection of rifles or just a small handgun – it'll be easier to choose the right size and capacity.
Make sure you purchase a larger safe than you originally needed. My experience has led me to this conclusion. Over time, gun owners usually purchase an additional weapon and more ammunition. Eventually, a small safe will not be able to contain all the additions.
Your Specific Use Case
When you purchase a safe, think about the reason for purchasing it. A simple key lock or a combination lock will be sufficient if your main purpose is to reduce the risk that kids will discover your gun.
If you're concerned about intruders, I recommend going with electronic locks, such as fingerprint locks. Also, you will have to take additional safety measures in order to increase the security of the safe.
Material
How thick is the gun safe's metal? In terms of keeping your guns secure, is this device likely to resist forced entry? Safes should be made from solid steel. Steel is the strongest and hardest of all materials used to make gun safes. However, the thicker the walls and doors, the more expensive it will get.
Locks
We're now going to talk about safety, and one of the most important choices you'll make is the kind of safe lock you want. You must protect your safe with a lock if you don't want anyone else to access its contents. Buying a safe with two locking mechanisms is always a good idea.
Regardless, I don't think there is a better form, including electronic forms in particular. The first step is to choose a locking mechanism that consists of both mechanical and digital components.
Even though this sounds old-fashioned, I would prefer to purchase a safe that includes a mechanical key. Having a digital lock break down due to a variety of reasons doesn't bode well in an emergency situation.
It may not be the best, but mechanical locks sometimes aren't enough. The best locking mechanism is one that combines several methods. Nevertheless, you should not buy a digital lock if there is no mechanical way to open the door.
A biometric lock may be worth the extra expense. Digital codes do not provide the same level of safety and personalization. The code isn't hackable, unlike a database. You should follow the mandatory requirements that we outlined here no matter what decision you make.
Protection
Is the gun safe fire resistant? Is the fire-retardant property based on ceramic, cement, or drywall? Fire-resistant drywall lining or gaskets are typically inferior to safes with only one gasket.
You must buy a water-resistant safe if you live in a flood-prone area. There is, however, a solution for budget safes: place rubber or silicone lining around the edge of the doorframe to keep it waterproof. As a result, some waterproofing will be achieved.
Mounting Capabilities
To ensure a secure installation of your safe, make certain it can be attached to the wall or floor with predrilled anchor holes.
Alarm
As an optional add-on to an electronic lock mechanism, if you have already purchased one, make sure that it is equipped with an alarm system so that if someone attempts to open the lock, the alarm will sound, and you will be alerted to tampering.
Price
You should know how much you are willing to spend. I agree we should set the upper limit at $300. However, within that budget, what is your maximum willingness to spend? Continuing reading (and I highly encourage you to do so) will show you that, even in a price range as low as this one, you have a lot of choices.
There are models that are incredibly cheap, but others that can easily push the upper limit. As a result, don't just settle for anything that's under $300. Put a limit on what you will spend and preferably decide on it before beginning your shopping.
Lastly, just remember, to maintain a realistic expectations. There are plenty of outstanding gun safes within this price range, so there is no need to be scared away by this fact. However, you must realize that a $300 safe won't have all the bells and whistles that a $1000 safe does. It would be absurd to compare apples with oranges, right?
Frequently Asked Questions
1. Is a gun safe really necessary?
Having your guns locked up makes a lot of sense for a variety of reasons. Having multiple gun safety measures in place in your home becomes even more important if you have children.

Keeping our weapons out of questionable hands seems to me to be a very reasonable precaution so that burglars and robbers don't take advantage of those weapons.
2. Is it possible to find good gun safes under $300?
There are many factors to consider when selecting a gun safe, and one of these factors is the price. Although budget restrictions can be frustrating, they should not impair the quality of a device.

I know it sounds silly, but it isn't. It is true that cheaper models provide some of the same protection as more expensive models but with less storage space.
If you are looking to buy a gun safe for $300, you should consider these three factors:

Materials that are impermeable to drilling, flames, and corrosion; body designs that are thick and tough.

Door hinges can be taken off but remain tightly secured even after they are removed.Locks where the locking mechanism integrates either mechanically or electromechanically, which are crack proof.

In this list, you'll find the best safes that pass the three-feature test, making them the best choices for buying this year.
3. What is the best way to kid-proof an inexpensive safe?
Make sure the combination of your lock is kept in a secure location. Keep it far from the safe, and don't write it down. Furthermore, avoid using family numbers and try to think of an abstract number combination that does not refer to anyone in your family.

You never know what a child knows about keys, for instance, they know where everything is hidden, and if they're extra curious, they may find ways to open the safe that would make Pink Panther blush.

It is not a good idea to keep the keys in an easily accessible place. Be sure they are hidden from prying eyes but secure them in an area where you can comfortably reach them.

You should not share the code or key to this gun safe; guns have a way of calling people. Do not give anyone any keys or codes, none at all.

Your partner will, of course, have access to the safe if it is safe for more than just your weapon. Remember that your partner must follow the same rules as you. Make sure they are familiar with the rules.
Final Words
By now, you should be able to find the best gun safe under $300 if you do your research well on what to look for and which products are best for your needs. Prior to making a purchase, take the time to better understand what you need from a gun safe.
Getting a product of lower quality won't be an issue, even if your budget is limited. Gun safes can be found that are inexpensive but have the same degree of security as you would find on more expensive units.