Best Reloading Scale Reviews In 2022- Tested & Buying Guide
A reloading scale ensures that you achieve the improved round quality and have a better chance of achieving pinpoint accuracy. Further, it lets you optimize the accuracy and consistency of the ammo once you're done.

Choosing the high-quality reloading scale is crucial as the wrong one can cause you to kill yourself accidentally. It's a must-have to get the perfect amount of powder without dangerously over or underloading in each round.

There are so many options available when it comes to choosing the best reloading scale. To help you out, we've tested and reviewed some of the best reloading scales to help you choose the one that suits your needs.
Top 8 Best Reloading Scale Reviews
1. RCBS- Chargemaster Powder Dispenser/ Scale Combo – Best Value Reloading Scale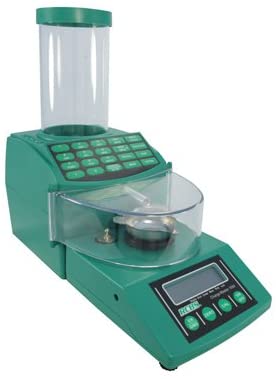 The dispenser and chargemaster scale combo is a perfect choice for accuracy. It gives an exact amount of gun powder with its 0.1-grain precision level for any cartridge size. Also, using this reloading scale saves you a lot of time. It is designed for smokeless powder and the average dispensing time for a 60-grain powder charge is just 20 seconds. The assembly-line weighing and dispensing technique removes any waiting time.

The scale and dispenser are independent sections of the system, but they can be combined for usage. Furthermore, the setup is really simple to utilize. The electronic display allows you to enter the precise charge size easily you require, as well as save your favorite loads for further convenience.

The machine is really light, but the foundation is not particularly stable. However, if you use it on a flat surface, you should have no problems. In general, the Chargemaster is a fantastic tool for serious shooters.
Pros
Fast dispensing time
Easy to use with its helpful manual and electronic display
Unique 2-1 dispenser and scale.
1500 grain capacity.
Cons
One of the most expensive options
Not the most stable machine.
2. Gemini-20- Portable Precision Digital Milligram Scale – Best Reloading Scale With Absolute Accuracy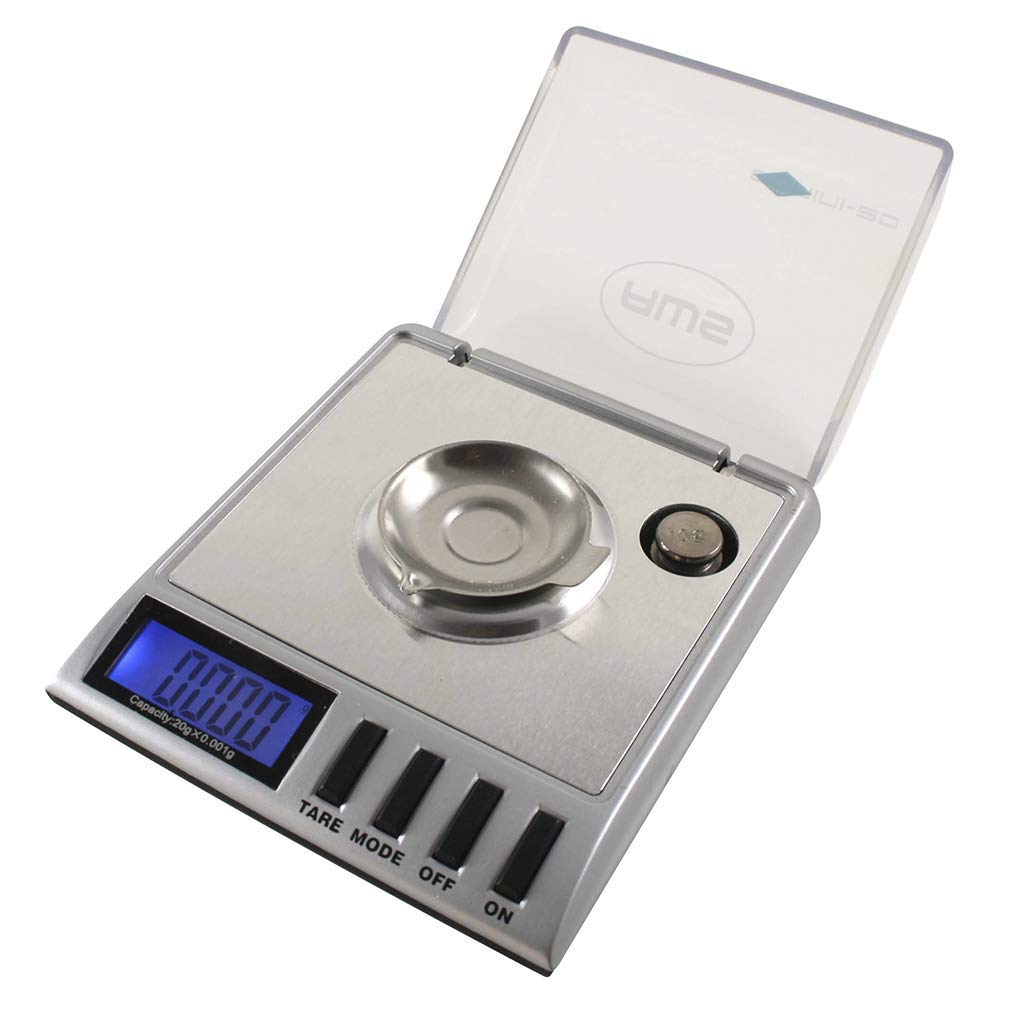 The overall dimensions of this unit are 4.94 x 6.5 x 1.62-inches, with a scale measuring 3- x 5- x 0.8-inches. However, it's only 4.23 ounces in weight (0.12 kilograms). The Gemini-20 has a silver appearance and is polycarbonate with a stainless-steel cover.

This mini-scale is very easy to carry due to its good durability and compact size. It also has a built-in flip cover that protects it from ordinary wear, tears, and transportation.

You have access to a wide range of weight conversions. The Gemini-20 has 20 unique calibration points thanks to its high-precision sensors. Everything in progressive steps from 1 gram to 20 gram.

It has more conversion options, as evidenced by the fact that it can convert between ounces, troy ounces, grams, carats, pennyweights, and grains. This digital scale also features a backlit LCD panel that makes measurements visible even in dim light. To top it off, a 10-year limited warranty is included in the purchase price.
Pros
Covered by a 10-year warranty
Ease of portability
Acceptable price.
Cons
Many reloaders might want more.
3. Frankford Arsenal DS-750 Digital Reloading Scale – Budget Pick Reloading Scale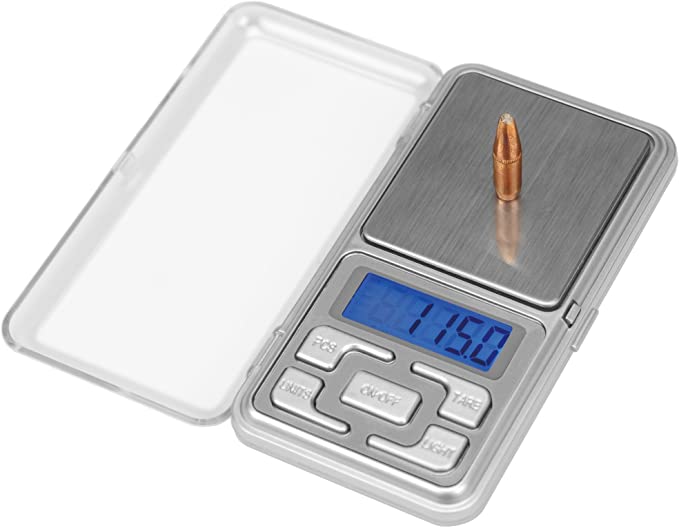 This reloading scale is one of the affordable options available in the market. It doesn't mean that its quality is cheap; even though it's small and looks like a smartphone, it is one of the best reloading scales in its price range. You will get 2 AAA batteries, a powder pan, calibration weight, and a soft carry case with its purchase. This reloading scale has a 750-grain capacity, and its accuracy is within 0.1 grain.

There's also a tare function, and a counting function included. The tare function removes the weight of the powder pan, leaving only the actual powder weight displayed on the digital readout.

The LCD is easy to read, and the blue backlighting makes it easy to see the weight at a glance. In addition, the measurements can be displayed in various measures, such as grains, grams, ounces, or even carats if you're working with gemstones.

Allow it to warm up for around 30 seconds. Then, before you begin calibrating, give the components enough time to stabilize. This is a delicate scale, so take your time with it. Extreme temperatures, wetness, grime, dust, vibration, and air currents should all be avoided. However, it should endure for many years if you take care of it.
Pros
Compact
Extremely Affordable
Easy to use
Cons
Might not show slight weight changes
4. A&D Engineering-Fx-120i Precision Scale – Best Value Precision Scale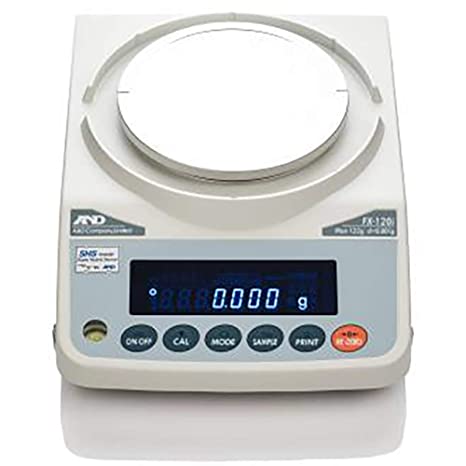 The A&D Engineering-Fx-120i Precision Scale is a great value precision scale designed to stabilize loads and withstand shock quickly and accurately.

It features a 0.01 g and 1 g resolution balance, a compact super hybrid sensor, a one-second weighing response time, and an internal shock absorber offering protection from both vertical and transverse overloading.

The feature that makes it stand out from others is that it involves small breeze breaks to prevent air drafts from disturbing the measurement. In this way, you could have absolute consistency each time.
Pros
Affordable price
Great consistency
Protects from overloading
Cons
Not the most modern reloading scale available in the market
5. Lyman Micro-Touch 1500 Electronic Scale 110V 7750500 – Best Lightweight Reloading Scale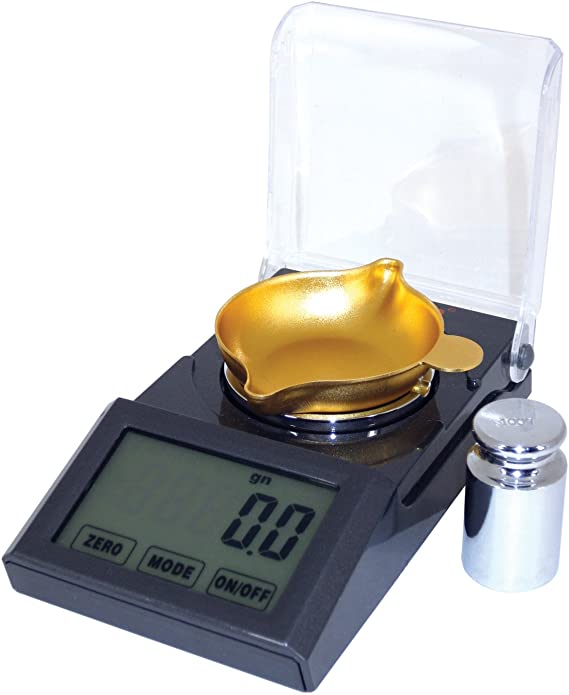 Lyman is the producer of this electronic scale. It's extremely light, weighing just one pound. This makes it very easy to transport because it can be carried effortlessly. It has a weight capacity of 1500 grams. This implies it can be used to weigh powder, bullets, and casings.

It also includes dust coverings. This makes it easy to utilize in dusty environments. The scale is protected from damage by the cover. It runs on 110 volts. It may be plugged into any standard wall outlet available in the United States. It's a reasonable price. This distinguishes it from other reloadable digital scales.

The scale has all of the qualities of a regular scale. It can show the quantity of weight in grains or grams. It can be used with both AC and batteries. This means that it can be used in places without an AC power outlet. It allows you to drip powder into the tray. However, it may take some time for the gadget to detect that a weight has been added.
Pros
Easy to read
Portable
Touchscreen LCD
Cons
Little Slow
Accuracy needs to be improved.
6. Hornady 050068 Lock-N-load Auto Charge – Most Accurate Reloading Scale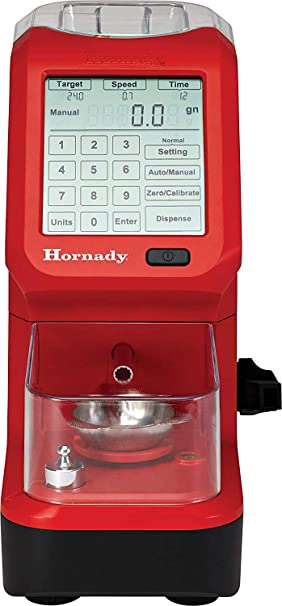 Hornady 050068 Lock-N-load Auto Charge uses cutting-edge technology to ensure accuracy that is easy to use. It features an LCD and a large keyboard with a backlight for easier reading. It can also meet the standard 0.1-grain accuracy.

If you're a smart buyer, you must consider why this scale has a high price tag. Well, it's because of its great range of features that make it worth it. For example, this reloading scale has an on/off switch, zero button, and number pads, making it swift to dial precise reloading settings.

Along with its sleek design, it enables automatic and manual dispensing. Further, it has 3-speed settings and a trickle function. You can choose the ideal speed setting on the basics of weight, charge, and powder size you're using.
Pros
Overcharge protection
Very accurate
Designed for easy to use
Grains precision
Cons
Not ideal for use with smokeless powder
7. RCBS- M1000 Mechanical Scale – Best Reloading Scale With Grain Capacity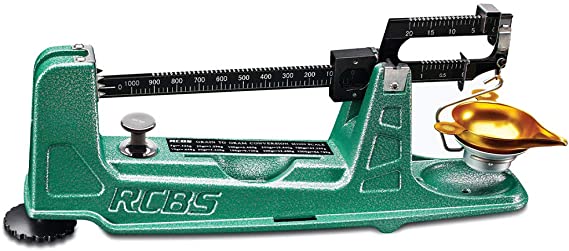 RCBS produces some of the best reloading scales. One of the top ones is M1000, which provides absolute accuracy and 1000 grain capacity. In addition, its base offers great stability for weighing, ensuring that you have an accurate measurement every time.

The scale, which weighs 2.4 pounds, is lighter than it appears. To improve accuracy, it also comes with a clear plastic cover. This would be an excellent choice for shooters who appreciate classic mechanical scales but need a portable and easy scale to bring to the range.

With +/- 0.1-grain precision, the M1000 scale is an excellent choice. In addition, it's made in the United States of America from high-quality, long-lasting materials, making it a scale that will last for decades and an excellent investment.

Pros
Easy to transport
Durable and long-lasting
Right or left-handed operation
It comes with a plastic protective cover case.
Cons
Other reloading scales have better grain capacity.
8. Lyman- Accu-touch 2000 Electronic Scale – Best Reloading Scale For Long Range Shooting
The Accu-touch 2000 electronic scale designed by Lyman is specially made for those shooters who require a large powder charger for measurement. Also, it's perfect for the reloaders looking for the highest tech and most up-to-date option for reloading and weighing.

The Accu-touch 2000 had the most contemporary look and felt out of all the scales tested. This scale, according to Lyman, has revolutionary characteristics. For example, anti-drift technology, LCD touch screen controls, that ensure accuracy to 1/10 grain, and a removable powder Trickler can be mounted on either side to assist both left and right-hand users. It also offers the ability to run on a 9-volt battery, or a universal AC adapter (included) are just a few of the features.

This scale can hold up to 2000 grains and can be adjusted to measure grains or grams. The equipment also has a fold-back plastic cover to protect the scale, a powder cleaning brush, and calibration weight.
Pros
High grain capacity
Sleek and modern design
Can run on mains power
Cons
Not the cheapest one on the market
What To Consider Before Purchasing a Reloading Scale?
When it comes to buying the perfect reloading scale for you, there are some factors you need to consider:
The Scale Itself
Mainly, there are two factors you need to consider here. The first one is accuracy with convenience and response time. The other is design, portability, power source, and design.
Size
Reloading scales vary in size, depending on how you are using them. For instance, reloading scales with the sample size would be a good fit if you have the needed quantity of bullets refilled that will last the entire shooting day at the range.

Look for tiny and pocket-sized reloading scales that travel with you wherever you go if you want to taste the refilling immediately on the shooting range.
Reloading Accuracy
When it comes to selecting reloading scales, precision is crucial. Any gadget that serves its primary purpose should have +/- 0.1-grain precision. Although recalibration may be required from time to time to ensure optimum accuracy, the best products are standardized before use.
Performance
The accuracy and capacity of a reloading scale are used to evaluate its performance. On the other hand, most scales offer extra functions that serve to improve their overall effectiveness. Some instruments, for example, come with removable measurement basins and protective covers for easier storage.
Final Words
If you read the entire article, you should know which powder scale is best for reloading. Reloading your ammunition will provide you with more powerful ammunition that is also safer and less expensive. It makes no difference if you intend to reload hundreds of cartridges each week or if you only require a hundred cartridges for hunting season. You want to use special ammunition with power and accuracy to help you shoot better.

That means you'll need precision scales and weighing equipment to recreate the same charge repeatedly. You want to make the recipe the same every time you perfect it.
Frequently Asked Questions
1. How precise are digital scales?
Digital scales are considered the most accurate compared to both mechanical and beam scales. They have about 0.1-grain precision.
2. Do I need a reloading scale?
If you want to recreate high-performance and accurate ammo, you really need a reloading scale. Using guesswork to fill your cartridge with gun powder will only result in inconsistent performance. Using a scale also helps to reduce gun powder waste.
3. What is the significance of measuring gun powder in grains?
One bullet and the gun powder that goes into it weigh too little to be measured in ounces or grams. When reloading ammo, you should weigh it in grains because this is the most efficient unit of measurement.