Best AR15 Cleaning Kit In 2022 – Reviews & Buying Guide
Keep your AR 15 operating at peak performance with the best AR cleaning kit. If you are in the market for a cleaning kit for your AR 15 and you want something compact, I'm going to recommend the best AR15 cleaning kit out there that will give you the best bang for your buck.
These kits come with everything you need to totally clean your AR15. Now, keep in mind that I'm not talking about a detail clean. I'm talking about basic rudimentary field clean.
Let's say you are out shooting on the weekend, for example. You are out doing some kind of event or whatever you got going on, and you are putting a lot of ammunition and round through your AR.
Things are going to get dirty. Your AR-15 is going to get carboned up, and these AR cleaning kits have exactly what you need to keep your firearm running. If you are an AR owner, you already know the importance of on-the-go cleaning.
Everyone loves a spotless and clean gun. You want to make sure it stays that way. It's not just a matter of appearance. Keeping your automatic rifle clean will ensure it performs when the time comes without any errors.
| | | |
| --- | --- | --- |
| | 8.54 x 4.49 x 1.18 inches; 12.48 Ounces | |
| | 8.75 x 5.00 x 1.75 inches | |
| | 8.62 x 4.96 x 1.69 inches | |
| | 16.00 x 11.00 x 10.00 inches | |
| | 10.28 x 5.59 x 2.44 inches | |
5 Best AR15 Cleaning Kits
In the following section, I'm going to give you a complete breakdown of some of the top-performing, next-level rifle cleaning kits on the market. At the end of this review, you will also find some tips on how to find the best cleaning kit for AR15: namely, the things you will need to look for when you purchase one.
1. Real Avid Gun Cleaning Tool Kit – Best Overall AR15 Cleaning Kit
Starting our list of AR cleaning kits with a versatile rifle cleaning kit from Real Avid. From handguns to rifles, this tool kit is perfect for every gun cleaning job. This kit comes with chamber cleaning tools that can reach places where regular cleaning accessories fail. On top of that, you won't have to worry about scratching your precious AR 15.
You will be amazed by the number of nooks and crannies you can clean with this gun cleaning kit. Not everyone loves cleaning their guns because of the mess. If you are the type of person that lays things everywhere while cleaning a gun, this tool kit will keep you somewhat organized. If you are looking for a rifle cleaning kit just for that, this is the one.
Enthusiast gun owners will be surprised by the number of tools that this product comes with. The patent-pending kickstand box is sturdy and helps you keep your cleaning tools well organized. This way, you can focus more on the cleaning and less on the tools. The case itself is also very functional.
Compatibility is the keyword here. Since most cleaning kits feature rods and bore brushes with 8-32 threads, and this kit is designed to work with most standard cleaning kits with 8-32 threads. As for the cleaning components, you will get everything, including brushes, scrapers, picks, and punches. 
Pros
Most versatile gun cleaning kit on the market
Patent-pending self-standing case
Functional and organized box
Good quality cleaning tools for the price
Cons
Plastic brush, not ideal for detail cleaning
2. Otis Technology Cleaning Kit 5.56/.223 – Best Lightweight Cleaning Kit for AR15
If you are an AR owner but haven't assembled a cleaning kit for your rifle, I would highly recommend you go with the Otis Technology cleaning kit. This is the best bang for your buck AR 15 cleaning tool system on the market. It is also compact enough to comfortably fit into any standard tactical belt.
As for the kit itself, it has all the cleaning supplies you could possibly need to give your AR 15 a complete white glove cleaning. This compact cleaning tool from Otis Technology is for gun owners that are looking for a minimalistic rig. Even though it is compact, it can handle all maintenance tasks with ease.
You invest a lot in a gun. You should do the same for its maintenance. The quality of the cleaning tools is top-notch, which makes it a perfect investment as well as a very smart choice. The 30-inch memory-flex cable is made using aircraft-grade materials that help you clean the muzzle.
With these cables, you can clean it all the way up to the breech. In addition to that, this unit comes with a small obstruction remover; a convenient bronze bore brush, scraper, pin punch, a straight pick, an angled pick, a T-handle, a locking lug scraper, ten 2-inch cotton patches, and a high-quality lubricant.
Pros
Best bang for your buck cleaning kit
Compact and easy to carry pouch
Good quality components for the price
High quality 30″ flex cable
Cons
Make sure to stock a bunch of Otis patches
3. Otis Tactical Cleaning System for Rifles, Pistols & Shotguns – Best USA-Made AR15 Cleaning Kit
Whether it is rifles, pistols, or shotguns, the Otis tactical kit is designed to perform breech to muzzle cleaning wherever you may go. The FG-750 cleaning system comes with six firearm-specific bore brushes that give you options from everything from a .22 to 12GA.
That's not all. This tactical cleaning kit also comes with three aircraft-grade cables and a collection of patches and tips. In addition to that, a set of extra tools gives you more options to perform a thorough clean and get that stubborn debris out of those hard-to-reach places. You know what I'm talking about.
No matter what your task is, this kit gives you the tools to get your job done. It is simple, functional, and universal. As for the case itself, it is a soft case that is lightweight and compact. From patches to aircraft-grade Memory-Flex cables, everything is neatly stored in this small case.
Last but not least, you will also get a small .5oz Shooter's Choice FP-10 CLP. Let's talk a bit about Otis tech. This is a family-owned company that has been manufacturing gun maintenance tools since 1985. This cleaning system is made in Lyons Falls, NY. This should give you a clear idea about this kit's quality.
Pros
Comes with caliber-specific brushes for versatility
A bunch of tips, connectors, and patches for precision cleaning
Shooter's Choice FP-10 CLP included
A universal gun cleaning and maintenance kit
Cons
4. Allen Company Universal Gun Cleaning Kit – Most Versatile Cleaning Kit For AR15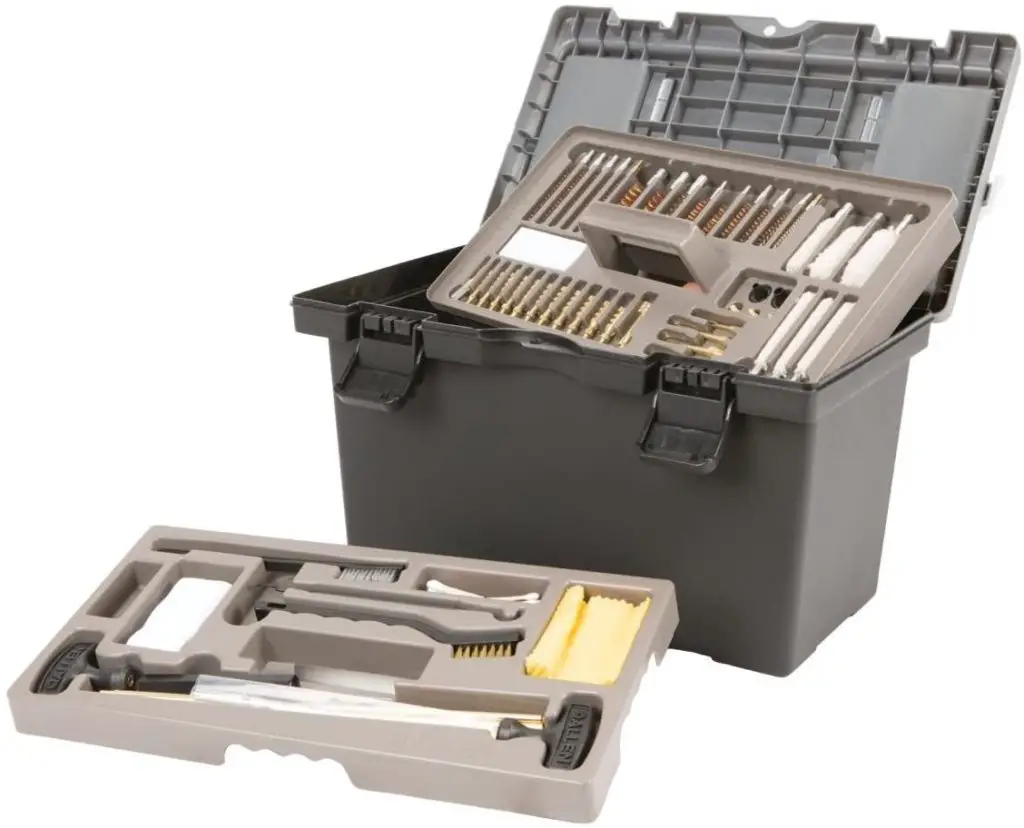 This universal gun cleaning kit from Allen Company has everything you need to care for your gun all in one. The Allen brand is committed to providing high-quality cleaning kits to gun owners, and this one is no exception. And unlike others, this brand specializes in outdoor and gun maintenance products.
With this set, you will not experience the frustration of having a broken jag or tip inside your gun barrel. The kit features super soft mops and very thick bristle brushes. This kit comes with 65 cleaning pieces, gun wipes and cotton swabs, a brass cleaning rod, and much more.
You can utilize these items to clean your firearm deeply from all angles, and really get into the crevises. The case of this gun cleaning kit is designed in a way so that you can take it with you wherever you go. For a professional gunsmith, where beginner gun cleaning kits just won't cut it, this cleaning kit has everything you could need.
Ranging from automatic rifles to handguns, if you want to properly maintain and clean different guns, this kit is for you. It comes with brushes made from nylon, iron, and brass, as well as cleaning patches and polishing cloths. The solid brass rods can clean your .17 to .270 caliber guns and .30 caliber rifles.
Pros
High quality and thick cleaning rod that is very strong
Iron, brass, and nylon made brushes
CNC machined brass adapters
It comes with free gifts for a more thorough clean
Cons
Extra items that aren't needed for a AR 15
5. Otis Technology Defender Series Gun Cleaning Kit – Best Customizable Cleaning Kit For AR15
Wrapping up our list with another gun cleaning kit from the popular brand Otis Technology. It comes in a nice little pouch that can hold the small cleaning tools nicely. If you need to carry a few spare parts for your AR, this pouch enough room to carry those as well. The only thing that's missing is a lubricant.
On the contrary, if you really need a precision scraper set and the B.O.N.E. tool, this isn't the kit for you. You can, however, buy them separately if you want to clean the bolt, bolt carrier, and firing pin. As for this particular kit, I would highly recommend this one. Out of all the cleaning systems in the Otis gun maintenance gear lineup, only this one comes with a one-pass Rip Cord.
Along with that, you will also get a solid rod set, Memory Flex cables, and lots of small items for cleaning your AR. Inside the case, all the cleaning tools stay nice and organized. The only thing that I would recommend you buy separately apart from the lubricant is a gun cleaning mat.
Now, as for the price of this unit, it is a bit overpriced actually. I mean, you can find alternatives for just about everything this kit contains. The quality is there, but for the price, you can get a lot more. The only thing good about this kit is that you can carry all the essentials in a compact, neatly organized, and convenient case.
Pros
Quality gun cleaning kit made in the USA
Ideal for an occasional, novice shooter
It comes in a handy carrying case
Threaded pull cable and ripcord
Cons
Things To Consider When Buying The Best AR15 Cleaning Kit
Keeping an automatic rifle such as a AR 15 is no easy task if you take it out for shooting more often. Giving it a detailed clean is a topic for another day. Our focus for this guide is regular maintenance, and this can only be done using the best AR-15 cleaning kit on the market.
Now, finding the best one isn't that easy. It took me a lot of time to come up with this list since I had to consider the number of components, functionality, reviews, and price. You will also have to consider the quality of each of the components.
Do you know where things really get overwhelming? It's a fact that these kits contain a lot of small bits and pieces. With so many small sections, things get messy, and the process of finding the best one gets a little out of hand.
Fret not. With the help of this guide, you can easily find the best one by yourself. After going through the list of recommended gun cleaning kits, you already have a good idea about what to look for.
Now, if you don't want to spend too much time on research, I would recommend you go with the AR15 cleaning kit from Real Avid. If you want to do your own research, then sit back, relax, and follow along to find the best AR15 cleaning kits.
Why Do I Need An AR 15 Cleaning Kit?
In these kits, you will find some tools that are absolutely indispensable. On a AR 15, there are those pesky, hard to scrape spots, and you know what I'm talking about. You know, right at the base of the bolt, down inside the bolt carrier, and so on.
Those spots are really hard to get to with your regular gun cleaning rods and some other rudimentary kind of impromptu tools. These cleaning kits are designed for cleaning those tricky spots.
If you frequently go to the shooting range to compete against your buddies, it's important to keep your AR 15 clean. In order to maintain the standard of cleanliness, the best way to do that is by using a dedicated cleaning tool for a AR 15. By using a cleaning kit, you can keep it functional for a long time to come.
This will allow your gun to maintain peak performance, work well, and fire accurately. A well maintained and clean AR-15 will work a lot better compared to a less maintained AR-15.
Why Is Cleaning An AR-15 Important?
Firearm like the AR 15 needs frequent cleaning because every time you pull the trigger, the gun leaves behind certain particulates. It's also commonly known as carbon buildup. If you continue shooting your gun, this particulate can affect your shooting. That is why you will need to clean your AR frequently.
That is why a clean gun shoots better and more accurately. It will also make your gun last a lot longer since those parts will be in tip-top shape. As a result, you won't have to buy replacement parts more often. In the end, you will save up more money in the long run.
What To Expect From The Best AR-15 Cleaning Kits?
In order to thoroughly maintain your AR 15, most of the standard cleaning kits out there will have all the components necessary. This includes –
A flex cable
A bore snake
Cleaning rod
Cleaning patches and cloths
Chamber brush
Adapters
Lubricants and cleaning liquids
Keep in mind that most compact cleaning kits won't come with a CLP or the cleaning lubricant. Some might come with a small bottle, but that won't last for very long.
You should also consider buying a cleaning mat separately. CLP is a must in order to scrub away excessive grease, oil, and ingrained dirt. Let's talk more about these components.
The purpose of a cleaning rod is to go deep into the bore of a rifle. It has a swivel handle at one end that allows you to clean the inside of a bore without much effort.
By using this cleaning rod, you can easily clear out the debris and residue inside. However, you need to ensure that the rod is made using good quality material. Otherwise, it will scratch and damage the inner part of your gun. For most AR 15 cleaning kits, the cleaning rod comes standard.
The only thing you need to look for is the material that the rod is made of. The length will also vary depending on the kit your purchase. Make sure to pick the right length.
In a AR 15 cleaning tool kit, this one is perhaps the most important component. Every cleaning tool kit comes with a cleaning brush. These brushes are made using either nylon or bronze. After a shooting session, a bore cleaning brush helps you clean the bore effectively.
You can also buy bore brushes separately if you want a high-quality cleaning component. It's a must-have tool to have in a kit as this is the only tool that can effectively remove dirt residues inside the bore.
Patches and cleaning cloths are something you will frequently run out of after some while. Don't worry, though. You can find them in any hardware store. However, we are talking about a kit that will give you the most value.
So, make sure to get a kit that comes with a bunch of these patches and clothes. Brands like Otis sell them separately. I really like their microfiber cloth.
After the internal parts are cleaned, you will need to focus on the outer parts of a gun. Most gun owners prefer to use a specific gun cleaning brush to clean most of the exterior. You can find brushes that are made from different materials.
For the wooden part of a gun, make sure to use a nylon brush. Additionally, you can use phosphor and a stainless-steel brush for cleaning non-blued metals.
While not every cleaning kit will come with lubricant oil, some do, and I've listed one of them in this guide. After a cleaning session, you will need to properly lube up your AR 15 to make sure the moving parts of the gun remain functional. Not only that, but these oils also protect your gun from rust and fouling.    
Compact Cleaning Kits Vs. Regular Cleaning Kits
There are some cleaning kits that are bulkier and more difficult to carry around. However, you will get more tools that will allow you to perform a more detailed clean. On the contrary, if you are always on the move, you are better off using a compact AR cleaning kit.
You won't get a bunch of cleaning accessories, but you will get the essential ones. These suitably sized AR-15 cleaning kits are perfect for carrying around to the firing range. Before purchasing a kit, consider where and how you will be cleaning.
If you are the type of guy that prefers cleaning your gun from the comfort of your home, I would suggest you buy a heavier or stationery kit. On the other hand, if you are on a long expedition or trip, it's better if you go with a more portable cleaning tool kit.
Universal Vs. Dedicated Gun Cleaning Kit
The more you use your gun, the more maintenance it will need. Over time, cleaning can feel like a chore, and if you neglect this aspect of cleaning a gun, the more time it will take to clean it later on.
Now, this is where a cleaning tool kit that is tailored to a specific gun type like the AR 15 comes into play as I've said that these kits aren't designed for a detail clean. However, they are more than good enough for regular maintenance, and that is what you should do.
Create a habit of cleaning your AR frequently, and the less you will spend time cleaning. Now, if you own more than one type of gun, it's not a good idea to buy a specific type of gun cleaning kit.
You will need those universal ones with adaptors and such so that you won't spend more than what is necessary. There are cleaning tools that are tailored for a specific type of model, caliber, or gun. If you only have a similar type of firearm, these kits will give you the best value.
Additional Tips
Now, you might be wondering, why should I buy a cleaning tool kit when I can get all the parts separately? Yes, you can put together your own AR cleaning kit, but there is a catch. The total cost will be more than what you will ever pay for a high-quality kit.
The price of each individual component will quickly add up, and you will burn more cash in the process. One good example is the Real Avid rifle cleaning tool kit. It has a good value when you consider the price of all the parts that it comes with.
Also, the case that these rifle cleaning kits come with is something worth the cost. Without spending all the money and carrying all the parts unorganized in a plastic box, why not pay less and get yourself a functional case?
All in all, paying for a dedicated cleaning kit has more advantages. On a side note, whenever you are cleaning a gun, make sure to use a magnetic cleaning mat. It is also a good idea to use a gun vise to properly secure the gun.
When you get the hang of the whole gun cleaning process, you can then start assembling your own gun cleaning kit.
Frequently Asked Questions
1. How long does an average quality AR-15 last?
The classic AR-15 rifles have been around for a long time. The chances of wearing out this firearm are about 1 in a million. Give proper maintenance; an average quality rifle should last for decades. Obviously, you would have to make some minor parts replacements.

The barrel is the only part that needs replacing. Apart from that, most of the other parts remain serviceable. This means you can hand down your rifle to your children and also to your children's children.

These rifles are made in a way so that they can be handed down for several generations. It takes a lot of rounds for the barrel to wear out. However, because of the modular design of this rifle, replacing the parts is very easy. It is also one of the longest-running firearms of the US Armed Forces.

Guns in general, are one of the few things that are meant to last. If properly maintained, it is fairly reasonable to assume that it will last longer than you will live. If you want your AR 15 to survive far into the future, a good cleaning kit is mandatory.

2. What does fouling mean for a AR 15?
When you shoot, bullets have a tendency to leave behind residue inside the barrel. This is known as fouling. There are different types of fouling, depending on the type of bullet you shoot. For example, bullets can leave behind residues like copper, plastic, lead, or carbon. When it builds up, you will lose accuracy. 

Speaking of fouling, you should also consider the type of ammunition you use. The salt buildup is a common factor, and it comes from certain primers. Salt is bad for a gun since it can cause corrosive damage. You certainly don't want corrosive to build up inside your weapon.
3. How frequently should I clean my AR?
It doesn't matter how much you shoot. You should always clean it after every shooting session. Don't think that just by firing one or two bullets you are allowed to leave your gun as is. Clean it. Make a habit of cleaning your AR frequently.

No matter what you use your AR-15 for, cleaning it every time after a shooting session will ensure peak performance. Now, there are different kinds of ammunition out there.

As long as you are not using salt-based ammunition, you can get away with cleaning your AR 15 after every two trips to the shooting range. However, if you are an avid shooter and love shooting a lot of rounds, this rule won't apply to you.

You should clean it regularly to prevent residue buildup inside the chamber of your AR. In short, clean it more if you shoot more. The environment also plays an important role.

If the place you take your AR for the shooting is too windy with lots of sand blowing all over the place, you need to maintain a frequent cleaning schedule. Notice how dirty your rifle gets each time you take it out for shooting. If the weather is calm, you can get away without cleaning your AR.

4. What if I don't clean my AR 15 at all?
I don't think there is any gun owner who would go to this extreme. If you think that you can ignore your AR, you are in big trouble. Not maintaining your AR 15 properly can lead to a lot of negative side effects. And they are not very pleasant.

For example, in the beginning, your rifle will rust, which can greatly shorten the lifespan of the gun. After that, rust buildup will cause the rifle to chip or crack at the edges. It will also become more susceptible to sustain damage when you shoot.

Appearance-wise, your gun will look like something out of a history museum. Trust me; things will get really bad if you continue using your rifle without cleaning it properly. In addition to firearm instability, it will break while you are shooting.

However, it is rare to even get to this point because the rifle will stop functioning way before that.
There is also the case of a misfire. Fouling or residue that builds up inside your rifle will greatly reduce the accuracy. What is even worse is that you will lose the ability to properly fire a bullet resulting in a misfire. What I'm trying to say is clean your guns properly. 
Final Thoughts
When picking the best AR15 cleaning kit, make sure the kit contains all the items you will use for cleaning your rifle. Different gun owners have different approaches when it comes to cleaning a gun. The cleaning kits in this list should come with all the components to meet the requirement of different gun owners.