7 Best Gun Safes Under $1000 In 2022 – Tested
Buying a gun safe is a once-in-a-lifetime purchase, so if you're in the market for a good gun safe that can be bought for under 1000 bucks, you are in the right place. If your main concern is theft deterrent and keeping the kids out, dropping $1000 on a gun safe is a good idea.
Here are some of the best gun safes under 1000 that are packed to the gills with heavy-duty security features. Keep in mind that a safe isn't just to protect your investment. It's to prevent your guns from ending up on the street if your house is broken into.
That is something that any self-respecting gun owner would take seriously. With that in mind, let's have a look at some of the best gun safes you can get for under $1000.
Top 7 Best Gun Safes Under 1000
Your average burglar isn't going to have a bulldozer, nor will they drop your safe from a building. Most of them will be a quick smash and grab-type thieves.
So, having a heavy-duty safe will definitely protect your guns in the event of a break-in. Here are some guns safes under $1000 that are worth looking into.
1. Vaultek MXi Bluetooth and Biometric Handgun Safe – Best Overall Gun Safe Under $1000
Having a budget of 1000 dollars is a lot. However, if you only want to store one or two handguns, you should consider getting a handgun safe from VAULTEK. The VAULTEK MXi is their top-of-the-line, feature-rich pistol storage safe that you can get for around 500 dollars. It's tough, easy to install, and smart.
Let's talk about its construction. It has a 14-gauge carbon steel construction that makes this gun safe really hard to crack open. In addition, there is a 12-gauge front opening door that has a powder coat finish. This increases durability, prevents corrosion build-up, and ensures longer-lasting protection.
Also, this gun safe has a large interior. Since you are willing to spend $1000 for a safe, why not get the best handgun safe out there? There is enough space inside to hold up to eight handguns. For the ultimate prevention against break-ins, certain features in this safe are exclusive to this safe only.
For example, this gun safe features impact detection, dual anti-impact latches, anti-pry bars, and more. Also, this is one smart safe. It has Wi-Fi connectivity, allowing you to connect this safe to your smartphone via Vaultek's Wi-Fi app and web dashboard. There are a lot of things you can do with this app.
As for its locking mechanism, it has everything. Wi-Fi, 8-digit auto-illuminating keypad with built-in proximity sensor, an oversized biometric fingerprint scanner, manual backup keys, and smart key nano. Also, the door opens up automatically for instant access. It's also easy to install.
Pros
Tough carbon steel constructed body
Advanced anti-theft protection,
Fully customizable and large interior space with foam padding.
High-resolution fingerprint scanner for quick access.
Pre-drilled mounting holes and includes mounting hardware.
Cons
Only good for handguns and pistols.
2. New and Improved Steelwater Heavy Duty 20 Long Gun – Best Large Gun Safe Under $1000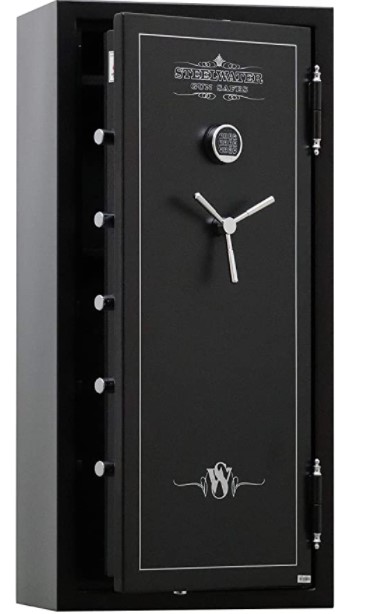 Now, this is what you've all been waiting for. This is what 1000 dollars can get you. It's a heavy-duty long gun safe from Steelwater that also has a fire rating of 30 minutes at specifically 1250 degrees Fahrenheit. Both the body and the door are made using 12-gauge steel for maximum protection against break-ins.
Although it has a 20 long gun capacity, you can mostly fit around 8 to 10 long guns. Even though it will cost you around 1000 dollars, the quality of this one stacks up with all the major brands out there. It's very easy to anchor it down, and the door has no flexing whatsoever. This is a solid 12-gauge steel door.
Also, the locking bolts are longer, which ensures your guns and valuables stay safe and secure. Ten locking bolts cover all four sides to maximize the try resistance and eliminate any vulnerable areas from attack. Even if someone manages to remove the hinges, it won't be easy to get into the safe.
For easy installation, four pre-drilled mounting holes are reinforced with a ¼-inch steel plate. There is also another hole to install a gun-safe dehumidifier. If this safe comes under attack, the relocking device will activate. Two internal re-lockers will keep your gun safe secure.
Also, it meets all the regulatory standards for RSC (residential security containers) by the California DOJ. As for its locking mechanism, this one uses an EMP-proof digital keypad. You can set two (3-8) digit codes. As a backup method, there is also a drill-resistant bypass key. This is truly the best gun safe under 1000.
Pros
Heat-activated door seal that will keep smoke and heat out.
1/4 Inch steel plates in the bottom corners to reinforce the bolt-down holes.
Automatic interior LED lighting that turns off when you close the door.
There are two layers of fireboard and adjustable/removable shelves. 
Gear-driven lock and bolt system.
Cons
Nothing to nitpick about.
3. Stack-On Elite Junior Executive Fire Safe – Best Fireproof Safe Under $1000
In the world of gun safes, the Stack-On E-040-SB-E elite junior executive is considered as the Fort Knox for handguns but larger and more secure. The best way to store guns is to keep them in a gun cabinet. This is where this gun safe shines the most. It's designed from the ground up to provide the utmost protection.
It's also designed with the comfort and usability of all gun enthusiasts. The best part about these gun safes from Stack-On is that they sacrifice cost for quality. Since you will have a budget of 1000 dollars to spend on a gun safe, you want to make sure you get the most out of your investment.
For your peace of mind, this safe, or should I say, a gun cabinet, is approved by the California DOJ because it meets their requirement for safely storing firearms. This gun safe can be used to store handguns, documents, money, jewelry, and more. It also has a 30 minutes / 1400° fire rating.
The interior of this safe is carpeted, and you can easily move the shelves to make space for larger guns. Keep in mind that there is not enough space to accommodate a shotgun or a rifle. That being said, you can definitely keep five or six full-size handguns with accessories attached.
There are pre-drilled holes on the safe, and you can easily mount it on the wall or on the floor using the included mounting hardware kit. It has a digital electronic lock and also comes with a bypass key. In terms of build quality, I would say it's excellent for the price. However, it's not that heavy.
Pros
Carpeted interior with adjustable shelves.
Easy to mount both ways.
Fire-rated for 30 minutes at 1400°.
Good for storing full-size handguns.
3-way locking point with up to 10 live-action locking bolts.
Cons
You will need to bolt it down because it's not very heavy.
4. Barska Large Keypad Biometric Rifle Safe – Best Biometric Safe Under $1000
Well, the title says it all. It's a large rifle-safe cabinet. But there is more it than what meets the eye. If you want to keep your rifles secured from kids and unwanted hands, the BARSKA AX13378 biometric rifle safe is for you. Although it looks like a glorified steel cabinet for guns, the build quality is excellent.
Although the spec says you can keep 14 rifles, normally, that would mean you can keep only 4 to 5 rifles with all accessories attached. That is just how they market their safes. Moving on, there are four handgun racks and two removable shelves. You can increase the number of rifles you can store by removing the shelves.
This 9.33 cubic foot rifle safe features an advance safe locking module. This patented module grants you multiple entry modes. You can create one unique pin code via the electronic keypad, and the fingerprint scanner can store up to 120 fingerprints. However, the biometric scanner isn't that reliable.
That being said, the rest of the locking mechanisms are spot on. It also comes with two backup keys. This rifle safe has solid, durable steel construction and features a 5-point steel deadbolt locking system that is pry-resistant. You can also mount this safe with the included hardware.
There is also an optional silent mode for stealthy home defense situations. When you open the door, your firearms will be in a ready position. The 16-position rifle rack gives you plenty of storage options to store your rifles. The interior is fully carpeted, and there is also a protective floor mat included.
Pros
Tamper-resistant internal mechanism.
Four-position gun rack on the door.
Fully carpeted interior that prevents damage to your firearms.
Two removable accessory shelves.
Five solid steel prey-resistant deadbolts.
Cons
The fingerprint scanner isn't very reliable.
5. SentrySafe Security Safe – Best Sturdy Safe Under $1000
Suppose you are looking for a personal home safe to keep your valuables and guns protected from kids, family members, and thieves. In that case, the SentrySafe T0-331 security safe is a good option to consider. This large space has a spacious interior that allows you to secure all your valuables.
It has removable shelving and is complete with a soft interior lining. This safe comes with a digital keypad that allows you to set an eight-digit combination. Now, what matters the most in a home safe like this one is the security features. This electronic safe has a heavy-duty steel construction along with anti-drill doors.
In addition to that, three live-action locking bolts hold the door in place and also make it resistant to prybar attacks. In short, this safe is designed to withstand break-ins and theft. There are These six cubic foot capacity safe weighs around 220 lbs.
Also, it comes with a bolt-down kit that prevents the removal of your personal safe. What I like most about this security safe is its ability to organize the interior. On the door, you will find a bungee organizational system and a key rack. This is a neat feature where you can store items that are easy to misplace.
The interior dimension is 36.5 in. H x 20.5 in. W x 14.1 in. D. As you can see, this interior is deep. Thanks to the soft interior lining, you can easily store fragile or delicate valuables without worrying about scratches or damages.
Pros
A high-quality and spacious safe.
Soft interior lining and fully carpeted.
Heavy-duty steel construction.
A relocking device that protects the safe from drill attacks.
Removable shelves.
Cons
Make sure to test the electronic keypad before using it.
6. WINZONE Biometric Gun Safe for Rifles and Pistols – Best Handgun Safe Under $1000
Next up, we have a long gun safe from WINZONE that won't cost you more than 400 dollars. So, why did this one made its way into our list of gun safe reviews? Well, that is because some gun owners already have a handgun safe, and they just want a place to store their rifles.
If you have many rifles and are looking for a place to store them, this biometric rifle is safe for you. There is enough space to keep up to five rifles. That being said, you can't fit an AR with scopes on. The interior isn't deep enough to hold rifles with accessories attached. So, keep that in mind if you go with this one.
As for its locking mechanisms, it has both an electronic keypad and a biometric fingerprint scanner. Since these locking mechanisms aren't foolproof, this safe also comes with backup keys. This means there are a total of three entry methods. The safe itself has high-strength steel construction for durability.
Although there is no exact number about gauge steel, I reckon it should be sturdy enough for basic gun protection and home defense. The rifle placement area: 13.4″L x 10.8″Wx 50.19″H and the exterior dimension is 13.8″L x 11.8″W x 57″H.
Also, this gun safe comes with some extras. For example, you can store valuables or ammunition inside an independent lockbox located on the top of the safe. This lockbox is built into the top for safekeeping. This safe is also equipped with three extra handgun bags and an emergency battery box.
Pros
High-strength carbon steel construction.
It can store up to five rifles.
An independent lockbox is built into the top.
It comes with a lot of useful accessories.
Mounting hardware set included.
Cons
It can't fit AR with scopes on.
7. Electronic Mesa Gun Safe – Best Electronic Gun Safe Under $1000
Finally, we have a 7.6 cubic feet large gun safe from the popular Mesa Safe company. And yes, I've saved the best for last. This is an outstanding safe with plenty of room inside to keep all your firearms secured and away from children or adults that you don't trust. As a gun owner, I highly recommend this gun safe.
Also, it's built like a tank and can take a beating. For the price, this safe will meet or exceed all your expectations in every way. Compared to other gun safes at similar price points, this one has a heavier gauge steel construction. Also, the live-action locking deadbolts seem thicker and longer.
Apart from that, it weighs more which is a good sign. Also, it comes with a door organizer, which is a bonus for gun owners. There is enough space inside to fit at least 6-8 rifles and shotguns. For shotguns and rifles, this gun safe will give you great value. Also, you can easily place a dehumidifier inside.
This gun safe has an electric outlet inside as well as a couple of plugs and USB ports. You can use it to light up the interior and also place an electric dehumidifier inside to keep your guns dry. This is a 1000-dollar gun safe that you can easily fit into a tight area. It's compact, has a solid construction, and doesn't compromise on security.
The only downside is the keypad. As with any electronics, you never know when one might get bad. This safe has known keypad issues which are rare but are a possibility. Also, it has a good fire rating. For the price point, this is a high-quality safe that you can buy without any hesitation.
Pros
A good gun safe for the money.
One hour 1750°F fire rating and two story impact rating.
Four-point locking system and twelve solid steel locking & deadbolts.
A drill-resistant hard plate on the lock.
Durable textured black finish with brass trim.
Cons
Unclear anchor kit instructions.
Best Gun Safes Under $1000: A Detailed Buying Guide
I can say that you are concerned about your safety if you're willing to spend over $1,000 on one of these gun safes. I'm sure we can find a model that works for you, even if it's more challenging than you expected.
It isn't easy to buy a safe, as you probably know. Before you give your money to a retailer or manufacturer, you need to consider numerous factors.
Below is a list of things you should consider before purchasing a gun safe to help you understand this.
Thickness & Steel Quality
A safe made of 10- to 14-gauge steel can be purchased for under $1000; which one should you pick? We need to consider why you're purchasing a safe in the first place.
You won't have to worry about the thickness of steel if you need a gun safe to keep your guns out of reach of your children. In that case, you are more than welcome to pick up an 11- or 12-gauge model. However, when it comes to burglars, you'll want a 12-gauge steel unit, as it will be harder to crack open.
Safes are constructed using different types of steel, which play an important role in determining their protection. It is generally recommended to use safes made from 12- to 18-gauge steel as these are known to resist most of the equipment that intruders use.
This quality will benefit you in terms of value. This will make the safe more resistant to prying for a longer time and even to common hand tools. Besides standing up to heat and water, many of these steel designs also resist corrosion.
Durability
Your gun safe will be no more durable than storing your items in a wooden box if it is not durable. A gun safe that has been made using the best materials will immediately add quality, so it's crucial to keep a close eye on the type of material used in its construction.
The most common solid steel construction available for safes is 14-16 gauge, as this metal is resistant to high temperatures and offers a lot of additional protection.
Locking Mechanisms
Let's examine a few of the key features of each of the three locking mechanisms for gun safes – mechanical dials, keys, and fingerprints. Historically, mechanical dial locks have been the most common type of safe lock. We still use them today.
There are no batteries required, but the only problem is that the combination cannot be changed. If the numbers reach the wrong hands, your only option is to replace the safe.
Gun safes under $1000 usually come with an electronic keypad. The advantage of it is that you can update the code whenever you want, and it's easier to use than a mechanical one.
Although it requires batteries to operate, they usually last for several years. A backup mechanical lock is usually included with these safes.
There is a new type of lock that uses fingerprints. Because no one can replicate your fingerprint, they are practical, easy to use, and cannot be broken into. It is usually quite expensive to buy a safe with these locks.
Security Features
Whenever possible, the hinges of the safe should be on the inside, as this is one of the first things burglars look for.
As you may expect, the more features you choose, the more expensive the safe will be. Fire-resistant metal and waterproof sealants may be included in the security features.
In areas where fires are common or any other problem, you may want to consider adding these features.
Size And Capacity
In most cases, customers get a smaller safe size than they really need, so it is important to consider the size of the safe. You will also need a safe that is easy to access as well as light to carry or one that can be kept away for a long period of time.
Doing research is the best method of finding the best 1000-dollar gun safe. Before making a purchase, you should read about user reviews to get an idea of what the gun safe's good and bad points are.
This is where size plays a role. You can buy a safe in a variety of sizes and dimensions, so to make sure you get the right one, here's what you need to consider:
Type of Gun/s
Your first question should be, what kind of firearm do you have, or do you wish to have; a shotgun, a rifle, or a handgun? Each of these weapons will require a different safe due to its size.
Handguns & pistols can be locked in smaller safes, while longer, heavier guns cannot be disassembled. Be sure to choose one that is within your reach.
How Many Guns?
Would you consider buying more guns? Think about getting a gun safe that will allow you to store several firearms in the future, especially if you plan on expanding your arsenal.
Will You Store Other Valuables?
Eventually, many people put jewelry and documents in their gun safes as well as their guns. As a result, it would be best to get a model which has adequate compartments for storing your stuff.
The price of a long gun safe is generally higher, and you will need more maintenance. If only a few valuable items and a small firearm need to be protected, a smaller gun safe will suffice. Safe hunters will be on the lookout for bigger and more expensive safes.
Certifications
To determine the level of resilience that gun safes have against burglaries and physical damage, they go through various tests. Safety tests can be performed by one of the following companies, and the safes that pass receive a certification:
DOJ Certification
This certificate ensures that the gun safe is sufficiently secure by the Department of Justice. It is important to note, however, that this label does not imply that your safe is unbreakable.
DOJ-certified safes have been tested and found to be of similar quality to uncertified ones by certain security experts.
UL Certification
An organization that tests safes is Underwriters Laboratories or UL. Known as the RSC (Residential Security Certification), this certification confirms that a safe has the ability to withstand a "professional" attack lasting for up to five minutes.
The UL certification ensures a safe's fireproof status as well. Temperatures inside a fireproof safe cannot rise beyond a certain limit within a specific time frame.
Weight
A big gun safe weighs a lot more than a small one, but some manufacturers may offer a gun safe that looks or feels heavier than it should.
Because of the resistance it offers to pry attacks and fire, you might need a heavy gun safe. Alternatively, you should find a lightweight gun safe if you own only a smaller handgun/pistol. If you travel a lot, you should consider getting a gun safe for cars.
Bolting The Safe Down
An anchoring hole on the gun safe will allow you to anchor it, thereby making it more difficult to steal.
Safes are heavy and impossible to remove, but thieves cannot get at them if anchored to a wall/ground. In most cases, the mounting equipment is included with the safe, but it may need to be purchased separately in some cases.
You should pay close attention to the mounting features of the safe that you choose. Smaller and portable safes will be mounted with metal wires, while large safes will be secured with deadbolts. The deadbolts are highly recommended as they provide additional security.
Frequently Asked Questions
1. Would it be better to purchase a portable or large gun safe?
Personal preference will play a big role here. You should always ensure that the gun safe you purchase meets the required safety standards by the Department of Justice.
And if you do not plan on using your safe, you should first purchase a big gun cabinet for your firearm in case.

We recommend the smaller, more portable safes if you like to travel a lot. By doing this, you will ensure that you have access to your firearm but still have complete control over it.

People who travel frequently will find the portable gun safe extremely useful. But regardless of what kind of safe you buy; you are unlikely to be allowed to board a plane with a firearm.

2. Does it matter where a product is made?
Not at all. It is not uncommon for safes in this price range to be made in China, however, they are sometimes made in the US as well. However, keep in mind that most "US-made" safes are made from Chinese parts and assembled in America.
3. What is the delivery method for a gun safe?
Your safe will likely be delivered to your driveway by most manufacturers. You'll need to determine whether they can transport it inside the house. These services are sometimes provided at an extra charge by some companies.
4. Is a dehumidifier necessary?
In truth, it's not necessary, but it is very desirable because humidity can damage guns, ammunition, and your safe in particular.

You can plug this device into a safe that has a USB port or an electrical socket. Otherwise, you can purchase a battery-powered dehumidifier.
Final Words
Let's wrap up today's article by recommending the best gun safe under $1000.This roundup's winner is Steelwater Heavy Duty 20 Long Gun Protection.
My decision was based on the fact that this model offers everything a buyer in this price range could desire.
Your guns are secure and up high in this fire-resistant, spacious, and highly durable cabinet that is out of reach from anyone.