Best IWB Holster for XDS In 2022: A Complete Guide
Over the years, people around the states have started taking the issue of home defense seriously. Many homeowners opt to invest in a compact handgun to protect themselves from trespassers and burglars. However, not every weapon is available for regular people.
For self-defense buffs, military-grade firearms are hardly a practical investment. They need something light that shoots fast and is accurate enough to hit the mark when needed. That is where the Springfield Armory XDS truly shines, making it one of the most popular weapons in the market for the general public.
But with your weapon, you also need to consider investing in a weapons holster. If you have a concealed carry license and choose to take your firearm with you on a daily commute, you want the best IWB holster for XDS. But is choosing one that simple?
 In this article, we will give you a quick rundown on some of the finest gun holsters that you can buy from the market specifically tailored to carry your Springfield XDS.
Why Do You Need an IWB Holster?
A gun holster is pretty much a must-have for any gun owner. Carrying your gun around in your pocket is highly unpractical, not to mention downright dangerous. Since a gun holster is specifically designed to carry your weapons, it comes with a lot of safety features to protect you when you are carrying.
When it comes to gun holsters, there are generally two main variants that you need to be aware of, IWB and OWB.
IWB holsters are the one that is best suited for casual gun owners who have a concealed carry license. It stands for Inside the Waist Band, and as the name implies, you wear it on the interior side of your waistline. When worn with a shirt, it completely hides away underneath, blocking away the view of your weapon.
Although some might complain about the comfort and speed of an IWB holster, it is the only real way to practically carry your weapon without anybody knowing. Most states do not give out open-carry licenses to the general public. As a result, using an OWB holster might not be the best route.
If you prefer not to leave your gun at home when you are out on your errands, you need an IWB holster. When you have a compact gun like the Springfield XDS, an IWB holster is the only real choice. Because of the discreet nature of the weapon and the holster, it makes for an unbeatable combo.
An IWB holster for all its pros also has a few setbacks. As we mentioned, it is not the most comfortable way to carry your weapon, especially if you are sitting down. As you sit, the gun can often press up against your belly, which might not be the most comfortable feeling in the world.
Another major setback is the draw speed. Although it is quite easy to draw your weapon from an IWB holster, it cannot be on par with the draw speed of an OWB unit. Since your path to your weapon is not obstructed by your clothing, it is usually quicker to get to it when you are using an OWB holster.
As a casual gun owner who is concerned about personal security, an IWB holster is the best option. Besides, an IWB holster also offers a lot of different carry options such as the appendix, behind the waist, etc., making it a versatile tool to use for your weapons.
Top 5 Best IWB Holsters for XDS Reviews
When you are looking to buy a holster for a specific weapon, you cannot afford to make mistakes. Remember, you are not looking for a holster for a wide range of weapons. So, you need to make sure that every aspect of the holster fits your requirement and comfort perfectly.
With that said, here are five of the best IWB holsters for XDS that you can buy today without sacrificing the least bit in terms of functionality and comfort.
1. Concealment Express IWB KYDEX Holster – Best Overall IWB Holster For XDS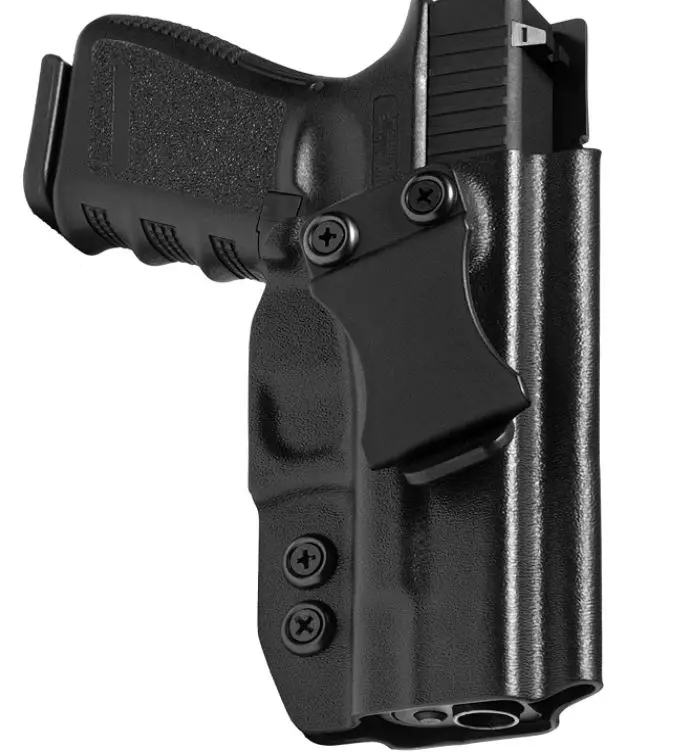 To start off our list of reviews, we are going with a unit that blends both style and comfort in a neat little package. The KYDEX IWB holster by the brand Concealment Express is one of the best options for people who want their holster to stay out of clear sight while keeping their weapons ready to draw at any moment.
Its design ensures that you have the least time wasted when you are drawing your weapon, thanks to the undercut trigger guard. The open-face design lets you use weapons with threaded barrels or suppressors without having to take off the attachments. It even comes with sweat and a rear sight guard to protect your weapon.
To mount it on your waistband, it comes with a high-strength belt clip. Once you put it on, the slim design of the unit ensures your weapon will be completely hidden from plain sight. It also comes with retention and carries angle adjustment within a range of -5 to 20 degrees, letting you get a personalized experience.
The retention of the unit gives off a clicking noise when you holster your weapon. This feedback feels oddly satisfying and quite practical in real life. The unit is claw compatible. So, you can be sure that there will be no printing over your clothes once you holster your weapon in the unit.
Pros:
        Highly adjustable cant angle and retention
        Slim and discreet design
        Clicking sound to let you know when the retention is active
        Extremely good pricing
Cons:
2. BLACKHAWK Serpa CQC Concealment Holster – Most Customizable IWB Holster For XDS
People who are on a tight budget need to tread lightly when it comes to choosing an IWB holster. They need to get the most out of a fixed amount of money, and the Serpa CQC Concealment Holster by Blackhawk offers exactly that. The excellent balance of both the price and performance of this tool is unparalleled in the market.
This unit features the trademark SERPA automatic retention system. The technology ensures that whenever you holster your weapon, the retention kicks in, locking the gun. Later, when you want to retrieve it or draw it, it will unlock automatically without any resistance. However, for people who are not drawing at the right angle, the weapon remains rooted.
The adjustable belt of the system is perfect for setting your desired draw angle without too much fuss. By setting the draw angle properly, the speed of your draw will never be in doubt. It works with both belt loop and paddle platform, both of which are included with your purchase.
Printing is always something to think about when you are using a 26 IWB holster. Thankfully, the sleek and compact nature of the tool completely hides away the holster from sight the moment you equip it in your waistband. For people who are looking for a concealed carry bag or holster, this is an excellent choice.
Pros:
        Compact and lightweight nature
        Comes with the trademark SERPA locking mechanism
       Works with both paddle platform and belt loop
        Adjustable cant angle
Cons:
        The lock can fail sometimes.
3. SPRINGFIELD ARMORY XDS4500H Holster – Best Safety IWB Holster For XDS
When your priority is a gun specific holster like the Springfield XDS, then why not go with one by the same brand. Designed specifically for this firearm, the XDS4500H offers excellent performance tailored to suit your every need. And the best part; it is not that expensive either.
It also features both a belt loop and paddle platform, giving you complete flexibility on how you chose to wear it. Whether you use it with a belt or not, you do not have to worry about any printing or discomfort when you have it on. Concealment is the number one priority of this device.
Besides, the unit even allows for some level of retention adjustment using screws. As a result, you can expect both security and quick access to your weapon. With other holsters around this price range, you are often left having to choose between one or the other. However, this one gives you both.
Another excellent element to note about the unit is its lightweight nature. However, do not for one second think that it puts the durability of the holster in doubt. It is sturdy and features a strong polymer construction, ensuring you get years of use out of it without having to think about a replacement.
Pros:
        The price is quite affordable.
        Lightweight nature with a durable construction
        Allows you to adjust the draw angle
        No visual printing.
Cons:
        The interior is not padded and can scratch your weapons.
4. Galco Stow-N-Go IWB Holster – Best Leather IWB Holster for XDS
While on the hunt for the best holster for Springfield XDS, we came across a unit with a small but loyal following. The Stow N GO IWB Holster by the brand Galco is an underrated product but one that offers excellence and superior performance at an affordable price. It is definitely a unit to watch out for if you are buying a holster for your XDS.
The holster features a metal-reinforced opening, which might lead you to think that it has some weight to it. However, the beautiful design of the unit ensures that you will not even feel it on your waistband when you have it on for the entirety of the day. In fact, you can even go jogging or hiking without it getting in your way.
The J-clip buckle mechanism in the unit also feels sturdy and ensures you of its durability. It even allows for retention and draws angle adjustments to some degree; however, it might not be as much as some of the other units in this review. The one drawback of the unit is that when holstered, the unit cannot fully cover the trigger guard of your gun.
Looking at the construction material of the unit, you will be pleased to know that the leather is of excellent quality. And as we all know, nothing can compare to the durability and comfort that comes from a good leather holster. For smart people looking to shop smart, this one is a no-brainer.
Pros:
        High-quality leather construction
        Quick access to your weapon
        Great value for the price
        Lightweight design
Cons:
        The trigger guard is not fully covered when you holster your weapon.
5. OUTBAGS Black Genuine Leather IWB Gun Holster – Best USA-Made IWB Holster For XDS
If you have the money to buy it, then there is no doubt that the best XDS holster available in the market is the one by OutBags. The LS2XDS33 is a heavy-duty leather holster that fits discreetly inside your waistband and ensures the quickest response time when you want to draw out your weapon.
Comfort is the prime factor of this unit. It comes with a premium quality leather material, which means it will feel perfectly fine against the skin. Even if you wear it for the entire day, the chances are that you will not feel any sort of discomfort or itching because of it.
The durable metal clip of the gun anchors to your beltline or your waistband snugly and grips it tightly. Once you put it on, the positioning of the holster is perfect, ensuring your weapon is just a moment away regardless of whether you are cross-drawing or appendix carrying.
The premium leather is hard-molded, which in addition to comfort, boosts the durability of the unit tenfold. With any leather holster, there is a break-in period when it feels too rough. But once you get past it, it will be your go-to holster whenever you are out with your trusted Springfield XDS.
Pros:
        Extremely durable design
        Sturdy Clip with a strong grip
        Lightweight and compact design
        Suitable for all-day wearing.
Cons:
        Requires some breaking in
Things to Consider when Buying the Best IWB Holster for Springfield XDS
With the list of products covered, we can focus our attention on some of the critical features that you need to check about the holster. A gun holster, despite being a relatively affordable tool, is typically a long term investment. And you want your gun holster to last you a good couple of years.
That is why it is extremely important that you look at these factors and remember to check them before you consider buying the best IWB holster for XDS. We have gone through extensive research putting critical thought behind each of these aspects, and we highly recommend that you do too.
So without further ado, here are a few things that you should consider before buying a holster for your Springfield XDS.
Trigger Guard
One of the first elements that you need to check is the condition and design of the trigger guard that comes with the unit. Although not all gun holsters in the market come with a built-in trigger guard, this is one safety feature that you do not want to overlook.
Basically, a trigger guard is an extra piece of material that hugs the trigger to ensure you cannot accidentally pull the trigger while drawing your weapon. If your unit does not come with a trigger guard, we would advise you to buy one from the market later on. But typically, you should go with a unit that has a decent trigger guard built-into it.
Printing
Printing, when it comes to gun holsters, refers to the visual indication of you having a gun holstered under your clothes. The best IWB holsters leave no printing on your clothes when you put them on. But there are plenty of models out there that cannot successfully hide your weapon under your attire.
When you are making your choice, make sure you get one that does not have this issue. IWB holsters primarily focus on concealment, and a unit that leaves printing cannot truly conceal your weapon. Besides, you do not want others to know that you are carrying your weapon when you are wearing an IWB holster.
Comfort
Considering your comfort with a specific holster seems like a no-brainer, but you would be surprised to know how many people tend to overlook this simple feature. In fact, this might be even more important to consider when you are buying an IWB holster instead of something like an OWB or SOB holster.
When choosing your holster, make sure it does not have any rough edges that might scratch against your skin or undershirts. Typically a leather holster is much more comfortable to use than a Kydex holster. However, not everyone prefers how the leather feels against the skin. You need to prioritize your comfort when making your choice.
Retention
Retention is an important element, and if you are a newbie gun owner getting his first holster, you might not be familiar with the term. Simply put, it refers to the strength of the grip that your holster has when you put your gun inside it. With any gun holster, you want the retention to be just right.
With too much retention, you will be having trouble extracting your weapon, whereas if the retention is too high, your gun will not be holstered securely. Ideally, you want to go with a unit that allows you to adjust the retention until you find the exact level you are comfortable with.
Protection
By protection, we mean that for your weapon, not for the holster itself. Although it is related to a large extent to the retention level of the holster or how high of retention you set it at, you need to make sure the holster does not in any way scratch your gun when you draw it out.
The best gun holsters come with some sort of protective material on the interior edges to ensure your gun remains cosmetically intact. However, those units also tend to be absurdly expensive. All you need to do is dry test the weapon a couple of times to ensure that it does not wear out your weapon's finish in any way.
Cant Angle
Cant angle is another factor similar to retention that refers to the performance of your gun in relation to your draw speed. The term means the angle at which the butt of your gun is resting when it is holstered. Ideally, you want a unit that allows you some flexibility in setting the cant angle.
The reason behind this is that not all people prefer to draw the gun from the same angle. Some might require a more angled gun position for a faster draw, while others may prefer the butt to be straight. Additionally, the preferred cant angle changes depending on where you carry your gun holster.
Grip
Getting a comfortable grip on your weapon when it is holstered is something that you must ensure when buying a weapon holster. Without a clear grip, you will not be able to draw your weapon quickly. When in a high-stress situation, every moment is precious, and without a good grip, you will waste a lot of it.
Besides draw speed, the grip position also determines the security of your weapon to some extent. People who are trying to disarm you will have a harder time if you can get to your weapon at a moment's notice. This factor is extremely important for law enforcement officials, but it is also useful for home defense.
Durability
Gun holster, as we mentioned before, is something that you want to last quite a while. Having to change your holster every few months means either you are a shopaholic, or your holster is not capable of handling rough use. And believe it or not, holsters are made to be handled roughly.
Even if you are careful with your gun holster, it is natural for the unit to wear out over time because of all the weight of the gun and friction when you pull it out. But with a holster made of strong materials, you can get a good few years out of it without having to worry about a replacement.
Price
Price is an essential factor regardless of the product that you are buying. Even if you can afford to spend more, the most Comfortable expensive holsters in the market are not automatically the best ones. You need to be smart when choosing your unit and finding the best value for the price.
It is best to set yourself on a realistic budget before you start shopping. This will help you filter out the best units in a fixed budget and give you the top options in that certain spending range. The art of shopping is to always weigh your options and factor in your requirements when making any investments.
Frequently Asked Questions
Is there anything else I need to think about when buying the best IWB holster for Springfield XDS?
Well, we have discussed in detail the best features of an IWB holster to help you understand which elements you should focus on when choosing one. As long as you check those features thoroughly, you should be able to confidently pick out the right unit.

However, not all gun holsters come in an ambidextrous design. Some models only feature either a left-handed or a right-handed design. Make sure you choose the one that is more suited to your hand preference. If you by chance end up with the wrong-handed weapon, you will have no one to blame but yourself.
What size belt do I need to use an IWB holster?
The size of the belt you choose mostly depends on your carry preference. IF you like carrying your weapon high, your normal belt length should suffice.

However, for low-riders, you might want to go with an extra length of two to four inches. You need to choose your belt size once you are sure of your carry height.
How to sit with an IWB holster?
You might have noticed that sitting with an IWB holster is not something that one looks forward to. In fact, when you are on a long drive or sitting down for hours at a time, it is recommended to take out your holster and put it on a desk nearby.

Apart from that, you could try adjusting the holster angle to see if the pressure goes away. Typically, carrying your weapon at the 3'o clock position offers some relief when you sit down with the holster.

The good news is that once you spend some time with your holster, you will get slowly accustomed to the feeling. It might feel a bit uncomfortable at first, but over time, you will be able to relax.

Final Thoughts
When it comes to concealed carry, an IWB holster is the king. It offers the perfect balance of concealment and draw speed, making it the ideal choice for any responsible gun owner.
We hope our article on the best IWB holster for XDS could help you figure out which unit is best suited for your purpose.