Best Belly Band Holster: Full Reviews
A belly band holster is a way of concealed carrying your firearm, by wrapping it around your midsection. It allows light clothing such as a t-shirt and jeans to conceal small firearms. Belly band holsters come in handy when you have limited clothing options. In this article, we review some of the best belly band holsters to help you choose the right one for your needs.
Top 8 Belly Band Holster Reviews
1. ComfortTac Ultimate Belly Band Holster – Best Overall Belly Band Holster
The ComfortTac belly band holster is uniquely designed to conceal your firearm well. It is ideal for people with a belly size under 44 inches. This is because the ComfortTac belly band is made using a highly stretchable surgical-grade elastic. Also, the neoprene offers a comfortable way to carry your handgun.
The ComfortTac is breathable and can be worn for as long you want with no skin irritation. Aside from the fact that the holster can fit revolvers and full-size pistols down to the subcompact level, the belly band holster can also be worn outside or inside the waistband, across the body or the back, in the appendix position, or in shoulder position. Finally, the holster comes with a spare magazine pocket, which gives you the option for a quick reload.
The ComfortTac Ultimate also comes with a removable retention strap to keep your gun tightly in place. Whether you're a right-handed shooter or left-handed shooter, the ComfortTac Ultimate is for you. The holster is compatible with Smith and Wesson, shield, Puger LCP, Glock 17, 19, 42, 43 and P238, as well other guns in these categories.
2. Gootus Belly Band Gun Holster – Best Versatile Belly Band Holster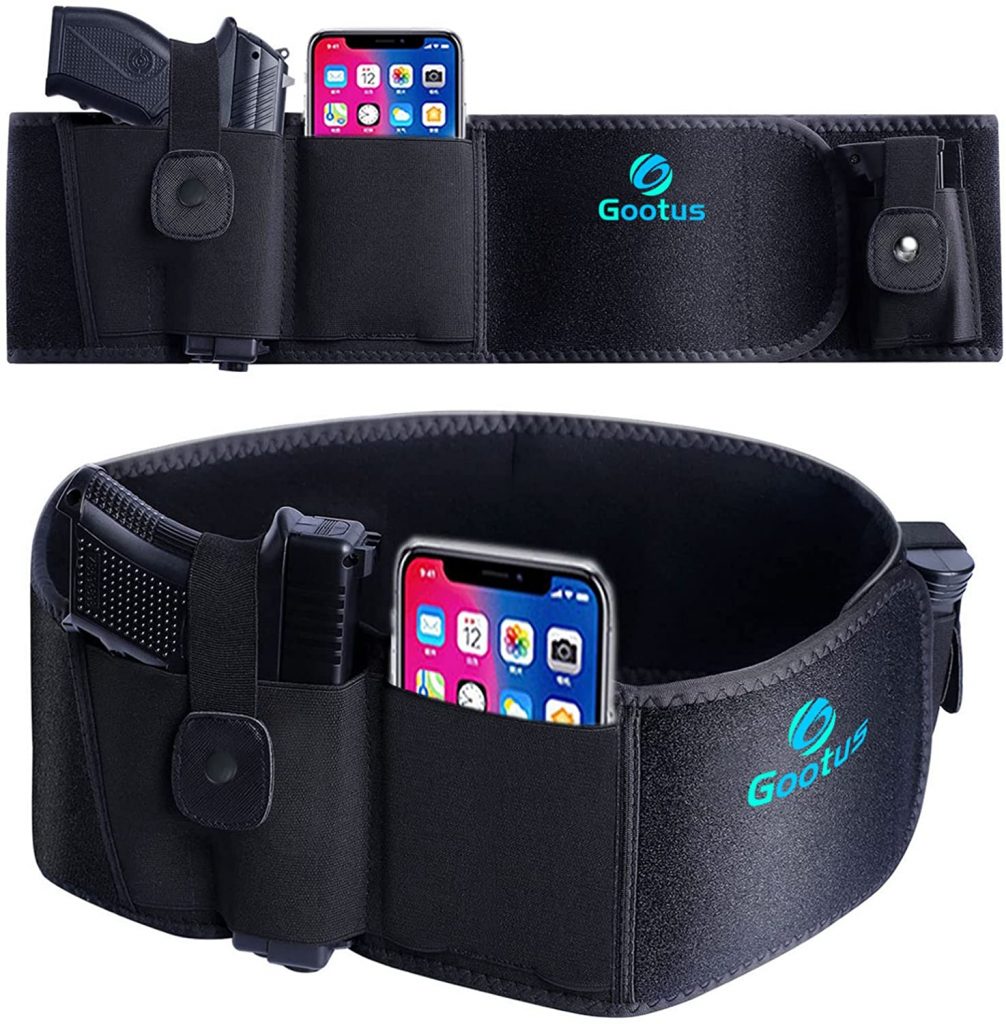 With the Gootus Belly Band Holster for Concealed Carry, you are afforded the comfort of carrying your weapon discreetly. The GGD belly band holster is versatile and suitable for both right and left-handers. The holster is also designed with a strong snap button that allows you to release your weapon quickly, quietly, and safely.
One of the reasons this belly band holster makes our list is its flexibility. The heavy-duty neoprene waistband can be stretched up to 38″ in circumference. It can fit small, subcompact, compact, or full-size pistols and revolvers.
The elastic holster comes with a fixed magazine pocket and an extra movable pouch alongside these amazing features. This can be used to store a second magazine, a phone, knife, flashlight, or anything you need, including a phone, as pictured above.
3. Kaylle Belly Band Holster – Most Breathable Belly Band Holster
The Kaylle Belly Band Holster for Concealed Carry is upgraded from the previous model. It comes in a unisex design and is very suitable for people who want the inside waistband style of the holster. The benefit of the inside waistband holster is the holster's thickness of 2.5mm, which conceals your weapon perfectly. This neoprene holster fits many weapon sizes due to its highly adjustable and comfortable nature.
The new design has been equipped with micro holes to make it more breathable, in addition to its built-in anti-sweat technology. With the Kaylle Belly Band Holster for Concealed Carry, you can go on runs or undergo numerous and even vigorous activities with the holster staying in place. The Kaylle Belly Band Holster for concealed carry fits Ruger, Sig Sauer, Smith and Wesson, and Glock firearms.
4. BravoBelt Belly Band Holster – Best Belly Band Holster for Athletics
The Bravobelt Belly Band is made from a uniquely designed neoprene substance that has a built-in breathable CoolVent feature. This perforated neoprene allows for adequate ventilation through the belly band holster for the skin beneath. This holster also comes with built-in anti-sweat technology.
The concealed carry holster can accommodate various gun types and sizes without issues, including the Glock 17 to the Glock 43. It can also carry revolvers and pistols from popular brand names like Taurus, Beretta, and Sig Sauer. The Bravobelt is one of few ambidextrous designs that can be worn in various positions. This holster is fit for running, hiking, jogging, and other athletic activities. 
The most awesome feature about the Bravobelt is that if for any reason you are not satisfied with your purchase, you are free to return it with a 100% money-back guarantee.
5. Fullmosa Concealed Carry Gun Holster – Most Compartments Belly Band Holster
The Fullmosa Concealed carry holster is probably the first belly band holster to be made in numerous sizes, which comes in handy for different belly sizes. From the small size at 28 inches up to the XXL size at 58 inches, you can pick the one that suits your needs. Also, this holster is one of few belly band holsters that can carry more than one firearm.
With the Fullmosa Concealed Carry holster, you can carry three small, subcompact, compact or medium-sized pistols with a barrel length of fewer than 4.5 inches. Also, you can either draw your weapon from the right, left, or backhand position. The Fullmosa comes with storage space for up to four magazines, a wallet, a phone, or cash.
The makers of the Fullmosa have incorporated an elastic mesh fabric into the product making it ideal for any belly size. The holster is lightweight and has built-in anti-sweat technology with a breathable design. Also, the part of the Fullmosa that rests on the skin is soft and comfortable, although this does not affect the tightly held firearm which is supported by a well-designed velcro fastener. This velcro fastener does not snag on clothing or pull on your gun, which is a complaint we found with many other belly band holsters we reviewed.
6. Lirisy Belly Band Holster – Best Discrete Belly Band Holster
The Lirisy is a one size fits all type of belly band holster. Because of the elastic material used, it can stretch up to 45 inches around the belly. Also, because it is an inside the waistband holster, it should keep your gun hidden discreetly. Although the Lirisy will fit various handgun sizes, it is recommended that you use it for subcompact and compact pistols. 
The Lirisy is suitable for both right-handed and left-handed shooters with a detachable pouch that can store your valuables. There is also a storage pocket for a fixed magazine. Overall, the Lirisy is flexible, comfortable, discreet, and fits men and women of all sizes. The Lirisy waistband holster fits S&W M&P Shield, Ruger LC9, and Glock 19 to 43 firearms, among other similar guns.
7. AlphaHolster Belly Band Hand Gun Holster – Best Belly Band Holster for Hand Guns
The AlphaHolster Belly Band is typically known as an abdomen holster with a unisex design for a left or right-handed draw. It is made such that any piece of clothing can be worn with it. One of the most important facts about the AlphaHoslter is that it is made in the USA, from a strong and comfortable elastic material. The AlphaHolster is breathable and contains no toxic materials. The range of guns that can be carried by the AlphaHolster is extensive, from small to full-size pistols and revolvers.
The makers of the AlphaHolster also included extra storage straps for storing spare magazines safely, while also allowing room for easy retrieval when needed. The AlphaHolster can be worn in a variety of positions and considering the price of this holster, it definitely is a bargain if you're looking for a comfortable concealed carry.
This holster comes in different sizes ranging from small (28″-34″) to XL (46″-52″) and is made from a patented ventilated elastic and fastens in the front with velcro.
8. Can Can Hip Hugger Classic Concealment Holster – Best Belly Band Holster for Women
The Can Can Concealment Hip Hugger is a holster specially made for women. The Can Can holster is made from military-grade plastic, and is five inches thick. It rests comfortably on the skin while keeping your firearm firmly in place. This is also aided by the two rows of hypoallergenic non-slip tacti-grips. In addition to these, three rows of metal hook and eye are added to allow the freedom to adjust the holster easily with a low-profile closure. Again, to ensure that everything is kept in place, there are rare earth magnets built into the Can Can holster.
It is a common problem to holster your firearm without fumbling and this Can Can holster has solved this problem by adding a convenient feature called in-position holster tabs that allow you to feel where to holster your gun without looking. Finally, the holster comes with additional storage space for spare magazines, phones, and other valuables. The Can Can holster is ideally designed for .380 cal and small 9mm pistols for perfect concealment.
Factors Considered in the Ranking
While making our ranking, we reviewed the various belly band holsters based on these factors.
Comfort
Belly Band holsters need to be comfortable, and this largely depends on the material from which they are made.
Safety and Trigger Guard
Safety is important when choosing a belly band holster. We made sure that the products we reviewed concealed the trigger and safety of the guns.
Retention
There are cases where people try to steal holstered guns, and we ensured that the reviewed products could retain all gun sizes tightly to avoid scenarios like this.
Portability
It is normal to change clothes at different times in a day, so we made sure to review belly band holsters that can allow you to change your clothes while concealing your firearm no matter your fit for the day.
Attachments
Aside from your firearm, you may decide to conceal other items, and the products we reviewed have accommodations for other attachments including additional magazines, cash, your phone, etc.
Conclusion
Finding the best belly band holster can be challenging as there are many in the market. Each one has its pros and cons, but we hope that by reviewing these best belly band holsters, we have been able to narrow down your search and will help you make the right holster choice.