Best Appendix Holster In 2022 – Tested & Reviewed
Appendix holster lets you carry your firearm inside the waistband located on the front of your body. It is one of the best-concealed carry holsters around. When it comes to choosing the best appendix holster, you should do your research and locate one that has been tried and proven. In this article, we've tested and reviewed some of the best appendix holsters to help you choose the right one for your needs.
| | | |
| --- | --- | --- |
| | Best value aPpendix holster | |
| | best appendix holster for durability | |
| | | |
| | Most innovative appendix holster | |
| | best appendix holster for comfort | |
| | best appendix holster for strong body | |
| | best appendix holster for strength | |
| | Budget pick appendix holster | |

Top 8 Best Ankle Holster Reviews
1. C.Y.A. Supply AIWB Holster – Best Value Appendix Holster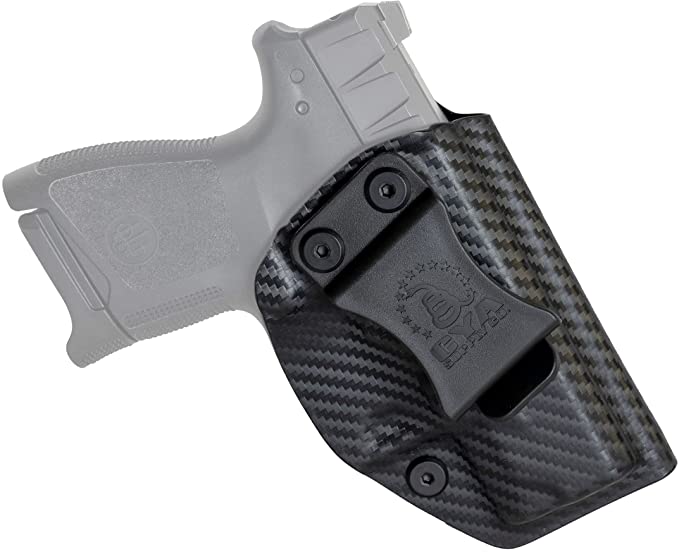 C.Y.A. Supply AIWB Holster is the best holster to carry Glock 27, Glock 33, and Glock 26. This holster is comprised of Boltaron thermoplastic, which makes it look like Kydex but offers better heat and impact resistance.

The holster may be adjusted to fit your needs with a pair of retention screws that can be cranked down exceptionally tight. The belt clip is just right, plus you get adjustable cant from 0 to 15 degrees, which is a good feature for accurate positioning and muscle memory for quick, smooth draws or for someone who wears a C.C.W. belt.

It is budget-friendly and is designed with concealment in mind. This holster isn't groundbreaking, but it is an extremely sturdy, secure, and lightweight version of a classic, so it's worth checking out.
2. Blade-Tech Klipt Holster – Best Appendix Holster For Durability
The Blade-Tech Klipt Holster is one of the best overall options as it was designed in collaboration with Special Forces Operations. Also, it is designed to be an I.W.B. holster overall.

It has a small shell with an injection molded clip, ideal for appendix carry. It also has a low profile, making it less prone to print and more comfortable to wear. The belt clip can hold a belt up to 1.5 inches in height, so it's an excellent choice if you're looking for a holster that can be used as a backup with your duty belt or if you wear taller belts.

It also has a full-length sweat guard that extends to the back end of the slide and protects your rifle from sweat and skin oils, and sharp edges. This is especially helpful with guns with tall sights and aggressive slide serrations. That extra bit of protection does a lot when muggy or hot.

It's also more comfortable than some other solutions for larger people or individuals who find carrying an appendix on their stomach uncomfortable.

Overall, if you want a low-profile carry rig that works in various situations and allows you to alter things up depending on what you're wearing or what kind of activity you're doing, this is an excellent holster.

It's perfect if you spend a lot of time outside in hot weather, thanks to the sweat guard and low-profile design that blends in with even the lightest clothing.

3. Concealment Express AIWB Kydex Holster – Best Appendix Holster For Light Weight
The Concealment Express AIWB Kydex Holster is considered the best value appendix holster. This holster comprises an undercut trigger guard for fast and easy drawing, a rear sight shield, and a full-length sweat guard for great convenience.

This is built in such a way to provide you with the utmost comfort, longevity, and speed. Also, it is suitable for all types of firearms. This holster comprises a 0.08-inch Kydex layer that weighs up to 3 ounces, making it an excellent lightweight alternative.

You can adjust the cant from 0 to 15 degrees, which should be sufficient for most concealed carry users. The holster's riding height isn't changeable, but you may modify its retention with the posi-lock retention mechanism to ensure its secure. Like the replacement clips for it, the Concealment Express's plastic belt clip feels cheap. In any case, it's claw compatible, so that balances things out.

The Concealment Express Appendix I.W.B. holster is an excellent appendix carry holster. It provides outstanding value for money in terms of features and convenience.
4. Vedder LightTuck I.W.B. Kydex Gun Holster – Most Innovative Appendix Holster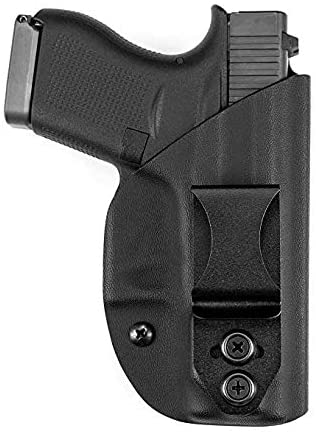 The Vedder Light Tuck I.W.B. Kydex Gun Holster is light and easy to carry. It's slim and concealable, making it an excellent choice for deep carry, especially in the summer when you're wearing a light T-shirt. It's also an excellent choice for carrying smaller guns that don't require a lot of extra weight.

After all, if you're paying for a slim, light gun, you don't want to ruin it with a big, bulky holster, do you?

The clip can hold up to a 1.5-inch belt and has adjustable retention. You can also choose between forward, reverse or zero can't, which lets you place your rifle exactly how and where you need it for the easy draw.

Hence, if you're looking for a holster that is light weighted and perfect for summers, then Light Tuck from Vedder Holster is an ideal choice.
5. Fierce Defender I.W.B. Kydex Holster – Best Appendix Holster For Comfort

Fierce Defender I.W.B. Kydex Holster is considered one of the best options to carry spare mag with you. In addition, it is becoming a popular appendix holster lately.

The extra weight It carries for mag helps balance the holster and makes it easy to carry a double stack firearm with utmost comfort. It is perfect for firearms like Glock 19. Also, having a spare mag is never a waste thing as you do not have to carry a separate mag pouch with your appendix holster.

This holster's curved form makes it incredibly comfortable to wear and switch from an appendix to a 4 o'clock position depending on what you're doing, such as sitting or driving.

The holster is securely fastened by the dual belt hooks, albeit they are a hassle to remove in a hurry. However, removing a holster quickly is rarely necessary. Thus, this isn't a significant concern. It only takes a few seconds more, and I'd much rather have something secure like this than something that could easily slip off.
6. Alien Gear Appendix Shapeshift Holster – Best Appendix Holster For Comfort
Alien Gear Appendix Shapeshift Holster is one of the safest and most comfortable appendix holsters ever. This holster is designed to provide convivence as the priority. It contains a perforated neoprene basis, sometimes known as "alien skin material," that fits any body type and feels extremely pleasant on the skin. A trigger guard and a back cushion are also included. This holster should be worn at 3 o'clock.

The Shapeshifts single mounting point makes it versatile and simple to put on, and it doesn't print, making it an excellent alternative for concealed carry. Compared to slim-line holsters, appendix carries backers are normally large, but this one isn't.

The Alien Gear Shapeshift has a passive retention mechanism and no riding height. However, you can loosen it up by rotating the nut on the small coupling parts for the backer's shell.

It's simple to use, and unlike most I.W.B. holsters, it doesn't require any additional tools aside from the spinning spring core.

7. Black Arch Entrada Appendix Carry Holster – Best Appendix Holster For Strength
If you have a little extra money to spend, the Entrada from Black Arch will provide excellent value for money. It has a sleek and attractive design that guarantees a perfect drawing experience while being comfortable. The set provides everything you need from a gun holster and more.
This type precisely matches several of the Glock compact to normal sized handguns. You can get the same model with the same features and construction quality if you use a Shield or any other weapon. It's a weapon-specific holster, so you can count on it to deliver the best results.
You can modify the riding height using the device, allowing you complete control over its concealment. It leaves no visible printing over the garments when calibrated for discretion. It also includes an extra pouch for storing an extra round of ammunition that you can readily access.

Overall, the build quality is excellent, and it will last for years without showing any signs of wear.
8. Blackhawk A.R.C. Appendix Carry Holster – Budget Pick Appendix Holster

If you're looking for a holster that does not daunt your budget, that Blackhawk is the holster for you! It provides features with the right amount of convenience and comfort.

This appendix carry holster is injection-molded polymer with a soft, faux-leather surface. Even when complete concealment is required, it performs admirably. However, deep concealment is essential for added safety if you have a smaller handgun, such as a Glock 43, Smith & Wesson M&P Shield, or Ruger L.C.P.

You can adjust the two can't and ride height belt clips, and the retention can be altered using a Phillips screwdriver. It only takes a few minutes to put together, and the belt clip is simply attached with a single square nut and bolt. 1.75-inch and 1.5-inch belts will also fit into the holster.

Because the back and top of the Blackhawk A.R.C. are open, it can fit weapons with red dot sights. This is what makes it the best budget pick appendix holster.
While we tested and ranked the various best appendix holsters, we reviewed them on the basis of the following factors:
Comfort
Appendix Holsters must be comfortable, which is mostly determined by the material used in their construction.
Trigger Guard and Safety
When it comes to Appendix holsters, safety is crucial. Therefore, we made certain that the guns' triggers and safety were hidden in the tested products.
Retention
People have tried to steal holstered firearms in the past. Therefore, we ensured the evaluated goods could securely hold all gun sizes to avoid this.
Portability
Because it is common to change clothes throughout the day, we reviewed appendix holsters that allow you to change your clothes while hiding your firearm regardless of your outfit.
Uses
Another factor to be considered is what you want to use the holster for. Some common uses of the holster are as follows:
As self-defense.
As a backup weapon
Ankle Holsters review
For tactical reasons
Discreet concealed carry.
Final Words
AIWB concealed carry is a developing trend, accompanied by misconceptions, rumors, and exaggerations, as you are surely aware.

Depending on the material, you can choose from leather, polymer, or Kydex, but stay away from nylon holsters. Some holsters are ambidextrous, allowing you to use them with either your right or left hand, and some have two belt clips, but you can choose which features you want.

While the market offers a variety of flimsy or cheaply built appendix holsters, which are largely to blame for their poor reputation, you should only focus on choosing the best one. Therefore, choose one from the right best appendix holsters mentioned above.
Frequently Asked Questions
1. What makes a good appendix holster?
A good appendix holster must be secure enough to fasten it to the belt, so it does not need constant adjustments while moving or sitting.
2. Where do you put an appendix holster?
Appendix carry is where the holster and firearm are placed on the front body inside the waistband.
3. Is carrying a Glock appendix holster safe?
If the firearm is placed with the right appendix holster, it is perfectly safe, even for Glock 19 handgun.