Best Ankle Holster: Full Reviews & Recommendations

An ankle holster lets you easily carry your backup weapon or gun on your lower leg while avoiding larger, bulkier holsters on your upper chest. These holsters are compact, solid, and do their job without shaking or discomfort, making it nearly hard for others to detect (or print) your weapon.
If you are new to the world of ankle holsters or looking for an ankle hostler with the best features, we included some of the best recommendations for you. In this article, we've reviewed Ankle hostlers to help you pick one among the best ones.
Top 8 Best Ankle Holster Reviews
1. Alien Gear Shapeshift – Best Value Ankle Holster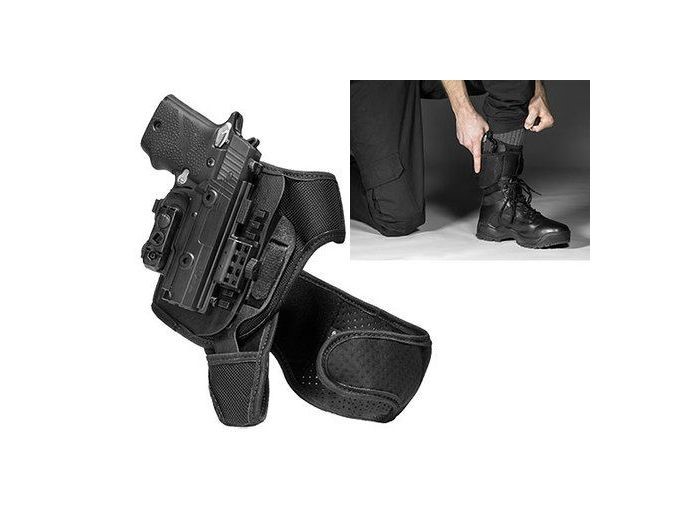 Alien Gear Shapeshift gives a new comfort level for carrying a gun in the ankle position. Unlike other ankle holster that left consumers with bad-quality products, alien gear shapeshifts set out to provide consumers with high-quality products for concealed carry.

Its straps are elastic and let you hold them tight without any discomfort. Also, they are padded with sweat-wicking breathable fabric and Cool Vent neoprene that ensures that your skin does not boil. In addition, alien Gear Holster's two-piece design provides horizontal and vertical support, allowing you to have a more secure carry.

Further, it is adjustable enough for ride height and can easily be worn with any boots. It is backed by an Iron-Clad Program that offers a 30-day trial period. The Shapeshift will replace or repair your holster for life.
2. Galco Ankle Holster – Best Ankle Holster For Pistol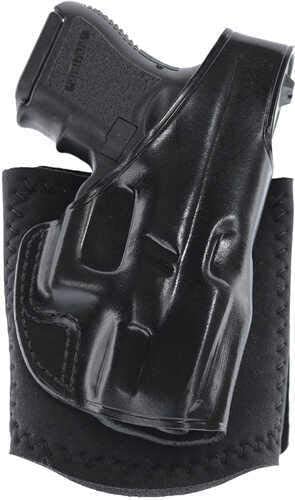 Galco Ankle Holster is one of the most popular one in the market. It features a custom-molded leather holster stitched with a wide neoprene band. It gives secure firearm retention with a straightforward, sleek design. Also, it relies on a hook-and-loop fastener allowing a custom fit and securing the holster in place

It comprises a genuine sheepskin pad inside the band, creating a comfortable layer between your ankle and gun. This holster can carry a variety of semi-automatic handguns and revolvers and fits ankles around 13 inches in circumference. With its modularity and quality construction, it is a perfect choice and that too at a budget price.
3. DeSantis Apache Ankle Rig – Best Ankle Holster For Slip-On Boots.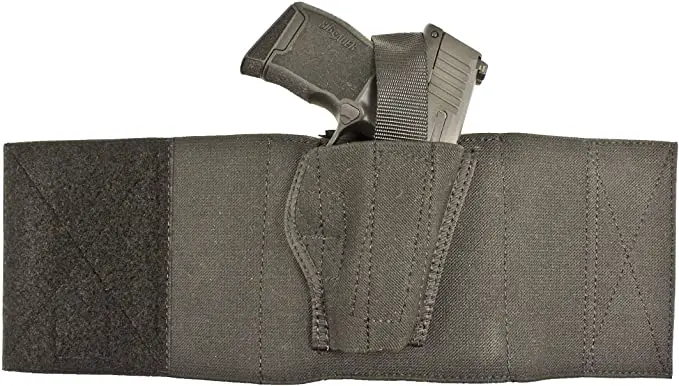 If you are looking for a high-quality ankle holster that also saves you some pennies, the DeSantis Apache Ankle Rig is a perfect option for you. Even though it is not the cheapest option on the market, this holster isn't a budget slayer. Instead, you can rely on its uncompromising quality and solid performance.

I featured this holster with sheepskin padding between your leg and firearm and involved a fast inside thumb break. So, you can have easy access and solid retention whenever needed. Moreover, despite its small size, it can easily carry handguns of almost every size. Hence, it is a perfect match of quality and budget.
4. Topmeet Upgraded Ankle Pistol Holster – Most Innovative Ankle Holster
The Topmeet ankle holster combines a lower nylon belt with an upper leg band to provide comfortable stability on the leg, does not pinch or bind, and remains in place. It's quite easy to use; handguns slide smoothly into the holster and don't move during walks or runs. The neoprene bands stayed on our testers' legs as well.

This holster lived up to its claim of being able to fit virtually any pistol .From 22LR handguns to full-sized. 357 magnum, you can safely fit a wide range of pistols into it. While the fit suffers as the pistol gets larger (which makes it logical), you can safely fit a wide range of firearms.
5. Concealed Carrier (TM Ankle Holster) – Best Glock Ankle Holster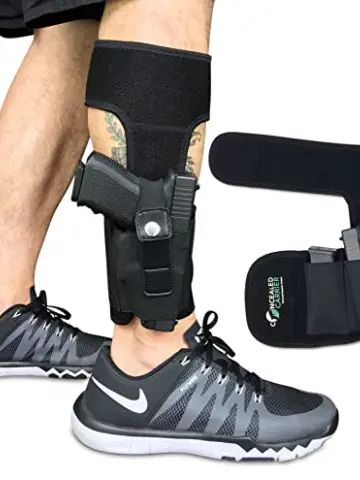 Concealed Carrier Ankle Holster is made of breathable and padded surgical grade elastic neoprene featured with air holes. It enables proper ventilation for your legs—you will even forget that you have it on! Also, its thick form prevents discomfort and rubbing.

This holster is made so that it fits all leg types, fits all types of guns, and right or left-handed carry. It's a right or left-handed elastic holster designed to carry an any-size firearm from sub-compact Glock 26 to the full size (45 1911).

Also, it allows you to swiftly and effectively draw your pistol by flicking up the retention strap with the back of your thumb. With the two-strap design of this ankle holster, you can sprint, stroll, hop and work out without the least slipping down your leg. Guaranteed Customer Satisfaction! Further, the leg strap designs enable any size calf to fit comfortably with a Concealed Carrier Ankle Holster.
6. Gould & Goodrich Boot lock Ankle Holster – Best Ankle Holster For Lace-Up Boots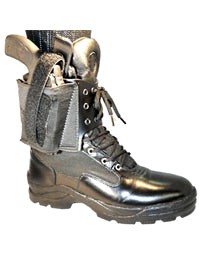 When using an ankle holster, keeping your firearm secure even when you're moving around is critical. Gould & Goodrich's Boot lock Ankle Holster provides all of that.

This holster appears to be similar to most other ones at first glance. There is a broad range. They're made of hook-and-loop cloth. It's a holster made of molded leather. However, a deeper examination reveals the variances. Between the hook and loop and the holster, the band has a series of twelve little holes. This is what distinguishes the Boot lock. It is where the holster gets its name.

The holes in the band enable you to secure your gun via laces. Also, you can easily adjust the placement low or high as per your comfort preferences. Once it is laced, it is almost impossible to move. Gould & Goodrich's Boot lock Ankle Holster is available in the right- or left-hand designs. It is sized to fit any type of modern firearm –semi-autos or revolvers.

7. Uncle Mike's Nylon Off-Duty and Concealment Ankle Holster – Best Revolver Ankle Holster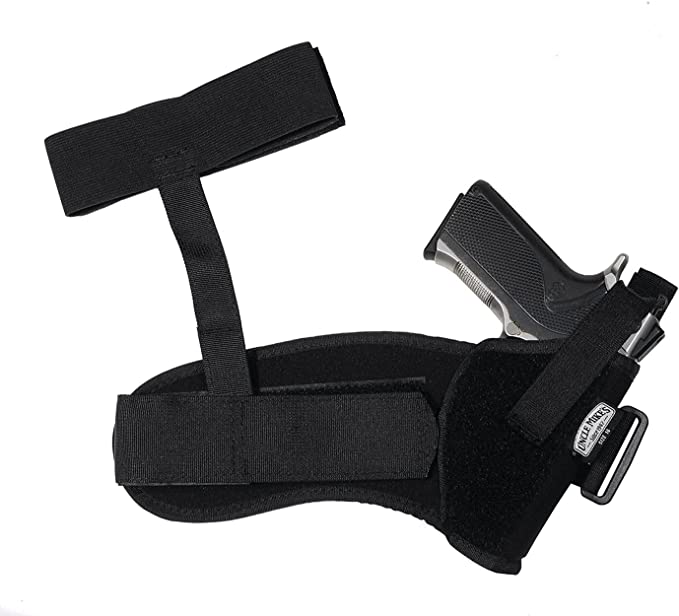 Are you looking for an ankle holster that can carry a variety of firearms? Are you tired of buying different ankle holsters for different firearms? Then, all you need is an ankle holster that can carry each type of firearm. And Uncle Mike's Nylon Off-Duty and Concealment Ankle Holster just do the same.

This single holster can be used with a variety of firearms. They range in size from a.38 revolver to a bigger compact—semi-automatic 45. The stretchable Kodra nylon material can accommodate larger guns. It will keep its original shape. As a result, after accepting larger rifles, they may be used on smaller ones.
One of the most adaptable ankle holsters on the market. It's also built to provide a high level of security.
A mix of Velcro and a clasp secures the extra-wide main strap. As a result, they're less likely to leak unintentionally during physical exertion. A calf strap that can be removed adds extra traction. There's also a thick thumb break retention strap. It can also be customized to fit your handgun.
8. Bulldog Ankle Holster – Budget Pick Ankle Holster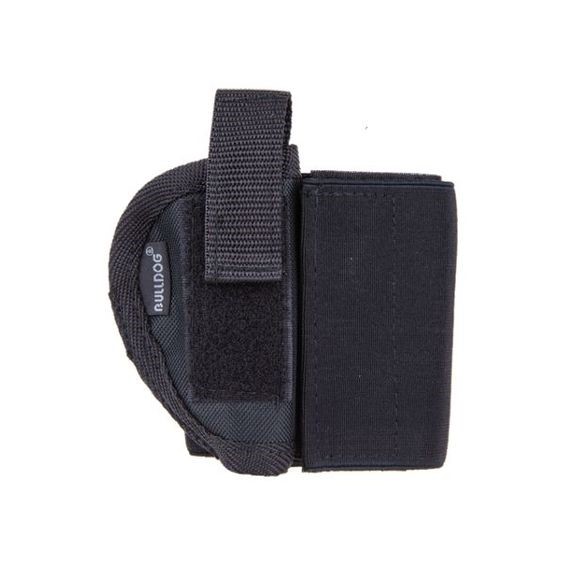 Are you one of those who routinely carry firearms? Then, the ankle holster is the perfect option as they provides comfort to carry firearms and that too without anyone noticing. Unfortunately, many are too big to handle. They weigh almost the same as firearms. However, Bulldog Ankle Holster offers something different.
This holster is specifically designed to carry small firearms. As a result, the designers created a holster that was both secure and functional. In addition, it is devoid of extraneous elements that add bulk and weight. The results include:
A basic elastic nylon band.
A heavy-duty nylon holster.
An adjustable thumb breaks.
This is a straightforward, uncomplicated design. It does not, however, compromise on comfort or security. For a comfortable fit, the extra-wide body is made of elastic nylon. The large Velcro security band offers you a lot of flexibility. Even so, the holster will be secure. This holster is "one size fits all." A thumb break retention strap that can be adjusted keeps things secure.
Factors To Be Considered:

There are limitless ankle holsters available in the market today. Therefore, it becomes more difficult to choose the best one amongst them. Therefore, consider the following factors before selecting your ankle holsters.
Brand Value
Ankle holsters should be chosen from the brand that offers the best value to customers with excellent customer service and high-quality products.
Comfort
Ankle Holsters need to be lightweight and comfortable, and this largely depends on the type of material used in making such holster. If you wear an ankle holster on a daily basis, then you cannot comprise the comfort.
Materials
The common materials used for ankle holsters are nylons and leathers. Considering material is important as they determine whether the holster is durable or not. Nylons are not an ideal material as they are not durable. In comparison, leather lasts a long time. Therefore, leather ankle holsters are a perfect match for you. Its texture is comfortable on the skin.
Support
The best ankle holster should always provide support. The Neoprene and Velcro technique is one of the most prevalent technologies firms use to improve the holster support today. The Velcro strap adheres to the neoprene band and stays in place at all times due to this.

Nylon is another support alternative; however, it is not as popular as Neoprene and Velcro due to its numerous drawbacks. Nylon straps also tend to cut readily, impairing movement.

The calf strap wraps around the calf before joining the ankle holster and is another popular support option.
Uses
Another factor to be considered is what you want to use the holster for. Some common uses of the holster are as follows:
As self-defense.
As a backup weapon
Ankle Holsters review
For tactical reasons
Discreet concealed carry.
Final Words

That is all there is to it. We've covered top ankle holsters available in the market. Each of the holsters we tested is extremely concealable and safe.

An ankle holster might not be the best option for every gun owner or situation. But, it's still a good choice to have. They've long been a professional's favorite. Ankle holsters are ideal for firearms with a tiny frame. Owners of concealed carry firearms are beginning to see the advantages as well.

Each of the holsters listed above allows any firearm owner to carry their weapon practically. We are confident that one of these options will fulfill your requirements. One of these ten ankle holsters will undoubtedly be your next purchase.
Frequently Asked Questions
1. Can you run with an ankle holster?
"Yes," is the straightforward answer. If you don't mind searing agony against your bones, rubbed raw flesh, or possibly losing the gun, you can run in an ankle holster.
2. Is it a good idea to wear ankle holsters?
Ankle holsters are a great way to conceal a backup weapon when your primary weapon has been rendered ineffective for whatever reason, such as the pistol going "click" instead of "bang," or you've lost control of it somehow.
3. On which side does the ankle holster go?
The inside of your ankle is where most ankle-carry holsters are worn. The gun and holster are commonly worn on the left ankle side by right-handed people and the right ankle side by left-handed people.