Best Concealed Carry Purse In 2022: Reviewed & Tested
Carrying arms for a woman has always been a challenge. A typical IWB holster that you would use for a man might not work well when it comes to women's clothing. Fashion is not the only factor here; since women tend to wear tighter clothes, any regular holster would leave a visual printing.
But with the best-concealed carry purse, you will be able to carry your weapon discreetly without any effort on your part. A concealed carry purse is a life-saver if you are a woman who takes the issue of self-defense seriously. Since purses go with your everyday attires anyway, you do not need to make extra effort to blend it with your style.
But when it comes to buying a concealed carry purse, you cannot afford to buy any mistakes. There are so many different factors that you have to take into account that it is almost a chore. And if you have no prior experience with this type of unit, then you are in for quite a hard time.
However, with us here to help you out, you do not need to feel intimidated. In this article, we will give you a quick rundown of everything you need to know about this type of purses, along with some of the finest units in the market that allows you to concealed carry your handgun. So without further delay, let us jump in.
| | | |
| --- | --- | --- |
| | | |
| | | |
| | | |
| | | |
| | | |
| | | |
| | | |
Can I use My Normal Purse as a Concealed Carry Purse?
Before we get into the nitty-gritty, let us address the question that must be on your mind. If you have a normal purse, is there a way to use it for concealed carry? Technically, yes, you can do that. However, it might not be the most elegant of solutions when it comes to carrying your weapon discreetly and safely.
A normal purse is not meant to carry a firearm like a concealed carry purse. It does not come with any of the design improvements that you would get with a concealed carry purse specifically tailored to meet the needs of your firearms. If you want to use a normal purse, you need to buy a separate holster, for instance.
Besides, your normal purse rarely comes with a separate gun chamber. You will likely be converting the outermost pocket that you can access easily into your gun chamber. But remember, most outer bags of a purse are also thinner, making them a poor alternative to an actual gun chamber you find in a concealed carry purse.
The holster in a concealed carry purse also serves to keep the weapon inside it from moving around too much. With a normal purse, your holster will constantly wobble inside it. God forbid, if the trigger goes off by mistake, the end results could be disastrous.
A concealed carry purse also comes with some type of locking mechanism in its zippers. This is a critical feature of a concealed carry purse and ensures that your weapons remain safe even when you are nowhere near it. In a normal purse, although you can find units with locks, they are rarely as sophisticated.
Finally, a concealed carry holster is designed to keep the needs of your weapons in mind. As a result, it takes into account your draw speed and ease of access. With a normal purse, you will have drastically slower draw speed and will also have to jump through hoops to take your weapon out. It is not very practical in case you run into a high-stress situation where you want your weapon in your hands.
Top 7 Best Concealed Carry Purse Reviews
Finding the best concealed carry purse can be a difficult task if you are not up to date on which units are popular right now. There are literally thousands of different products saturating the market, making it quite a hassle to figure out which one suits your needs better.
To help you navigate this mess, here are our personal recommendations of the finest options available that will give you the best bang for the buck experience.
1. Roma Concealed Carry Gun Shoulder Bag – Best Overall Concealed Carry Purse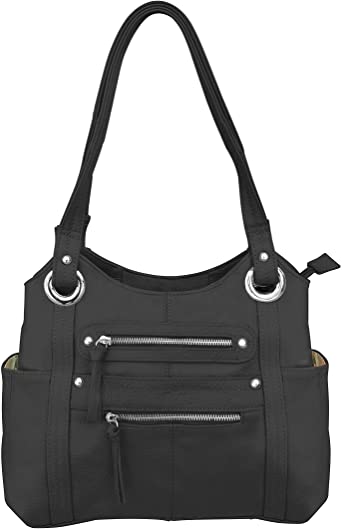 Kicking things off, we will be going for a classy brand in the world of weapon holsters, Roma Leathers. This particular model features an excellent design that promotes quick draw speed, beautiful storage, along with stunning good looks, making it an excellent investment for anyone.
The leather construction of the unit ensures you will get a lasting use out of it. When buying, you will have four different color options, each more stylish than the other. The inherent design of the purse makes it suitable for any sort of occasion, business, or pleasure, making sure you never feel out of place.
The purse features two exterior pockets, each with high-quality zippers. It also has a Velcro opening concealed compartment to house your documents or small items. In addition, the soft leather shoulder straps make sure you will feel comfortable even if you have to carry it for long hours.
Its interior compartment is massive and comes with a thoughtful arrangement of inner pockets so that you never run out of space. Thanks to the locking zippers in the gun chamber, you can control who can access your weapon. All in all, it offers an excellent value that is hard to find elsewhere.
Pros:
High-quality Leather Construction
Four different color options
Perfect for any occasions
Locking zippers in the gun holster compartment
Cons:
2. Genuine Leather Concealed Carry Purse – Best Genuine Leather Concealed Carry Purse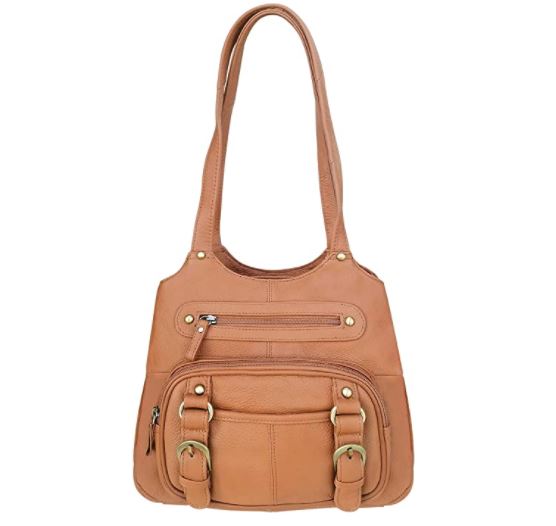 If you are looking for an affordable option for your next concealed carry purse, then look no further than this one. Featuring the same brand name Roma Leathers, it comes at an extremely reasonable price without compromising on any of the excellent features that made the previous option so enticing.
The beautiful tan leather finish of the unit compliments the need of a busy woman without trying too hard. It comes with a simplistic design that shows your style in a subtle and delicate manner. The generous number of pockets also comes in handy when you need to carry a lot of small items with you while you are on the move.
The concealed carry compartment of the unit features a removable holster that is perfect for when you are not carrying your weapons with you. And when you are, it is spacious enough to fit small to moderate-sized weapons without any question. The strap of the bag comes with a slash-resistant material, which makes it practically snatch-proof.
When you look at the interior space, you will be greeted with spacious chambers that can handle any item you might want to carry. You get two separate centered chambers with individual high-quality zippers along with two exterior zippered pockets to handle all your daily necessities.
Pros:
Excellent construction quality
Plenty of organizing options
Removable holster design
Ambidextrous weapon drawing mechanism
Cons:
Straps are fixed and cannot be adjusted.
3. Gun Tote'n Mamas Concealed Carry Purse – Best Cowhide Concealed Carry Purse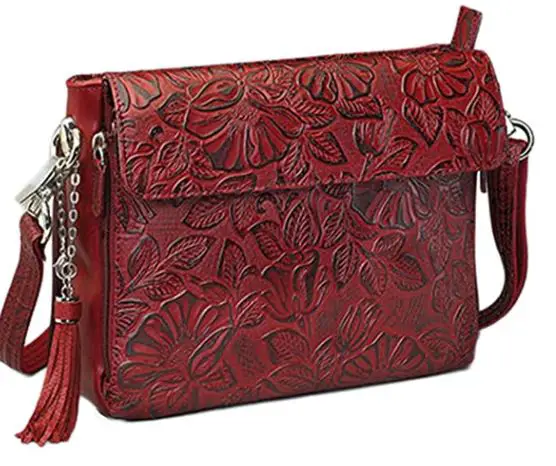 Coming up next is a premium quality CCW bag by none other than the Gun Tote'n Mamas. As you might notice, it is a bit pricier than the other two we reviewed so far. However, if you are not one to make compromises, this unit is one of the finest choices you can make.
It does not give you much in terms of color options. You get one with a vibrant cherry finish, or you can go with the sleek and stylish black variant. Whichever option you go with, you get a flowery texture that further enhances the beauty and elegance of this concealed carry purse.
The bag comes with an original cowhide leather construction, which speaks a lot about its durability. Thanks to the fully zippered design of the holster compartment, you can open it up entirely for faster and easier access to your handgun. The holster is also removable held in place with Velcro.
The interior compartment comes with a smaller zippered compartment to hold small items like cash or cards. You also get two exterior compartments in a pouch design. The overall design of the bag is quite spacious, ensuring you can get the most out of it even when you are packing a lot of items.
Pros:
Strong cowhide leather construction
Open-mouthed gun compartment design
Comes with a slash-resistant leather strap
Stylish looks and design
Cons:
A bit on the expensive side.
4. Purse King Magnum CCW Concealed Carry Handbag – Best Shoulder Strap Concealed Carry Purse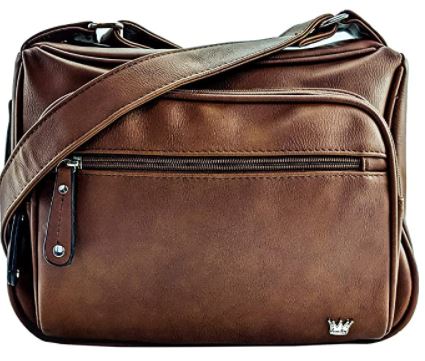 Purse King is a popular name that embodies the strong and independent feminine spirit through its high-quality handbags and purses. This model, for instance, comes with exquisite color options and packs a lot of utility without letting the price get too much out of hand.
Saying that it comes in many colors would be an understatement with this unit. The seemingly endless options mean that you can pick out one bag for each occasion. Even if you choose one, do not worry; every color variant looks stylish and can serve in any type of occasion that you are planning to attend.
Construction-wise it boasts a vegan leather finish. This material gives you the high-strength durability of real leather while blending in enough softness for it to feel soft and comfortable. Further enhancing its comfort, you get a wide strap that does not dig into your shoulder even when you are carrying it around for a while.
The main issue, however, is the absence of a holster. Even though it features a dedicated weapon compartment, you need to buy an aftermarket holster to make full use of it. Other than that, the interior is quite spacious, and the zipper quality feels top-notch and will last you a long time.
Pros:
Plenty of color combinations
Excellent storage options
Comes with card slots
Durable leather construction
Cons:
Does not include a holster.
5. Gun Tote'n Mamas GTM Carry Hobo Shoulder Bag – Best Removable Holster Concealed Carry Purse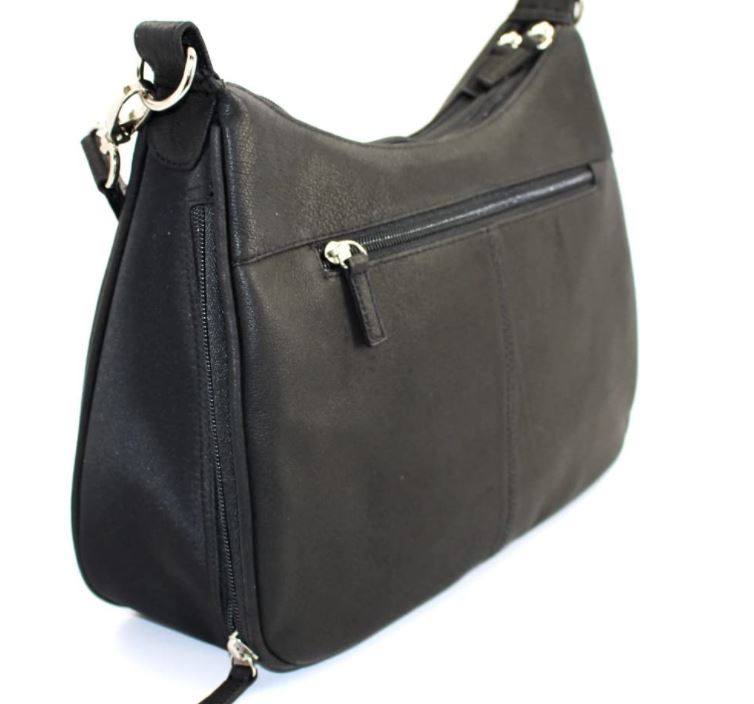 For our next product, let us go back to the brand Gun Tote'n Mamas and take a look at another one of their exquisite offering. This option is a perfect one for those who are not looking for a larger purse yet require enough organizing options to pack a lot of small items.
With this unit, you get four different color choices, each with its own unique style and charm. Regardless of the option you go with, you get a slash-resistant shoulder strap along with a premium quality leather body. So whatever doubt you have had about its durability should go away.
The included holster comes with a Velcro attachment that you can attach or remove at your liking. Not everyone needs or even wants to carry their firearm inside the purse all the time. With this option, you will be able to leave your weapon at home when you do not think you will need it.
As we said, the idea behind the unit is practicality, and the storage space reflects that thought. You get two simple zippered compartments that are spacious enough to handle most daily necessities like smartphones, cash, etc., without any trouble. The zippers are strong and sturdy and will not break anytime soon.
Pros:
Compact and lightweight design
Durable construction
Removable gun holster
A very practical choice
Cons:
No locks on the gun compartment
6. Browning Women's Alexandria Handbag – Best Large Concealed Carry Purse
Next up, we are looking at a middle of the road, not too expensive, not too cheap either handbag by a brand known as Browning. It is a truly everyday purse featuring a simple design with a discreet gun compartment making it a practical choice for a practical woman.
Despite its simple nature, you get a lot of different color options with this unit allowing you to mix and match it with your outfit. It comes with a PU leather construction and features high-quality, durable polyester lining to provide you with the best levels of durability.
The lockable gun compartment features a strong and sturdy zipper. To add to discretion, the keyring that allows you to access the chamber is hidden. This small feature goes a long way in ensuring your concealed carry purse truly keeps your weapon concealed.
Apart from that, the interior space of the unit is designed well, featuring plenty of pockets and compartments to hold your everyday wares. All of the pockets are designed to promote quick access, and the zippers feel strong and sturdy. You no longer need to worry about breaking a zipper by pulling it too hard with this unit.
Pros:
Hidden gun chamber
Superb build quality
Strong and sturdy zippers
Removable holster compartment
Cons:
Might be a bit expensive, but overall great value.
7. Genuine Leather Locking CCW Gun Bag – Best Ambidextrous Concealed Carry Purse
Wrapping up our reviews, we are looking at what is probably the best crossbody purse that you can find on the market. This option by the brand Roma FC blends style and performance in a neat little package making it one of the most appealing choices out there.
The slightly larger gun compartment in the unit can house any handgun of any size you can find on the market. To protect the access to the compartment, you get high-quality zippers that even allow you to lock it up if you need even more security out of it.
Its genuine leather construction further improves the durable nature of the purse without adding to its weight. The unit is light as a feather when empty making it an excellent choice if you are running around carrying it for the entire day. You will hardly feel the strain of it.
Furthermore, the assortment of pockets in the purse allows you to allocate your items smartly. Yes, you are a bit limited in terms of space, but the smart pocket distribution allows you to fit anything you want as long as you are organizing properly.
Pros:
Lightweight and compact design
Quick access holster chamber
Can hold any handgun or pistol
Features strong locking zippers
Cons:
Things to Consider When Choosing the Best Concealed Carry Purse
Now that we have covered the top-rated products in the market, it is time for us to focus on another section that is equally important. As you may have noticed, we have covered a wide range of purses with different designs and also price points. Although each of them has something unique to offer to the user, not all of them are suitable for you.
Before you settle on a specific unit, you need to consider a lot of different elements. Whether the weapon conceals the weapon properly or if you can access the gun quickly in a matter of seconds are important questions to ask that can impact your experience with a particular model. If you're looking for options outside the ones we shortlisted, here are some great concealed carry gun options if you're in the market
In the following section of the article, we will look at a few elements that you should consider when you are looking to buy the best concealed carry purse in the market.  
The Quality of the Holster
This is, in most cases, the first element that you want to check in the concealed carry purse that you are scoping out. The holster is responsible for keeping your weapon secure. That is why without looking at the holster quality, you cannot be sure of the overall quality of the purse.
However, you cannot really expect a high-quality state-of-the-art IWB holster or OWB holster design with the one that comes free with your purse. Typically, a concealed carry purse comes with a basic gun holster that essentially keeps your weapon from wobbling around while it is stored inside it.
But make sure the material quality is decent, and the built-in retention is to your liking. Since retention adjustment is not always a possibility with this type of car holster or other holsters, the material quality is an extremely important element to consider. The better the material, the longer it will last.
When it comes to concealed carry purse holsters, typically, you get the choice between leather and nylon. Thankfully, both of these materials are good choices, and as long as it is of high-quality, you should have nothing to worry about in regards to the safety and security of your weapon.
Leather as a material is inherently more durable than nylon. But leather holsters also tend to be more expensive. So there is always a compromise when it comes to choosing the holster. If you want the best, go with leather; for budget-spenders, there is nothing wrong with a good nylon holster.
Another element that might give you a bit more value is the Velcro attachment on the holster. If your holster comes with Velcro, it stays securely locked in place inside the pocket of the purse. Some low-end purses do not feature Velcro gun holsters, so make sure you check the interior and the holster critically before committing to a product.
The Gun Compartment
Another element to check when choosing your concealed carry purse is the gun chamber itself. Similar to the holster, this is another section that contributes to the overall safety of your weapons. It also dictates how easily you can access your firearm when you need to.
The fabric of the compartment is important as you want it to be soft with padding so that it does not scratch your gun. You also want to avoid snagging the fabric while drawing out your weapon. It would not only ruin the compartment but also hamper your draw time.
Ease of access is a must with the chamber. Typically gun chambers in concealed carry purses are on the inner side closer to your body. You also want to make sure you can draw the gun from both sides when it is inside the chamber. This might seem like a small factor, but it improves your experience with the purse a lot.
If you are buying an aftermarket holster as an upgrade, make sure the gun chamber allows you to fit the holster securely. Replacing the holster in a concealed carry purse is a common thing, and chances are you will replace your own after a couple of years. If the chamber is designed well, you will not have to replace the entire purse.
Storage Space and Number of Pockets
The best part about using a concealed carry purse is that end of the day; it can sit in for any of your other normal purses; as long as you are making the right purchase. To get the most value out of your purse, you need to consider its utility. For instance, the number of pockets and the overall interior space is a major concern with this type of unit.
However, do not feel pressured to buy a bigger bag just yet. A bigger bag does not necessarily translate into better storage. As long as the purse comes with a thoughtful allocation of pockets, you will be able to pack a lot of different goods inside it without running out of space.
Having a larger center pocket is essential to keep most of your important goods. But the arrangement of exterior pockets is just as important. Exterior pockets will allow you to keep small items that you frequently use, while the interior compartments are more suited for larger items.
In addition to your gun chamber, you want to get as many pockets as you can with your purse. For a businesswoman, getting a card holder or organizer inside the purse might offer great value. You can keep your license or credit cards inside without fear of misplacing it.
Shoulder Straps
Never overlook the importance of a nice pair of the shoulder strap with your concealed carry purse. This is the main element that is responsible for your comfort with the bag. If the shoulder strap is of low-quality, you will not be able to carry the purse for too long.
When it comes to the straps, there are a couple of different areas where you need to put your thought. For instance, the length of the strap is a critical section. Not everyone has the same preference as to how they want to carry their bag. While some may prefer to keep the purse closer to the chest, some might like the straps to be longer.
With a length-adjustable shoulder strap, you will be able to carry your purse however you see fit. However, not all bags come with an adjustable strap and if it is something you would like to have, make sure you check carefully before you commit to buying it.
Another important element to check is the padding. You do not want a strap that has no padding since it gets uncomfortable to wear after a while. Furthermore, check the stitching on the edges of the strap. If the stitching quality is low, it will not survive very long.
Strap width is another section that contributes to how comfortable it is. As a rule of thumb, wider straps are more comfortable holsters. However, some people might not prefer the look of a wide strap. It is up to you and your preference when looking at the strap width.
Zipper Quality
In any type of bag, luggage, or even pants, zippers are notorious for failing. Many manufacturers, for some odd reason, look at zippers as a field where it is okay to cut some manufacturing costs. However, when it comes to concealed carry purses, zippers are something that you do not want to compromise.
You want the zippers to be both smooth and robust enough to last quite a long while. Most thin zippers break after a couple of months of use. Furthermore, make sure there is no dragging, and the motion of the zipper is smooth and free of any sort of resistance.
Try pulling the zipper from different angles and check if there are any weird issues. Since it is hard to assess the quality of the zipper by their looks alone, you should opt to stick with popular brands like YKK zippers. The brand name holds a lot of weight when it comes to the zipper quality.
Another sector you need to consider is if the zipper allows you to place a lock on it. Since a concealed carry holster will mostly hold your weapon, you want some sort of locking option with the zippers. At the very least, the gun chamber should come with locking zippers.
Design and Looks
Remember, a concealed carry purse is an extension of your outfit. Women who take their fashion seriously should settle for nothing but the best when it comes to their concealed carry purse. These days, this type of purses come in many design and color options.
So do not feel pressured to go with a bland purse if you can find a better-looking one on the market. Your personal satisfaction is just as much important as the functionality and performance of the purse. And in most cases, you do not need to sacrifice one for the other. So before settling for any unit, look around for different color options.
Material Quality
The material used in the construction of the bag contributes to its overall durability. If you want to get the most usage out of your purse without having to worry about repairs or replacements, you need to give some thought to the construction material.
The most popular material for purses is leather because of its durability and how stylish it looks. But leather is not exactly affordable. If you are looking for a full leather bag, the price will be quite high. We recommend going with faux leather since it can match the sturdiness of the real leather at a fraction of the price.
Weight
Another important yet underrated feature of a purse is its weight. Naturally, if you keep piling up stuff inside the purse, it will get heavy. However, when the purse is empty, you want it to be light as a feather. Otherwise, once you put everything inside, the weight will be unbearable.
With heavier materials like leather, the purse will be a bit heavier. Similarly, bags that feature a lot of pockets and space will typically have a bit more weight to it. So when choosing your purse, you need to find a balance of weight, storage space, and materials to get the most out of your purchase.
Stability
You also want your purse to be stable with a good center of gravity so that when you put it on a flat surface like the table or the floor, it stays put. A purse that falls on the side when you put it down might be fine for normal people. But when you have a weapon hidden inside it, that might not be the best thing.
Besides, you might have many fragile items inside your purse, like makeup or even a bottle of water. If the purse keeps falling over, it might damage the interior items. Furthermore, it might even scratch your gun if you are not careful. So it is always a good idea to buy a purse with a wide and stable base.
Price
Price is always an important consideration regardless of what you are buying. Even if you have a big budget, you should shop smart and try to get the most value out of your investment. Getting the most expensive unit available does not always guarantee the best value.
You should cross-check your requirements and shop in a set budget without getting too ahead of yourself. If you have a realistic budget, you will be able to filter out a lot of units that come with unnecessary additions, which can increase the price without any real reason.
A Few Tips on Using the Best Concealed Carry Purse
By now, you should have a pretty decent idea about buying the best concealed carry purse. But before we leave you, we want to part with a few additional tit-bits of helpful tips.
A concealed carry purse is not the same as an IWB or OWB holster. Since you do not have direct access to your weapon, it can be difficult for people to use it for the first few times. These tips and tricks will help you improve the way you handle a weapon in a concealed carry purse.  
So without further ado, here are few ways to get the most out of your concealed carry purse.
Crossbody carrying is always better.
Even though carrying a purse crossbody is not the most stylish way, it is still the most practical carry method for the easiest access to your weapon. Not only does it provide better access, but it also ensures that people trying to snatch your gun from the purse find it difficult to do so.
If you do not want to carry crossbody all the time, a better idea is to change up your carry position when you feel danger. For instance, if you are walking by a questionable neighborhood or fall victim to nefarious stares, you should prop your purse across your body for better access.
Practice drawing your weapon
As we said, for those using it for the first time, it can be a difficult experience drawing the weapon from the gun chamber of a concealed carry purse. The only way to get better at drawing is practice. There are a few techniques you can adopt to make things easier for you.
Your carry position also contributes to your draw speed significantly. After you get your concealed carry purse, make sure you practice drawing your weapon from it from time to time. You can even time yourself to see your improvements, which can, in turn, help motivate you.
Keep your gun a secret
Whether you have a gun hidden in your purse or not is your business and yours alone. You should not divulge this information to anyone and least of all to strangers. Although this seems like basic knowledge, not everyone understands this simple factor.
The whole idea of a concealed carry purse is to carry your weapon discreetly. You carrying a firearm should never be a topic of conversation. By keeping your knowledge secret, you have the element of surprise if you are faced with a life-threatening situation.
Practice proper gun safety rules
As a responsible gun owner, you need to respect all the gun safety rules. The rules are there not only for your protection but also for the people around you. Be responsible with your firearm and do not wave it around recklessly. Remember, you can never be too safe with a firearm.
When you have your weapon holstered inside the purse, make sure you keep the weapon unloaded. If, for safety reasons, you have bullets inside the gun, make sure the safeties are on. And under no circumstances should you point your weapon at someone or something you are not willing to shoot.
Final Thoughts
Buying a concealed carry purse is a good idea for any working woman who carries a firearm. It is a practical way to safely carry your weapon without making a scene. By now, you should feel confident enough, to pick out one for yourself.
We hope our article on the best concealed carry purse could help you find the right tool for your needs.